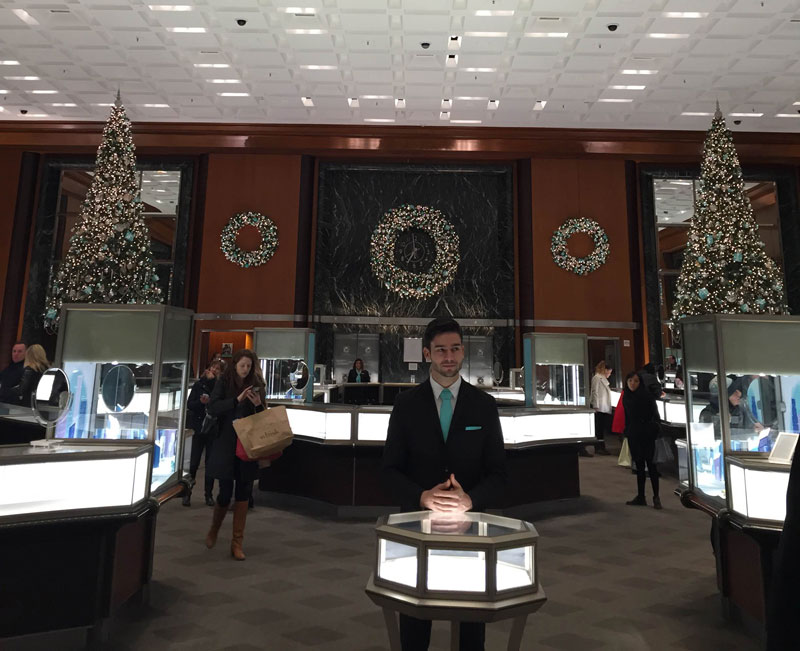 This week the Rockefeller Tree was lit which means the holiday season has officially begun in New York City. Christmas shoppers gather up and down Fifth Avenue throughout December to shop at the most high-end department stores the city has to offer.
In fact, Fifth Avenue has been labeled the most expensive shopping district in the world! Prestigious boutiques, big name flagships, and dazzling window displays encapsulate the area every Christmas season providing the best NYC Christmas shopping experience. If you'll be in the city this month and looking to do some high-end shopping - make sure you visit these 6 stores.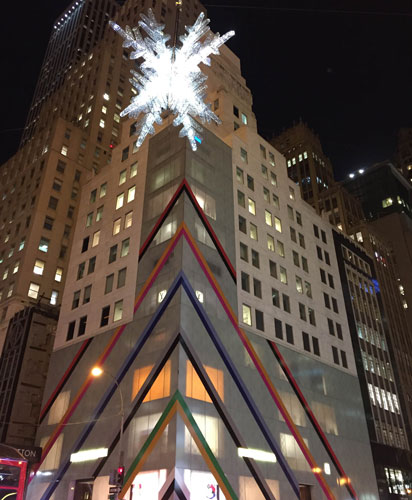 Illuminated glass walls showcase the signature gold monogrammed handbags, luggage, and chic apparel. Tree-form chevrons fill the sides of the building adding to the Christmas experience. Over 20,000 square feet of luxury leather goods, ready-to-wear apparel, shoes, watches, jewelry, and accessories. A must visit while shopping on 5th Avenue.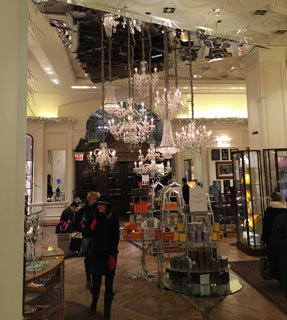 A staple for classic and elegant fashion items, Bergdorf Goodman is always a popular department store among high-end Christmas shoppers. Consistently showcasing the most intricate and sensational window displays during the holiday season. This year's theme is "The Arts" drawing equally from the fine arts, performing arts, and applied arts. The decorations will surely entertain and they hope it will inspire you as well.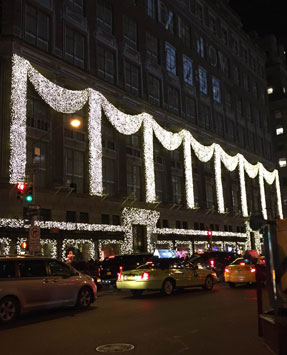 The world famous Saks Fifth Avenue will always be one of the best places to Christmas shop in New York. The projector show lights up the front of the building as spectators stand and watch. Inside you'll find 10 floors of elegant Christmas decor while you're shopping for luxury men's/women's clothing, jewelry, fragrance, and accessories.
Side note: This area gets VERY congested around this time of year. Hundreds come to see the dazzling lights outside, but it's also one block from the iconic Rockefeller Tree which adds to the sidewalk congestion. Look into some form of transportation.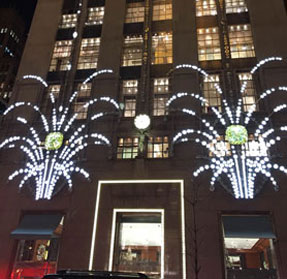 The legendary jewelry store really needs no justification for being on this list. Tiffany & Co. will always be a popular Christmas shopping destination for all NYC visitors. The signature blue is displayed throughout the store's holiday design. You wont want to miss the chance to see The Tiffany Diamond normally displayed on the main floor weighing in at a whopping 128 carats!

This boutique offers a different feel from the other behemoth department stores listed above. You wont find the bright lights on the building, but inside you'll find a tasteful Christmas feel. Generally targeted towards the younger market and focusing on accessories, beauty products, and apparel. If you're looking for chic new designers this is your place.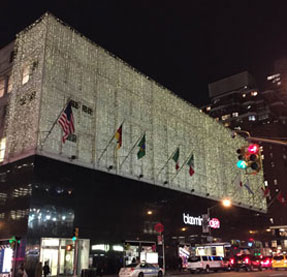 A little bit of a hike from the main drag of 5th Avenue, but definitely worth the visit. The giant department store takes up and entire block between 3rd and Lexington Avenue. If you can't find what you're looking for here then chances are you never will. The window displays are always a big hit and this year is no different.
---
Of course there are PLENTY of different high-end stores on Fifth Ave alone. This list is just a personal opinion from walking up and down the shopping district a few nights ago. Comment to let me know what your thoughts are on the best 2014 Christmas shopping locations.
It's also worth noting that if you plan on doing some extensive shopping you'll probably have to find a way to travel from store to store. This can be quite difficult if you've managed to compile quite a few bags. There are a few different options, but many choose to charter a luxury van. More specifically, a luxury Sprinter Van - they do this because:
No hassle with sidewalk congestion
Ability to leave bags in the van between locations
Large trunk capacity
6'3'' standing room - superior to a limousine
Drop off at the front entrance of shops
Chauffeur van service provides the same experience they receive in the store
Comfort knowing their bags are safe
Chauffeur service includes stand by while you shop
Take a look at the video below to get a better idea of a luxury Sprinter Van
Check out some of the different Sprinter Van configurations available and make a decision based of the experience you desire while enjoying your NYC Christmas this year.
Happy Holidays!