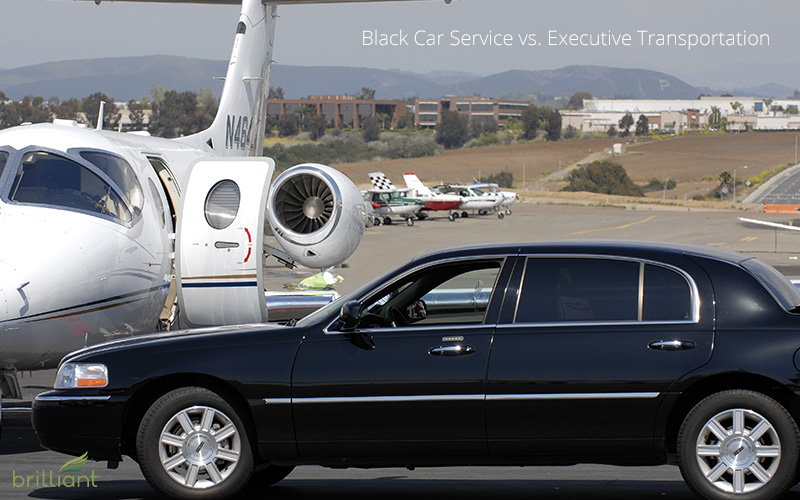 We have a lot of clients come to us in Brooklyn and they're asking which service is better, black car service or executive transportation. The answer to this question depends on your particular needs and wishes. We've decided to write this article to explain and compare the differences between black car service and executive transportation, and why one of them might be better for your unique needs than the other.
As an out of town visitor with a busy schedule, you're going to want to arrange some kind of ground transportation to make the most efficient use of your time and cover multiple stops.
In this case, we can already rule out some alternatives, like the bus or the subway. Those take too long, and afford you no privacy or convenience. Cab rides can sometimes be chaotic, and there are plenty of out the way places in Manhattan or Brooklyn, where cabs don't frequent and hailing a cab from the curb might take too long, especially in the rain or cold!
So it's down to black car service or executive transportation, which one would work better for you? We've found the common factors that impact the cost of these kinds of trips which will probably determine which vehicle you end up choosing. Naturally, you need to decide upon your budget before making any commitments.
Black Car Service vs Executive Transportation in Brooklyn
First, about the terms we're using here: executive transportation is a bit vague because it can encompass many alternatives. Executive transportation is generally whatever type of private ground transportation or vehicle that a business traveler would use to get to his or her meetings.
Black Car Service is a type of transportation that takes the taxi-cab style of operation and upgrades it to, usually, Lincoln Town Cars with a nicer interior and a more advanced booking or reservations system. This means in one shift, one car can transfer many different clients without being cleaned or refreshed in any way.
This isn't a bad thing necessarily, and there's a lot of people that enjoy this type of service, especially for short point-to-point trips or airport transfers. We don't provide black car service as we offer premium, higher end executive transportation options, but we do recommend Empire CLS or Carey for folks who're looking for a black car service.
A black car service could be considered executive transportation by some folks, but so could a limousine, SUV, luxury van or a even a minibus or mini-coach (a bus that would carry less than 40 passengers).
It could encompass one individual or a group of people. The only real requirements for "executive transportation" is that it's a private conveyance, as opposed to public transportation. It's a cut above, or several levels of comfort above your average, pedestrian kind of transportation, like a taxicab or some kind of ride-sharing arrangement.
So, if you interested in comparing a back car service with some other kind of executive transportation, that is probably a choice between a standard Lincoln Town Car, and something fancier; in the case of a group trip, larger than a four passenger sedan.
Transportation For Groups in New York City
If you're in a group, obviously you need something larger than a sedan, but depending upon the size of your party, you could also opt for several black cars to stage your arrival at the business conference or meeting. Nothings says 'you've arrived' like a small fleet of black cars showing up at one place at the same time! In business, first impressions are everything! But if you have more than 20 people in your party, a minibus would probably be your best option to coordinate your schedule and arrivals.
For groups of 10 or less, a luxury van like a Mercedes Sprinter would be a good choice. The price range for the minibuses or Mercedes Sprinters start around $80/hour and go from there, ranging up to $150/hour. Oftentimes the hourly minimums are longer too.
There is also a category of luxury van or luxury minibus. These are fancier than standard "people haulers" and may include special features and entertainment equipment, or the use of luxury materials like leather and wood interiors; these will cost you in the range of $100 to $300 per hour. Especially with the stylish Mercedes Benz Sprinters, there are some custom rides out there that are fit for royalty! Just expect to pay the premium pricing for the privilege.
Transportation For Individuals in NYC
For the individual traveler, or for groups of 4 or less, one sedan will probably suffice. A black car such as the Town Car can be a solid choice. As long as the vehicle is clean and well-maintained, that's about as good as you can ask for. These basic cars usually don't come with any special features, just the standard stuff like air-conditioning, a stereo and vinyl or pleather seating. A service such as this would cost you around $40-$50 per hour in New York City, and most companies have a two-hour minimum.
If that's too basic for you, you can move upscale.
Your choices here might be using a chauffeured luxury sedan, such as Audi A8 or Mercedes S 550. Other options are using a chauffeured SUV like the Cadillac Escalade or Lincoln Navigator. These type of vehicles would run you double than a standard black car service would cost; in the neighborhood of $80-$100 per hour, sometimes more, depending upon the provider.
If you're feeling entitled or really want to create more of a wow-impression, there is also the old standard, a stretch limousine, like a Lincoln or Cadillac, or sometimes a Chrysler. These aren't as much in vogue anymore with business travelers, who are more likely now to go for the SUV or luxury van. However, stretch limos can still be a thrill. They usually accommodate 8-10 people and will usually feature a bar, special lighting and a moon roof. The pricing for these vehicles average around $70-$120 per hour.
Something like a stretch SUV or stretch Hummer, or certain types of minibuses are considered party buses and are used for proms and celebrations. They are not considered executive transportation and showing up with one to a business convention would probably be garish! People might be asking themselves, 'hey, where are the strippers?'
So to conclude, take a look at your agenda, budget, type of event, and the number of people involved, and once you have considered some of this information, you should be able to make the decision that suits your needs the best! If you're interested in high-end, premium executive transportation, you can get a quote from us.
If we're not the best fit for you at this time, there are plenty of black car services and/or executive transportation services in Brooklyn, Manhattan, and across New York City that will be able to meet your needs perfectly. Just make sure to vet them, compare them to their competitors and pick the one that you feel most comfortable using.