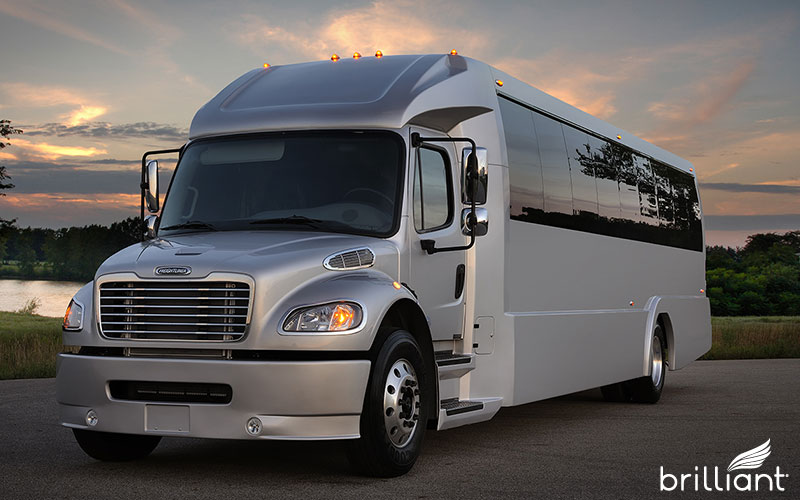 Corporate event transportation is an exciting and dynamic field that is changing every day. In New York City alone, it is a huge business as there are so many major companies, both large and small that make their home in New York.
Every day there are thousands of corporations that have charter vehicles on the road, taking employees to work, moving managers to meeting, taking groups of visitors and clients on corporate outings, sales trips, and also ferrying employees from facility to facility.
Good Corporate Bus Transportation Can Be Hard to Find
Despite or perhaps because this is such a large and diverse industry, there is a large patchwork of providers that cover different areas, industry specific companies, large corporate providers and many small operators who pick up the slack. One of the difficulties for clients of corporate transportation is that the field is so fragmented, this is a wide variety of different types of operators, but also a big difference in terms of the quality of service provided.
On a business level, corporate event transportation serves a very important function so naturally it is critical that clients get to where they need to go, on time, in comfort and in the safest way possible. The last thing you want to have to deal with after spending time and energy carefully arranging a corporate trip is to have a bus driver show up late, or at the wrong location, or not know where he or she is going. While these types of errors thankfully aren't too common, they still happen, and you don't want to be in a position where your trip is the one trip out of 50 that gets messed up.
So it is critical to find a reliable partner when looking for vendors in this industry. It's definitely not mission impossible, but it just takes a bit of research and some time, as well as some trial and error before finding the company that work best with your needs.
Brilliant Does It Better
Brilliant Transportation is an executive transportation provider specializing in luxury vehicles and outstanding customer service. Having started in New York City, it is still our home base and a large majority of our corporate clients reside there as well. We fully understand the importance of service and reliability when it comes to serving the corporate market. We maintain the highest standards all around, in terms of operations, vehicle maintenance, driver training and employee development as well as our overall quality of service.
Each subset of our business requires special attention so that we can ensure that whole of our service runs smoothly. One area where we put a lot of effort is in the selection and training of our chauffeurs. Our chauffeurs are known for being very friendly.
Their goal, and our goal as a company is provide outstanding customer service. You have to be helpful and personable in order to do that. That type of customer interaction isn't guaranteed when you work with other transportation companies. Too many times drivers in the industry focus on and are trained on providing transportation, but not necessarily on how best to interact with and help the customer.
Being Prepared Is Key
We don't make that mistake. We understand that in addition to getting you to your destination on time, our primary goal is to serve the customer and make them feel valued. So we train our drivers and all of our staff to be customer focused, to be attentive to their needs and desires and also help make their trip better in any way that they request. It takes more than training to accomplish that. It starts by selecting the right personalities for the job. And also it requires infusing our corporate philosophy into our employees behavior, so they internalize the importance of putting the customer first.
But in addition to treating the customer right, our chauffeurs are also excellent at what they do. They are intimately familiar with getting around the New York metro area and Northeast Corridor at large. They are expert drivers, fully licensed and certified in their professional category, trained in safety techniques and vehicle handling, as well as expert navigators. They are experienced professional who utilize their skill to keep you on track with your schedule and itinerary.
Our Vehicles Are First Class
Another point of distinction for Brilliant Transportation is the outstanding quality of our vehicle fleet. Brilliant provides upscale transportation to all comers, but particularly in the corporate market. We are best known for our luxury vans, our fleet of custom Mercedes Benz Sprinter vans which provide an extraordinary experience on the road. I like to call it movie star transportation because that what are clients feel like when they travel in the exclusive environs of our luxury vans.
Many of our corporate clients use our vans for special events and business trips, but in addition to our van fleet, we are very focused on providing company event transportation in our mini-coaches. We have a fleet of 28 passenger and 36 passenger mini-coaches that provide a high level of luxury, comfort and convenience for corporate and institutional transfers.
Our philosophy of luxury and service has carried over into our bus division, where first class travel options for event bus clients is sorely lacking. Too many actors in this corporate arena are focused simply on volume and quick turnover. Their overriding concern for keeping costs low and profits high may be short term growth strategy but over the long run it results in failure.
Too many corporate clients have had their share of mediocre transportation, both in terms of vehicles and customer service and find themselves stuck with having to use ground transportation providers, but wanting a better experience.
It's The Service, Stupid!
This is where Brilliant steps in to totally change the picture. We know that corporate clients in the marketplace want more from their transportation and have a hard time finding it. So Brilliant is there to change the narrative. Everything that we do to develop and grow our business is done with an obsessive amount of detail and care. We do that because that's what we would want if we were the customer. Corporate event transportation deserves to be handled in a more professional, thorough manner, than what passes for acceptable manner in the industry.
At Brilliant, we take our cues from the hospitality industry. Many of our clients are used to staying at the best hotels in the world. We feel that there's no reason why corporate bus or van passengers shouldn't be treated with the same grace and courtesy that they would receive in a 5-star hotel.
And in terms of job performance, the Brilliant team is always prepared to deliver the highest level performance every time. That goes to being accurate and precise in handling reservations, double checking everything, being helpful to the client, whether its the passengers themselves or the corporate travel planners.
We also clean and maintain our buses and vans to the highest standard. Vehicles are clean and inspected on a daily basis and after every trip to ensure that everything is always ready to go. Before any trip is commenced, we perform thorough safety and equipment checks to make sure you receive no surprises when your coach arrives for the trip.
You Deserve More
And last but not least, our mini-coaches are very special vehicles. Our 28 and 36 passenger buses are custom built to our exact specification by a luxury coach builder, known for their quality throughout the industry. Our buses have been designed from the ground up to be more comfortable and to provide a pleasant atmosphere for your journey.
All of our mini-coaches have an exterior paint that is a very classy metallic grey, subtle and yet jazzy at the same time. Our buses come with chrome rims and a specially upgraded suspension to ensure the most comfortable ride.
Special attention has been paid to the interior to give it a first class look. All of our bus seating is done in leather covered captains chairs, which is an unusual upgrade for a large mini-coaches which more commonly use cloth or leatherette seating. We feature tinted windows, privacy shades and plenty of overhead storage on board. The floors are beautifully sealed hardwood floors, giving the buses a custom luxury feel and they are also done in a tasteful grey hue which looks very professional.
The buses also come with a large flat screen in front for visual entertainment, linked with a DVD player and PA system. Mobile WiFi is available upon request at no extra charge. And of course a premium sound system is also included.
If you think your company's employees or clients deserve luxury transportation on a higher level, then you need to check out Brilliant Transportation. We would be happy to give you a custom quote for your upcoming excursion.
Contact our reservation staff at 1–800–543–1001. We stand at the ready to provide you with an extraordinary travel experience.