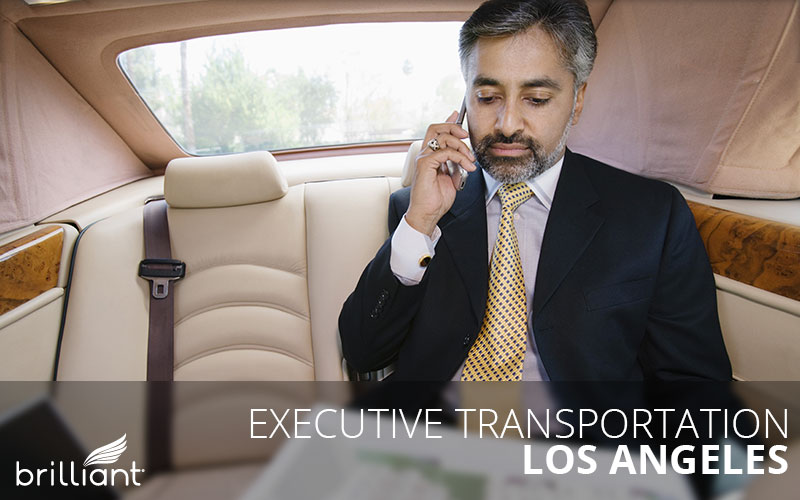 When it comes to finding executive transportation, otherwise commonly known as limousine service, most clients want to use the best company they can find. But what does that mean exactly? Not all executive transportation companies are created equal, and on top of that, many companies are niche players, meaning that they serve only a limited market. So before you go out and try to find the best service for you, it is helpful to realize that not all executive transportation companies do the same thing. So a good rule of the thumb would be to match the particular services of a given executive transportation provider with the type and size of event or trip that you are planning.
The Best Executive Transportation Services in LA
What do we mean when we say that the different executive transportation companies do different things? It's simpler than it sounds. Just like there are many different types of vehicles for different businesses and different purposes, there are many different transportation companies that cover those different marketplaces. For example, someone planning transportation for a business convention with hundreds of guests is obviously a very different affair than planning a wedding with less than 50 people. The biggest factor, the size of the event or the number of people that have to be moved, will be one of the most basic deciders about the size and type of vehicles that are required, and how many.
Other considerations to take into account are the particular style of vehicle you'd be interested in (within your size category), what types of features you want and also the level or quality of service that you expect and are willing to pay for!
The Different Levels of Executive Services
Executive transportation can usually be divided into a couple of different categories. Large group transportation is often handled by bus companies or limo companies that also have some buses or minibuses in their mix of fleet vehicles.
But even if we're not concerned about buses or minibuses, there are still many different types of vehicles you could go with for small groups or individuals. For example, some companies focus mainly on the car service or black car service, which is your most basic type of executive transportation.The traditional Lincoln Town Car is the most common type of vehicle for car service. Town Cars, or any sedans will seat a maximum of 3 passengers and are often used by individuals to get to the airport or take you around town to go to various meetings and appointments.
An extension of the a typical car service would be a traditional stretch limousine. There are various sizes, anywhere from 4-10 passengers (for the super stretches) and many different styles and models too. Almost every sedan platform from the major manufacturers have been converted into stretch limousines, although Cadillacs and Lincolns are the most common.
For a bigger size, one could go with an SUV service, typically done in a Chevy Suburban or Cadillac Escalade. These vehicles will seat up to 6 passengers and hold more luggage. Many people also think they are more stylish than a Town Car. After SUVs, passenger vans are useful for taking small groups of up to 15 passengers. These basic vehicles are often used in airport transportation and hotel transfers. Passenger vans are also coming to the fore with the new focus on luxury vans, which are the same size as passenger vans but are much more of specialty vehicle.
Getting Great Customer Service
But regardless of which type of vehicle you choose, any decent executive transportation company will focus on providing excellent customer service, as chauffeuring really is a personal service business. Even if the vehicles are great, if the service is a disappointment, then everything else will be too. For me, part and parcel of good customer service is also superior job performance. You want to deal with a company that is well organized, will handle your reservation with care, properly maintains and cleans their vehicles, is always on time, knows how to deal with the unexpected, and the list could on and on.
What it comes down to basically is preparation and training. A good service company that succeeds is one that has a culture of preparedness. Reservations are entered correctly and then double checked. Vehicle maintenance is followed closely and a checklist is followed upon every dispatch to make everything is running correctly.
Thorough training of the drivers and other employees is also essential. Just like in sports or in the military, you don't just train once and then forget it about it. It's a practice that has to be followed through constantly. As they say, practice makes perfect! In executive transportation, drivers play a very important role, not only because they are the one actually delivering the service but they are also the face of the company for most, if not all clients. And once underway, the trip, not to mention the passengers' lives are literally in the drivers' hands. So it's critical they know what they're doing. And again, consistent performance and safety is achieved through thorough training and continual updates, practice, and refinement through experience.
Reviews of the Top 5 Executive Transport Services in LA
So now that we understand a little bit more about what makes a good executive transportation company and the different types of companies and vehicles that exist, let's see where the rubber meets the road in Los Angeles. Based on our experience, here are a couple of recommendations for five best executive transportation companies in the area (in no particular order) :
1. Music Express
Music Express, a founding member of the NLA (National Limousine Association) is an establishment player in the Los Angeles market, but they started out with more humble roots, as a messenger service for the music industry in Hollywood. Today they share many affiliates and company owned locations also in New York, Washington D.C. and San Francisco, in addition to their original Los Angeles office. They also offer a full line up of sedans, limousines, vans, SUVs and mini-coaches.
2. ITS Limo
ITS is another home grown family firm that made it big in Los Angeles. They did this providing great service to the entertainment industry in Hollywood, like other successful firms. One of the things I like about this firm in addition to their charter and private party business is their emphasis on package deals and sightseeing tours of L.A. This company would be a good fit for out of town visitors. They also field a full range of sedans, vans, SUVs and minibuses.
3. Empire CLS
Empire is one of the bigger limo companies nationally, with a presence in many U.S. cities and affiliates worldwide. They offer great attention to detail in terms of vehicles and service. One reason they're so big and well known is that the company resulted from the merger of two limo companies on East and West Coasts.
4. Avalon Transportation
Another solid service provider in the Los Angeles scene, this company started out with a few sedans doing airport runs and now they're so much more. Most of their business is on the corporate side but they also do a great job with private parties, weddings, whatever you need. They also have a full line of up of sedans, limos, vans, SUVS and minibuses.
5. KLS Worldwide
Another great professional service organization, KLS has handled the Oscars, and many Fortune 500 companies as well as countless weddings, both large and small. KLS has a reputation for quality service and in fact they were recently featured in an LA Times story about Oscar night preparations. They also won a proud distinction of winning of the Operator of the Year Award in 2013 by Limousine Charter and Tour magazine.
So those are a couple of great companies that should set you off in the right direction. As providers of all this useful information, we wouldn't want to fail to mention Brilliant Transportation of Los Angeles as well.
What We Offer Executives at Brilliant
Brilliant is a relative newcomer in Los Angeles, arriving on the scene in 2010, but company sparkles just like its namesake. Brilliant is a small, but important niche provider in ultra-luxury charters for very high end events and individuals. Our point of difference is our all Sprinter fleet of custom converted, luxury vans by Mercedes Benz.
These vans are like a Lear Jet on wheels, offering the latest in comfort and technology for the most demanding clients. Our exclusive service offers premium service at premium prices and we understand we may not be the best fit for every client who walks in the door, which is why I mentioned some helpful alternatives in our Five Best list above.
But when you need an exclusive service that just can't fail, offering the best in customer service and the finest vehicles, contact Brilliant Transportation at 1-800-543-1001.