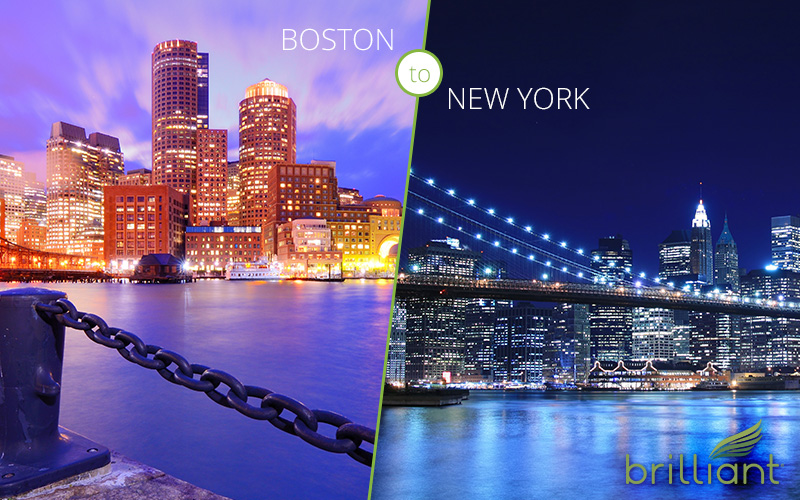 We have a lot of clients that use Brilliant to travel in style between New York and Boston. It's one of our more popular routes. A lot of our clients call us trying to find the best limo service to get from Boston to New York and vice versa.
Naturally, I would be biased to say that Brilliant Transportation provides the best limo service from New York to Boston. Our emphasis is on super-premium luxury, offering the bespoke travel experience of private motoring as well as offering an experience in the most luxurious and well appointed vehicles in the industry. If you're interested in that type of service you may want to go ahead and get a quote from us to compare with other providers.
However, we're not a perfect fit for everyone looking for limo service between Boston and New York. Not every business traveler is looking for the level of service we offer, nor do we offer a price point that is within every consumer's reach. To that end I wanted to offer advice for many of the interested parties who contact us about making this trip. There are other limousine companies that offer service on this route and also do a pretty good job of doing it. This article is a review of, what we've found, are the four best limo service providers for this route.
Reviews of the Best Limo Services NYC to Boston
LTS Nationwide
LTS is based in Boston but as their name implies, they also have a nationwide network of transportation providers so if you enjoy their service on the New to Boston route, you can also contact them for your other ground transportation needs in many cities across the U.S. They also have a full line of vehicles, you whatever it is you need or are looking for, they would be able to comply. They offer service in a Lincoln Town Car or Cadillac DTS, they also offer imported luxury sedans as well, such as the new 2014 Mercedes CLA 250, or the Mercedes S 550. All of their four door sedans would be appropriate to carry 3 passengers. You also have your choice of using SUVs like the Cadillac Escalade or Chevy Suburban. The SUVs can take up to 6 passengers. For larger groups you have the choice of using a 13-passenger van such as the Mercedes Benz Sprinter or a 10 passenger stretch limo.
Boston Elite Coach
Boston Elite Coach is another Boston based transportation provider that also has a worldwide network of affiliates that can help you book ground transportation wherever and whenever you need it. One of the nice aspects about working with a Boston area local company and they can provide you good information about hotels, restaurants and entertainment options when you get to your destination. They also offer a full range of transportation services in Boston such as airport pick ups, meet and greets, corporate road shows, point to point transfers as well as night out on the town tours. Some of their more unique service offering include multilingual drivers, and the option of providing an interpreter if a language-specific driver is not available. I also like their option of reserving hybrid cars, including Toyota and Lexus. Another nice feature is in addition to a full line of sedans, SUVs, vans and mini-buses, they can also provide full sized coaches for 55 passengers if you are dealing with a large sized group. Another nice feature, they have an A+ rating with the Better Business Bureau.
TCI Worldwide
TCI which stands for Town Car International is a New York based company that also offer possibilities of booking ground trips worldwide. In addition to striving to be a leader in on-time performance, the company also emphasizes ease of use and affordability, which certainly is an important consideration for all customers. TCI has been in business since 1986 and they are very experienced doing the New York to Boston run. TCI also uses the latest up to date technology to keep track of current trips, fleet management and customer jobs. They also use an online portal (including smart phone app) so customers can access their reservation information at all times, as well as request changes.
ETS International
ETS is another Boston based company that provides service to and from New York for clients interested in that route. They are another full service provider with a full in line of luxury sedan, SUVs, limos, vans and buses. The company also has experience working with corporate clients and sports teams, having recently provided sponsorship and transportation for the Providence Bruins Hockey Team. They do a lot of local business in Rhode Island and Massachusetts. They have also won awards for their service, having been awarded the LCT (Limousine, Charter & Tour org) Operator of the Year Award in 2010 in the 11-30 vehicle category. The company was started by John Greene in 2006, who is a multi-decade transportation veteran, having started another limo company, CTS Limo, which was purchased by Carey International, a major transportation conglomerate in 1998.
Deciding on a limo company for a New York to Boston trip
Deciding which company is the best limo service from Boston to New York is not the right question to ask. The right question to ask is which limo service is best for my specific needs. The best company for you, won't be the best company for the next client. It all depends on what you need, what level of service you desire, and what kind of experience you want to have.
Of course, we would love to have you as our client but we realize our fleet and price point may not be a good solution for your needs. If you would like a quick quote, you can get one from us here. Otherwise, contact these four companies and compare their level of customer service, vehicles, pricing, and how well they provide what you need.