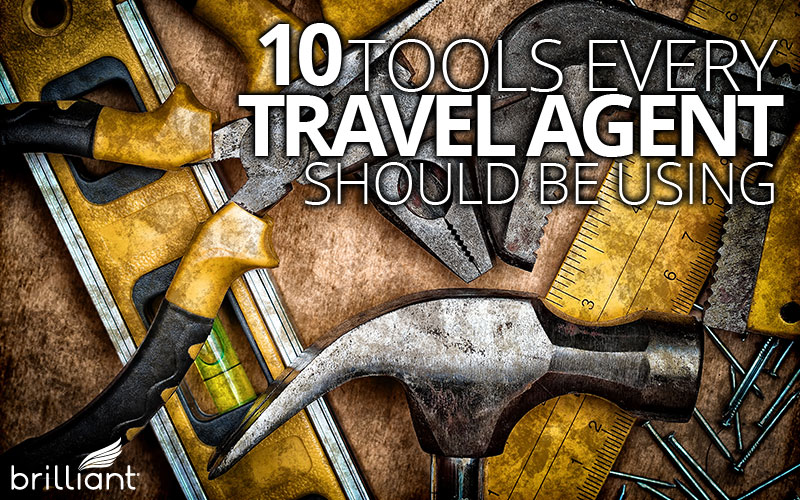 Elite travel agents have many important tasks to juggle. Critical deadlines come and go with a frequency no one outside of other travel agents can understand. It takes a certain kind of mentality and focus to be a great travel agent.
As a kid I remember watching an old Disney show about a Texan cowboy who moves to Australia to open a stagecoach company with an AGoogle Hangoutsussie partner. In one particular scene, Con and Jack go to the bank to discuss a loan to buy a new stagecoach. Charlie Withers, the banker leans back and, even though he doesn't want to loan them the money admits, "a worker is only as good as his tools."
That small statement is very powerful. It applies to everything from the ditch-digger to the soldier in the trenches. As a general rule, give a superior talent inferior tools and he will be less effective than inferior talent using superior tools. That's why travel agents need the best tools to ensure they are most effective at what they do. Efficiency, productivity and reliability are the three words every travel agent should strive to embrace.
It all starts with their tools.
The Best Online Tools for Travel Agents
From task management to expense management, an elite travel agent will have the most streamlined workflows, moving all the data and information for all their clients into systems that make success an attainable goal. Let's take a look at ten online tools that every travel agent should use.
I was just getting started in my first professional position when I bought my first palm pilot. All I used it for was to play solitaire. On one humbling occasion I was talking to a peer about how I didn't need my Palm because I kept all my to-dos in my head. I didn't need to be reminded. A few moments later, in a staff meeting, I realized I had completely forgotten about a very important deadline. A simply forgot all about it until I was in a meeting with all of my associates looking at me like I had lost my mind.
Nozbe will allow you to keep from the embarrassment of forgetting. It's a powerful task management software that functions for individuals and teams as well. Their software is robust and they have native apps for just about any device.
If you're looking for a simple, yet powerful solution to manage all your tasks, keeping you on top of deadlines, you need to get your team onto Nozbe right away.
Evernote is an essential app for any profession. In simple terms it's a note-keeping application but it's much more powerful than that. It allows me to save anything I find online with a couple simple clicks, from quotes and photos to full articles and websites, I can clip it to an Evernote notebook and save it away for later retrieval.
The way I use Evernote, as a marketer, is to save articles that I want to write about later. If I read an article or see something online that inspires a thought or an idea for a blog post or video, I clip it to my notebook. Then, when I'm ready to plan out content, those items are right there easy to access.
For travel agents, sharing important information with your clients and also using social media and content marketing to land new clients is an important part of your business. Evernote will allow you to keep track of all of your content inspirations and any other notes you may want to save for later.
I chose Google drive over Box or Dropbox simply from a breadth of use standpoint. Both of the other services are fine for saving files in the cloud, but Google Drive allows you to utilize Google Docs which can be extremely powerful for businesses.
Not only do you get over 30 gigabytes of storage for free with Google Drive, you also get built-in functionality of Google Docs, an online office production suite with tremendous usability. You can create forms, spreadsheets, documents and slide shows right from your browser and save them instantly in the cloud. Share them with your coworkers or clients and get instant, real-time collaboration on important documents.
Aside from that, you can still use it as a cloud drive that works surprisingly well. I really don't know what I would do without Google Drive. I have the files I need to access all the time, like logos and profile photos. All the files my teams will need access to, I put into a folder and share it with all of them at once. And, I keep all of our collaborative efforts moving forward at a fast pace.
Not all travel agents will need an expense tracking and management system. However, those that own or manage their own business, especially if you have your own employees, will find Expensify extremely handy.
Just not long ago, I had to buy a peace of equipment for a company item. Since we were a small team, we didn't have immediate access to company credit cards, so we operated on an expense and reimbursement method. I bought the item I needed without putting everything on hold to wait for access to a company card. I was able to keep working with little downtime.
To get my reimbursement, I simply scanned in my receipt, added it into Expensify and submitted it for approval. On the other end, the CEO of the company approved the reimbursement from his mobile device and our accountant was able to issue the reimbursement immediately. It makes for a seamless workflow of expense management and reimbursement issues.
For some reason, Google Hangouts is being slowly adopted by others. Most companies still rely on GoToMeeting and/or Skype to do their online video chats or presentations. While I love GoToMeeting for presentations, Google Hangouts is quickly becoming my favorite tool for everything else.
The quality of the calls are usually better than Skype, and you can have many different people in the call without paying for a premium account. You can screen share and do a lot of different collaborative things in Google Hangouts that other systems don't allow.
With the power of Google's engineering behind it, it'll become the dominating force in online web conferencing in the future. You can also use it to host live chats about travel that you can later use as promotional videos for your business.
For those MVP clients, tracking their flights is an important task for their travel agent. Knowing when they land, where their plane is and when it will arrive is important.
Think about it, if a travel agent knew their client had to be in London at a specific time, using Flight Track 5, they could literally know the departure was delayed before the client even did. Imagine your client calling you to request a different flight only to find out you've already got them on a different flight.
Talk about impressing your client.
Flight Track 5 is a mobile app that will allow you to keep track of all flight data, and even track flights through the air. A must-have for serious travel agents.
The bread and butter of an elite travel agent is their contacts. It's what separates the men from the boys when it comes to luxury travel and the value a travel agent can offer. Full Contact is the world's most powerful contact management software that works across platforms and keeps all of your contacts up to date on all of your systems.
They've recently acquired CoBook which was going to go on this list. As they work to integrate CoBook's features into their already robust system, Full Contact is only going to get that much more powerful.
This app is a must-have for every single travel agent.
This app isn't a must-have but it's a definite luxury when it comes to keeping track of all the passwords you have to remember. Just log them in, save them and OneLogin will help you login to each and every system.
Social Media has become integrated into our lives in such a way that we use it to communicate more than any other tool. If someone is having problems traveling, or a great time traveling, more than likely they will be posting about it on social media.
From a travel agent's perspective, reaching out to potential clients in the middle of their dilemma, or answering their questions as they have them is golden. It allows you to impress potential clients in a way not possible a few years ago.
Social Mention allows you to monitor social media for keywords and subjects that will allow you to integrate yourself into conversations, offering value to those who you hope to become your clients. Keep track of your own brand mentions on social media so you can quickly respond and build a community around your brand.
In the same vein as before, engaging in social media is a travel agent's best friend. It will allow you to share great travel ideas with your clients, and to tell your story in a way they will engage with. However, managing social media is time-consuming and most travel agents simply don't have the time to keep engagement high on their social profiles.
Buffer allows you to store social shares in a virtual bucket, then drip them out over time at a pre-determined speed. For instance, I can set my Twitter Buffer to send out a tweet once a day. Then, as I can sit down for 20 minutes and publish 10-15 tweets. Over the next 10-15 days, my Twitter account will get one tweet published a day.
This not only allows me to share valuable information easily with my followers, but it also allows me to keep my Twitter account valuable and engaging even when I don't have the time to manage it. The biggest value comes when I have multiple things to share but I don't want them to all post at the same time. I load them to Buffer, and it drips them out over time for me.
It's a time-saver, trust me.
Bonus Honorable Mention
EAHelp.com is a service that provides virtual executive assistants for busy professionals. We're not talking about O'Desk cheap, freelance labor. EAHelp offers real professionals that can literally become your lifeblood online. They can handle your email, your social media accounts, and ensure your calendar never gets off schedule.
There's a lot of people who are singing the praises of EAHelp across the internet from sales professionals to CEOs. So if you have a lot of busy-work that always bogs you down, but you don't want to hire a full-time employee, it's a good sign you need to contact EAHelp for a free consultation.