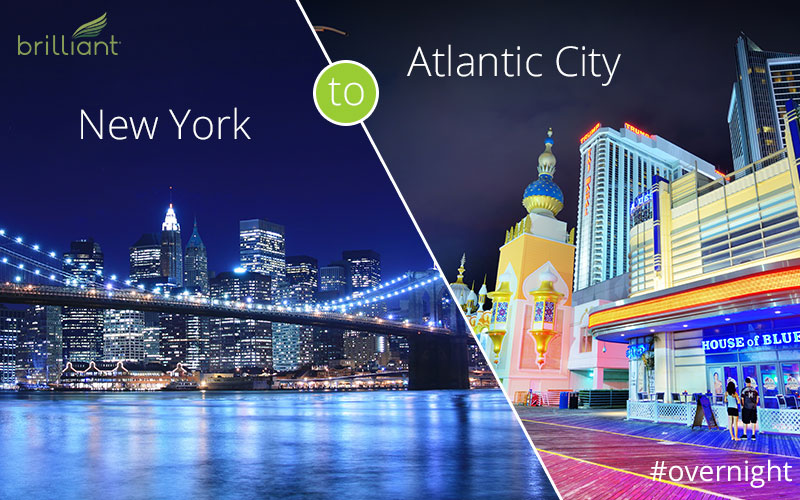 Atlantic City is one of the top tourist attractions on the New Jersey coast, steeped in history from eras gone by. Dean Martin and Jerry Lewis, perhaps the greatest comedy duo in history performed their first show together in Atlantic City. It's a lot of fun to visit and we have a lot of clients who head to Atlantic City to blow off steam and celebrate special occasions.
We get a lot of questions about overnight limo service from New York to Atlantic City. There's a lot of requests for things like birthdays and bachelor parties where groups want to book an overnight trip. We do provide this type of service for a lot of our clients but we also realize our level of service isn't for everyone.
Some people want cheaper prices, and some just want a different style of vehicle like a party bus or a stretch-limo. Since we get this type of request a lot, we decided to write this article to list the best overnight limo services from the New York area down to Atlantic City.
The Best Overnight Limo Services To Atlantic City
The term "best" is relative when trying to compare one limo company to another. The best solution for you might not be the best solution for the next client. So we're listing the top companies that make this trip so you'll be able to contact them, compare them, and find the one that best fits your needs.
We've found that all transportation companies aren't created equal. Some offer better service while others may offer better pricing. The ultimate factor in deciding which limo service to go with is to vet them. Always call more than one and ask them detailed targeted questions. The ones that are difficult to deal with are the ones you need to mark off the list.
With that being said, here are some limo companies from New York you can contact that make overnight trips to Atlantic City.
NY Top Limo
NY Top Limo is a very good company based out of New York. They offer the overnight or one-way Atlantic City service. They provide their customers with prompt, professional and courteous chauffeurs to make each event a memorable one.
Luxury Limousine
Luxury Limousine has been in service since 1993, offering top-quality experiences for their clients. They also offer overnight service from New York to Atlantic City, so if that's the trip you're really looking for you should give them a call.
If you're throwing some kind of a party, like a birthday or bachelorette party, Luxury Limousine has party vehicles in their fleet with the dancing lights and musical extras that will make your Atlantic City trip even that much more fun.
Choice Limousine & Sedan Services
If you're looking for a professional limousine service that pays attention to detail, Choice Limousine would be a fine… choice. Their prices are competitive, and their vehicle selection is excellent. If you're looking for stretch hummers to Atlantic City, they've got you covered.
Their website is clean, easy to navigate and find the information you need. Their customer service reps are very friendly as well. They'll even put together a custom package tailored to your event, party, or overnight trip to Atlantic City.
If you're going to call only a couple companies from this list, this is one I would definitely contact.
Bergen Limo
Bergen Limo is another limousine company that has a splendid fleet of stretch SUVs to choose from. Their prices are very competitive, however you'll have to contact them to get a quote for an overnight trip to Atlantic City.
They have not only the stretch hummer, but also the Transformer Hummer Limo Bus and AIR bus. These vehicles are amazing for creating a spectacular party-like atmosphere for your jaunt down to Atlantic City.
Bergen isn't located in New York, but rather New Jersey. However, contact them no matter where your starting point is and you'll be able to work out a package to take you from your location to your overnight stay in Atlantic City and back again.
Choosing the Right Company
As we said before, the best company for you is the one that matches your needs. We've found the variables for choosing the best company come down to these three main things:
Budget vs. Pricing
Vehicle Type
Quality of Service
The best company for you is the one that can offer the type of vehicle you desire, at or under the budget you've set aside for the trip. The last qualifier should be taken into consideration as well.
If you find the right vehicle at the right price, but with horrible customer service; you're going to regret booking with that company. Sometimes paying a bit more for higher quality service is worth it, especially when it means safe, on-time travel for you and your group.
We at Go-Brilliant serve a lot of clients that are looking for the best customer service experience. We strive on being the best and treating each of our clients like they're the only customer we have. However, our pricing is premium and we've stuck with a very particular type of executive/luxury vehicle design. If you're interested in our services you can request a quote here.
No matter what company you choose, make sure you enjoy your trip to Atlantic City!