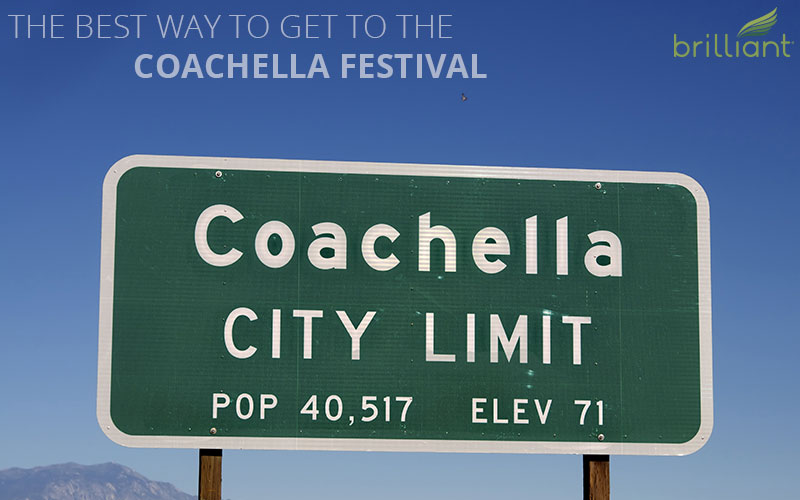 The Coachella Valley Music and Arts Festival just keeps on getting bigger and better every year! 2014 will be no exception, with featured headliners like Outkast, Ellie Goulding, Lorde, Pharrell, Skrillex, Pet Shop Boys and many more.
Since the festival's founding in 1999, it has grown into a real cultural institution in Southern California, drawing visitors and artists from all over the world and it is now one of the most famous music festival in the U.S. The festival comprises 2 three day weekends (April 11-13 and April 18-20), held at the Empire Polo Grounds in Indio. Even four years ago, the festival was drawing 75,000 people per day and an estimated 225,000 per weekend.
Best Way to Travel to Coachella
If you're psyched and ready to go, I hope you've already purchased passes because the event is already completely sold out. However, for festival pass holders who still don't know how they're getting there and back, you're in luck, because there is still time to make fantastic travel arrangements!
Many festival goers drive themselves and camp on site, which is allowed and is part of the festival's charm. But there are also a lot of VIPs and celebrities that attend this event as well and their accommodation are more decidedly upscale. The Coachella Valley (including Palm Springs and vicinity) has plenty of first class resorts and hotel rooms you could stay at. The patrons who go with this option often like to arrange their own private transportation to the event as well, especially coming from Los Angeles.
Go to Coachella Like a Celebrity
This is where contacting Brilliant Transportation can make the difference. Brilliant has a fleet of luxury Mercedes Benz Sprinter vans that can turn your travel arrangements into a first class affair and turn your commute into an extraordinary experience!
You have to consider that with tens of thousands of attendees going to the festival traffic is going to be an issue. You can expect Interstate 10 to be fully clogged all the way from Los Angeles to the festival location on opening day. This could turn an already long two hour drive from Los Angeles into something longer and you certainly don't want that frustration coloring your already grand weekend plan.
If you have the means to hire chauffeured transportation this would certainly be the perfect time to do it! Just imagine how nice door to door service for the entire weekend could be. All you have to do is pack your bags and we'll do the rest.
Instead of spending all those hours behind the wheel you could instead be relaxing with your crew in the back of one of our extraordinary luxury vans. Travel time that was otherwise wasted can now be fully enjoyed with your friends as you let a professional driver navigate the way for you. Brilliant Transportation offers 7 passenger luxury vans for maximum comfort as well as 14 passenger vans for larger groups and equipment.
Taking a Luxury Van Limo Service
Our luxury vans offer a passenger compartment that has more in common with the cabin of a private luxury jet than an ordinary vehicle. Guests can relax in four oversized, leather captains chairs with an electric reclining back and footrest. Soft leather and beautiful wood burl accents cover the interior cabin.
Total privacy is also assured with a full partition between the chauffeur and passengers, as well as tinted windows and privacy shades. Each seat also comes with ample storage pockets and stowable table top. The van is also equipped with a hidden mini-fridge and a wet bar so refreshments can be enjoyed along the way.
For entertainment you have multiple options, including 185 satellite channels of DirecTV on two large, flat screen TVs (32"), a Sony Playstation 3, both XM and Sirius satellite radio, on board WiFi, extra connectors and outlets for additional audio-visual equipment, a teleconferencing phone, and over ten high end speakers for incredible concert sound.
In fact, the music festival can start as soon as enter your chauffeured van, enjoying all of your favorite artists along the way as you anticipate seeing them live on stage.
Once we drop you off in the VIP area for your weekend adventure not only are there plenty of music acts to catch but of course, all of the art installations, as well as tons of gourmet food vendors, arts and crafts shopping, a giant ferris wheel, and organized group activities like the bad dancing competition and three legged races.
It is truly like a giant playground for adults, families and children. After a long day of fun you'll be glad you have your lovely chauffeured van to take you back to your hotel suite. And the long ride home on Sunday is taken care of! No sweat there.
For more information on how Brilliant can turn your Coachella experience into an all-around extraordinary travel experience, contact us at 1-800-543-1001 immediately. Our availability is limited too and it's going fast!