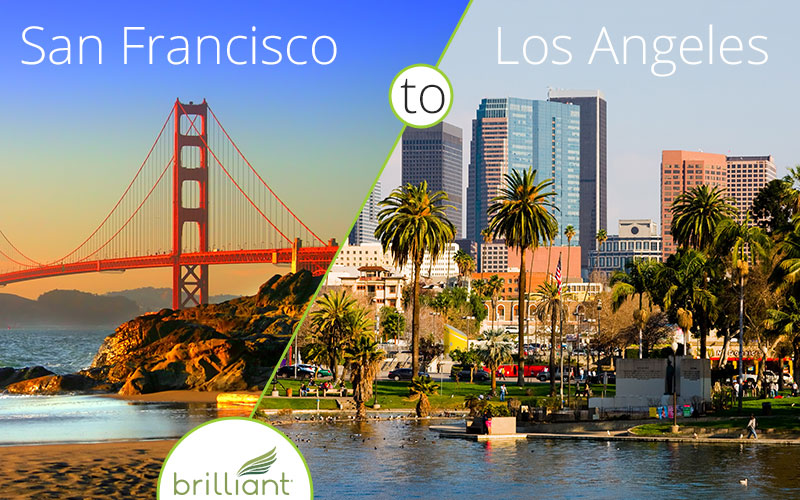 People come to us all the time wanting to travel from San Francisco to Los Angeles or vice versa. We are often asked about the best way to travel between those two cities. The answer, of course, depends on your individual needs but what we've found is there are pros and cons to each of the ways you can choose to travel. Essentially, there are four main ways to get to Los Angeles from San Francisco.
How to Get From San Francisco to Los Angeles
These are the top four ways, in our opinion, to travel between Los Angeles and San Francisco. Depending on what experience you desire will determine which mode of transportation fits your needs.
1. Rail
The prospect of a high-speed rail network in California has been on the horizon recently, but it is going to take a while to finish it. It may take decades to see completion of California's high-speed rail network.
The other rail option available now is Amtrak service between SoCal and NorCal. Train rides are relaxing so if you're in no hurry, this can be an exciting way to travel. Some trains have internet connectivity, so if you pick the right train, you can also get a lot of work done in the meantime. You may also be able to secure a state room to get some privacy or shuteye while you fly down the rails.
The downside of going by rail is that it can be a lengthy ride, taking 8-12 hours or more. In some cases you'll find certain routes take an Amtrak bus rather than an actual train.
2. Bus
There are a lot of bus options between San Francisco and Los Angeles. Some include Megabus, which can be very low cost; usually, under $30 per ticket. CA Shuttle Bus also offers a similar service from the Bay Area to Los Angeles and vice-versa. CA Shuttle Bus offers wifi on board so you can either get work done or entertain yourself along the way.
We find this the most unpopular form of travel for our clients. The main reason is the lack of personal space on a bus. But for those looking for a cheap way to get from San Francisco to LA, jumping on board a bus is the perfect way to go.
3. Flights
A lot of our clients choose to fly from San Francisco to Los Angeles because of the short flight time. Most of our clients take a private jet or helicopter ride from services like XO Jet, skipping some of the hassles of commercial flying.
Commercial airline tickets from San Francisco to Los Angeles are usually inexpensive, and it's a popular route so flight times can be found for just about any schedule. If you enjoy the flying experience as much as I do, you'll probably go with this option over all the others.
We've found the reason most of our clients skip over this option, is because of the hassle of flying. They don't like dealing with lines, crowds, boarding the plane, getting their luggage checked in, going through security, and all the airport routines.
If you feel the same, you may be interested in the fourth option over the other two. If you enjoy the flying experience, though I recommend either Jet Blue or Delta to fly commercially.
4. Limo Service
This option is by far the most popular choice for our clients, obviously. Having a limo pick them up at their place and take them straight to their destination stopping only where and when they want to stop is something they enjoy.
You can pick just about any vehicle you want to travel in from full, stretch-limousines to luxury SUVs if you choose to travel this way. The great thing about going with a limo service is you get the convenience of control without having to do the driving.
Our clients come to us because they like traveling between San Francisco and Los Angeles in our larger, roomier luxury vans. In our Brilliant van they have room for tons of luggage, room to spread out and relax in the cabin, as well as enjoying the WiFi and Satellite TV.
The truth is, though, that you may not enjoy the long drive. The best way to get from San Francisco to Los Angeles for you depends on your personal needs and traveling preferences. You may prefer riding the rails over the Brilliant van, and that's okay. The main thing is for you to enjoy the trip.
If you're interested in getting a quote for the trip from San Francisco to Los Angeles, you can easily get one here. If not, we hope you enjoy the sunny California weather and, while you're in Los Angeles, take the time to see the beach and drive down Highway 1. You won't regret it!