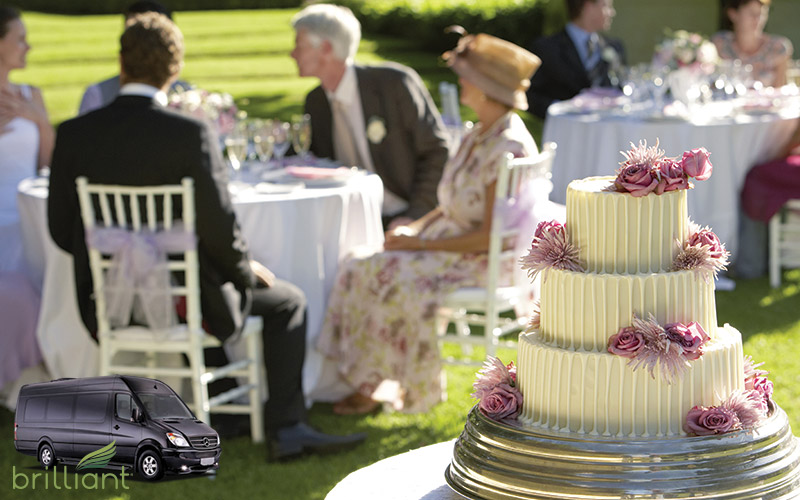 Weddings can be such grand affairs, but a lot of work at the same time! So many details to attend to, reservations to be made and guests to be invited. As the big day approaches, you want to make sure that you check off the 'transportation' item on your checklist as early as possible.
Wedding transportation can be a key element in any wedding, and since during high season many wedding will be happening every weekend in your city, you've got to make sure the you have a limo provider that has availability on your date. In many cases, couples will provide transportation not only for themselves but also for the guests on the day of the wedding, especially if it is destination wedding with lots of out of town guests, or if the church or reception venue is located outside of town.
Choosing the Best Wedding Guest Transportation Options
Sometimes all the options to consider and decisions to make can be overwhelming to be bride or groom, so in order to cut down on that anxiety, let's review some of the factors you need consider before booking your wedding transportation.
First off you have to decide the number of guest that are going to need transportation. There could be a situation where you provide transportation for only some of your guests, like the ones coming from out of town, or maybe you need to move everyone who is coming because the ceremony or the reception are at a remote location. And depending on your plans, that could involve as little as a dozen people or on the bigger end of things, hundreds of people.
Once you have determined that, then you have to consider what type of vehicles you want to use. For the bride and groom, it is usually a stretch limousine, or perhaps a specialty vehicle like a Rolls Royce, or at the very least a Town Car. For your family and guests, depending on how many there are, you could provide, sedans, SUVs, stretch limos, passenger vans, even a minibus or limo-bus. For really big events, some couples decide on reserving a full sized motorcoach, which can seat up to 60 passengers. Admittedly, this is not the most elegant option, but sometimes it's the only solution that works.
You don't necessarily have to match your maximum number of guests to the minimum number of vehicles, although for the cost conscious, this would be the most efficient option. For stylistic reasons, the wedding party may want all of their important guests to arrive in a procession of identical black Town Cars, or identical white stretch limos.
At our company, we specialize in luxury vans, specifically the Mercedes Benz Sprinters. Many times our wedding clients have requested a group of Sprinter vans to deliver guests to the event. A vehicle procession can be a very dynamic and impressive sight to behold. It adds gravity and class to your wedding.
While stretch limos are a wedding standard, for high-end weddings, the Mercedes luxury vans are a really nice touch. They are much larger and more comfortable than your traditional stretch limo for one. They look terrific and the interior accommodations are so beautiful and have so many entertainment options that your guest will be suitably impressed. The satellite TV and radio should also keep them entertained if the wedding transfer has to go a long distance as well.
Choosing the Transportation For Out of Town Wedding Guests
Just to give you an ideal of passenger capacity, sedan can accommodate 3-4 passengers. SUVs are good for 6-7 passengers. Stretch limos can usually hold 6-12 guests and super stretches or SUV stretch can hold up to 18 passengers for the larger models. Passenger vans like the Sprinter can hold up to 14 guests, the luxury versions of the Sprinter usually hold no more than 8-12. Fewer seats means each seat can be larger and offer more legroom. Mini-coaches vary in size and their capacity goes from 20-40 passengers per bus.
Once you've decided upon the style and number of vehicles you want to use, the next cost factor to look at is the number of hours and or days you need the vehicle for. Barebones wedding service would be 3 hours at a minimum. That would likely include one or two transfers to and from the ceremony to the reception. Most limousine companies have a 2 or 3 hour minimum for event or hourly transportation anyhow. Many of our clients reserve a wedding vehicle for 6-12 hours.
Multi-day reservations are also common for higher end weddings. It is nice to have limousine service on the second day in order to shuttle people to a wedding bruncheon the day after, or to do airport or hotel transfers for your out of town guests.
The folks who have come a long way to see your wedding will definitely appreciate the extra service after the wedding. I think this is one of the best options you can offer your out of town guests.
The Cost of Wedding Transportation For Guests
In terms of your transportation plans for the wedding, like every other aspect of the whole event, cost will mostly likely be the largest deciding factor. As a rule of thumb, the larger or fancier the vehicle are, the more expensive they will be. Also mostly limousine companies charge by the hour per vehicle, not by the mile, so the longer you keep the vehicles in service, the more expensive the cost. Wedding limo service can run you $70 per hour on the low end, to up to several hundred dollars per hour for the high-end.
Whether or not you decide to use Brilliant Transportation for your wedding, we hope we have provided you with some useful general information on what to do expect when you make reservations. If you'd like you can get a quote or get more information about our fleet by contacting us at 1-800-543-1001.