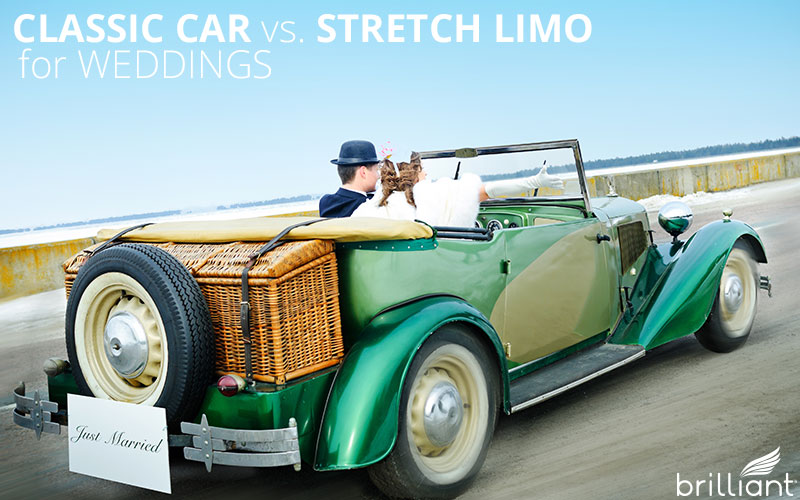 For any couple, your wedding day is a special occasion and one that deserves to get special treatment. For many couples, that means renting a limousine or perhaps a specialty vehicle for their wedding ceremony. For limousine operators, weddings are an important part of their business, so many of them try to have the right vehicles in their fleet to appeal to that market.
Traditionally, wedding transportation service has been done with stretch limousines, but as tastes have changed, couples now like to have as many different options as possible. Being in the business, that's one question we've had to handle from customers before, "Which one is better for a wedding, a classic car or a stretch limo?'
While we'd like to give you a definitive answer, the truth is that it is really up to your personal preference as to what type of vehicle you'd like to use at your wedding. But we can look at this issue in a little more detail, allowing you to decide what's best for you.
Classic Cars vs. Stretch Limos for Weddings
In addition to finding a company that works hard and performs well, a potential wedding customer should also look for a company who has a fleet that matches their aesthetic style. Some limousine companies specialize in transportation for personal celebrations and party groups, whereas others will be more focused on corporate work and business travelers.
Part of this ethic will be revealed in terms of the types of vehicles they offer. A corporate provider is more likely to have a fleet that is all black and weighted towards executive sedans, SUVs and luxury vans, whereas the party provider will have many stretch limos in different colors, party buses, and more unusual custom vehicles, such as stretch limousines based on sports cars or something along those lines.
Choosing a Stretch Limo
Certainly you wouldn't go wrong in selecting a stretch limousine for your wedding. Compared to a classic car, which most likely wouldn't seat more than 4 people, a stretch limo will allow to take more passengers on the trip.
Stretch limos can generally accommodate 4-8 people. If the bride and groom are getting a separate vehicle for themselves, the space issue for other guests isn't as critical, but since most weddings involve more than just a handful of people, you'll probably want to maximize your passenger carrying capacity with larger vehicles.
Also stretch limos have many more interior features than a classic car would. Most limos come with a bar, perhaps a TV or video screen, mood lighting and many other luxury touches. If you're more concerned with the experience your passengers will have while riding in the vehicle, as opposed to what visual impact your vehicle's exterior will have on the proceedings, then a stretch limo is probably a great choice for you.
Choosing a Classic Car
The instances where a classic car would be a better choice for your wedding would depend upon your personal style. If you love vintage things, or if your wedding has a unique and distinctive style or theme to it, then a classic car would play into that theme and help deliver that visual impact you are seeking.
Also if you plan on renting more than one vehicle for your wedding, or you simply want to focus on transportation for the wedding couple where other guest are not the issue, then the classic car choice could be a good one for you. Most of the time, when a couple decides for a classic car, it is some version of a vintage Rolls Royce or Bentley saloon, but it doesn't have to be.
A classic car could really be any vintage vehicle, as long as it speaks to you or has special meaning to your or your spouse to be, then the actual make and model isn't really the issue: it's the experience you want to create.
What We Offer at Brilliant; a 3rd Option.
But I also think it's important not just to limit yourself to a narrow range of choices. It doesn't have to be classic car vs. stretch limo. There are other possibilities as well, such as choosing a luxury van.
Brilliant Transportation has a fleet of custom converted luxury Sprinter vans by Mercedes Benz. These vans would make any wedding extraordinary. The lavish interiors are appointed like in a private jet, with reclining captains chairs, leather and wood paneling, satellite TV and stowaway desks. It really can act like a mobile lounge or club for you and your family or your new partner in life!
We know that Brilliant Transportation isn't for everyone. We are priced at the upper end of the market and we don't offer a lot of other types of vehicles, like classic cars or stretch limos, so we would understand if you went with another provider.
But if you feel our unparalleled luxury vans and our outstanding customer service could add that special touch your wedding, contact us at 1-800-543-1001 or get your quote today.