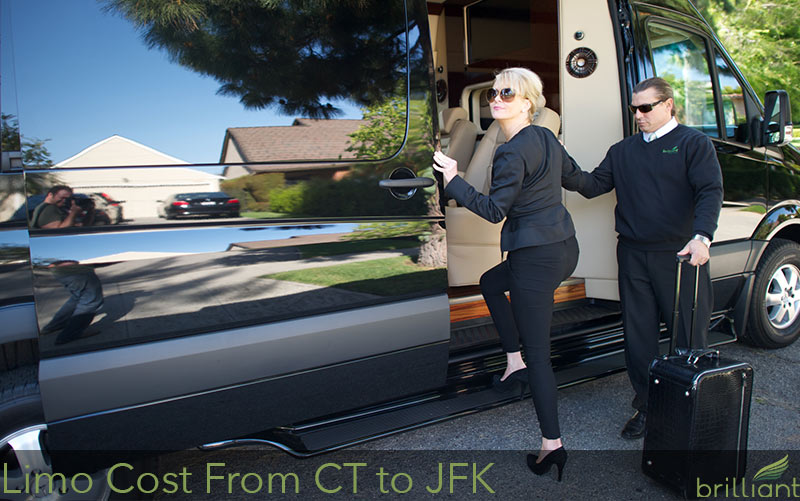 Getting to the airport can be a real hassle, especially if you need to go from Connecticut down to New York City to catch your flight. Experienced travelers know that they have many options however.
Limo service from CT to JFK is the best way to go. Clients choose to charter our luxury Sprinter Vans because they want the same travel experience on the ground as they receive on their private plane. There's also no better way to start a vacation than being picked up in a living room on wheels right from your driveway.
How Much Does a Limo to JFK from CT Cost?
---
The first factor has to do with time and distance. All limousine companies charge by the hour, so if you have an idea of how far you need to go, you multiply that by the vendor's hourly rate to get a basic price range.
One important issue to understand about limo pricing is that it is always garage to garage. The reason being, the limo can't take on another job until it is has returned to our base, assessed for a safety check, and thoroughly detailed.
Another issue you need to be aware of is hourly minimums. Some companies may charge a flat rate, or transfer price from your area to the airport if it's a trip the company completes often. Otherwise you would be charged the hourly rate with a certain hourly minimum. For limo companies, that's usually a minimum of two to three hours, depending on the firm.
At Brilliant, we provide a customized service and that starts with our pricing. We want to learn more about your needs and provide custom solutions to make your trip remarkable. As such, you can receive a free quote for limo service to JFK from CT directly to your inbox by filling out the form here. But to give you a feel for Brilliant's pricing, I've provided our hourly rates for different vehicles below:
Brilliant Van: $225 per hour (3 hr min.)
Brilliant Transportation simply offers the best ground transportation you can find. Our service is for those who want only the best and can't afford a service that might make a mistake.
Imagine your next trip being like this:
You open your front door to find a Brilliant custom luxury Sprinter Van waiting in your driveway with your private chauffeur ready to take your bags.

You settle into your comfortable leather captain's chair for the journey ahead. You can recline all the way back, or put your feet up and help yourself to a drink from our wet bar

You marvel at the more than 6'3" headroom in the van, and the fact that each seat is set up like it's own workstation with foldaway desks, reading lights and outlets for your electronics.

You won't lack for entertainment options with our 2 large flat screen TVs with 185 channels of DirecTV, a DVD player, and mobile WiFi as well as a dozen hi-fi speakers with our premium sound system.

After a relaxing and private trip to your airport terminal, you may be reluctant to leave your luxury cocoon to re-enter the hussle and bussle of airport life. But we'll see you again on your trip home as well!