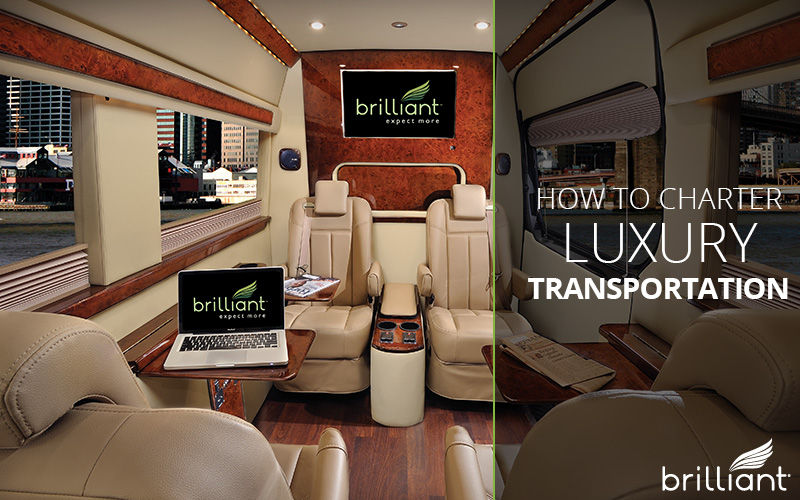 The thing to remember about booking luxury transportation is that the service is there for your convenience and comfort. Most of the time, if you are are simply arranging a simple transfer, say from the airport to a downtown hotel, your transportation can usually be arranged with a simple phone call.
However, if you are planning something more elaborate, like a wedding or business convention, or perhaps you are looking for a long-term supplier, then it is worth your time to do a bit more research to find the exact right company to work with.
The reason for this, of course, is that not all transportation is the same, and not all clients are the same either. So with large universe of potential providers, especially if you're in Los Angeles, or New York, you have many options to consider.
The Easiest Way to Charter Luxury Transportation
In this blog, we'll go over what some of those options are as well as the few easy steps you need to complete when not just booking your next luxury trip, but also forming a durable relationship with a reliable transportation partner.
1. Find 5 Companies to Get Quotes From and Review Offerings
Your first step is to gather your recommendations, if you have them, from friends and colleagues, and do a little original research of your own on the Internet. You might look at a dozen different listings online for luxury transportation providers in your area.
When when doing preliminary research, make sure the companies you are looking at actually provide the service you are looking for! Some executive transportation providers only do buses or some only do sedans; others only do commercial work while some specialize in private parties. Make sure you're in the right ballpark before you do further research.
From a group of 10 or 20 possible listings, the next step is to narrow down your options to only about 5 transportation providers. Choose the ones that look the best initially and then pursue your research from there.
2. Narrow Down Your List and Vet the Remaining Companies
Once you've got a nice looking group of possibilities, then you start to drill down deeper. Contact each company on your top 5 list and get a specific quote for the service you have in mind. Given them as much detail over the phone or online on what you need specifically.
Unfortunately, there's no guaranteed method for vetting your possible transportation provider, but you can call upon your own experience and just try to find as much information as you can about the companies in question.
Sometimes online review sites or online forums can be helpful in getting a sense of a company's reputation in the community. Sometimes it seems like online review site often highlight negative experiences as they're a handy resource for disgruntled customers. You should take some of these reviews with a grain of salt. Positive reviews are always a good sign as most of these are unsolicited.
Also look carefully at a company's marketing materials or online copy. The information you want to look for is how committed a company is to providing great customer service. All things being equal, you always want to go with the provider that is going to put the customer's interests first.
When talking to company directly, don't be afraid to ask honest questions about their level of service. How satisfied have customers been in the past? What kinds of problems have they encountered and how did they resolve them?
Other good questions to ask when you want to tease performance information from a transportation vendor are questions detailing what kind of employee/driver training they do, as well as safety and checklist regimens.
If a company has a pretty thorough response in terms of the training they do and can expound coherently on the types of safety measure they have in place, that is a good sign that they take company performance and client satisfaction seriously.
At this point you'll also want to take a serious look at costs and budgeting as well. Is the provider you're leaning towards affordable, or at least within your budget? I always recommend, especially with mission critical events or trips that you buy the best transportation you can afford. But of course there also has to be a reasonable match between what you can afford and what the provider is able to do the job for.
3. Submit Your Plan or Itinerary and Finalize Vehicle Selection
Once you've reached step 3, you're getting close to or have already made your vendor selection. You've done your research and you feel comfortable dealing with the company you have chosen, now it's time to finalize your travel plans and vehicle selection. Of course, with some events, clients are making minor changes up to the day of the event. But to the best of your ability, you should finalize your plans so that the transportation company can start their planning to service your trip.
Even if you don't have all the details by now, at a minimum you need your pick up day and time, as well as a pick up and drop off location. By this stage at least you have confirmed your passenger count and at this stage you will also want to finalize the number and type of vehicles involved as well.
Be sure you have the right sized vehicle for the type of reservation you are considering. For example, if you need to move 60 people at once, don't go with sedans or SUVs, that would take far too many vehicles and be too complicated (and expensive)!
For a large group, use a full sized motorcoach. For a medium group you could opt for 20 to 30 passenger mini-coaches, or use 14 passenger vans, like the capacious Mercedes Benz Sprinter vans. If you're dealing with a smaller group of less than 20 passengers, then using the sedan or SUV option becomes more feasible.
4. Book Your Trip and Check Your Reservation Details
Once your itinerary and vehicle plans are set, then you're ready to book! At this stage, making your reservation is about having your payment details ready. After trip information and passenger/client contact information has been gone over, then you need finalize payment details.
Most executive transportation companies will accept a major credit card in order to hold your reservation. On some occasions, like for a wedding or large event, your provider may require a partial deposit due before service commences.
Once you've booked the trip, you should expect an email confirmation sent to you. This is part where you need to review all of the details on the reservation and make sure they are correct. Nothing is set in stone of course, but early on is the best time to catch mistakes, and/or make modifications while there's still plenty of time to make adjustments.
Usually a day or two before your trip begins, you should also expect to hear from your provider to give you your driver's name and cell phone contact (especially with multiple drivers)! Having that contact information before you start your trip is especially important if you plan on meeting your vehicle at the airport, or you're coming from overseas.
If you haven't heard from your transportation company the night before, be sure to reach out to them to confirm your trip for the next day! While this may seem trivial, there's nothing worse than getting to your destination and to be left high and dry by a company that didn't show for your trip! While this is relatively rare, it can happen, so it's better for the customer to double check the details if your transportation provider isn't. And that by way, would be a good indicator that it might be worthwhile looking into a different transportation company if they don't meet you halfway!
5. Enjoy Your Trip, But Be Aware of the Details!
Finally the time has come for you to enjoy the trip that you have planned. If it is for pleasure, or even if it is for business you probably have your mind on other things and don't want particularly to worry about the trip details. If you've done trips with this operator many times before, then by all means you can relax; they have already earned your trust.
But if you are going out with someone for the first time, especially with an eye towards forming a long-term relationship, keep your critical thinking cap on. It's good to just be aware of the how the service is; how the chauffeur is treating you; how all of the little trip details are being handled. These are the fine-tuning items, but you will also take note of the larger picture as well: was the driver on time? Did he come to the correct location? Did he know where he was going at all time? You want to be aware of these critical areas at all time when you are thinking of starting a long-term relationship.
6. Review Your Trip & Pay Your Bill
Now that the trip is over you can do a little review to see how things went. Hopefully your trip was a success. And if it was, you'll want to consider the next step: is this a transportation provider that I'd like to use again in the future? Naturally a single trip is only a sample of one, so you won't necessarily have a bulletproof guarantee that this provider is the right match for you.
However, if the trip went well and you enjoyed working with the company then that's a great start. Their behavior and performance will give you a strong clue as to what you can expect with future business. If there were some minor issues, or other preferences that you'd like expressed, right after the trip is a good time to talk to your provider to help cement the relationship and provide guidance for the future.
Also your provider should provide you with final billing within 24 to 48 hours after your trip. Carefully review the bill to make sure you weren't over or under-charged. If you have any further questions, now's the time to ask!
Last but not least, please pay your bill promptly and don't forget to tip the chauffeur (you can also do this retroactively by adding it to your credit card bill) if you received good service.
Now that you're done with your current trip, you always have the next one to look forward to, and hopefully with your trusted new transportation partner!