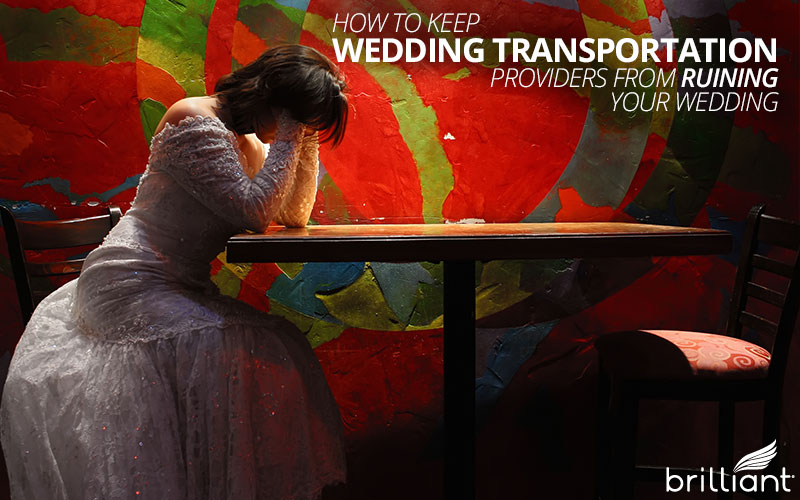 When you're planning your wedding, the last thing you envision is everything going wrong. However, if every detail is not considered fully, the potential for mishaps, and even train wrecks, are prominent. What we've found in being involved heavily in high-end weddings on both coasts, is the biggest mess ups can usually be traced back to unprepared, 3rd party vendors. Sadly, the most common culprit of wedding train wrecks is the transportation companies.
When it comes to weddings, you have one chance to get it right. Only one.
You really need to book vendors who are experts at getting it done right. You need to choose a company that will focus on your individual needs and desires and who can provide excellent customer service. Too many companies that provide event transportation just focus on getting you from A to B. They couldn't care less about what happens in-between. However, those in-between details are vital to the success of the entire wedding.
Wedding Transportation That Doesn't Mess Up
Working with vendors who don't care about the larger picture can put your own event at risk. How can they mess up your wedding? They might be late or break down or have the wrong information. They may take no consideration of your style or theme or how to integrate transportation into the specific details about your wedding.
Most transportation providers don't worry about doing dry runs, or coming up with extended transportation plans for a multi-day event.
But a quality transportation provider will sweat the small stuff! We worry about things like turning radii, detailing the vehicles on site when necessary, dimming lights so as not blind the party when you arrive, turning off back up alarms to not disrupt proceedings, etc. These are all the little details a great customer service experience makes.
Did your past wedding transportation providers go the extra mile you for you or someone you know? Odds are good that they didn't.
Many transportation companies treat weddings like making sausage: they just want to grind them out as quickly as possible and be done with it! But if you have a hand in planning a special or personal wedding, that's exactly NOT what you want.
You would probably prefer to savor the experience, to be delighted by the atmospherics and enjoy the intimacy of the event along with your closest friends and relatives. At least we hope you would.
It's The Little Details That Matter In Your Wedding
But the larger point is that all too often, transportation vendors are treating these special events as outsiders would, and just want to get on their business, instead of thinking like insiders and really asking themselves, and above all the clients, about how they can truly add value to your event.
Have you ever worked with a transportation vendor that made out of the box suggestions that impressed you, like considering details such as making a personal wedding DVD to play in the vehicles to delight the guests or give them more background information about the event and individuals involved?
Plus there is the customer service element of working with the wedding party, or event planner, by taking the worries out of your hands and being proactive.
Or what about suggesting having an on-site coordinator to plan and prepare with the other vendors on issues like valet parking or putting together a wedding procession of vehicles? The look and feel of the event is as important and the actual going from one place to another.
So when you're trying to make event special, and particularly when you have the budget to support making the event stand out, you need to consider a thousand and one details that the average wedding party would never consider. A quality transportation provider should be right with the client every step of the way, advising, warning, suggesting, and contributing to make the event special.
Quality Vendors Aren't Cheap
Now mind you, you won't receive this extra level of service if you're going with a cut-rate bargain provider, or the lowest cost provider. No, these extra details require that there is someone there to handle all of the legwork and to think carefully about what is needed. And they need to get paid for their time and effort. That won't be there if you're planning a low budget wedding.
The thing about luxury transportation is that it is a real luxury, and not every wedding party can afford this. But even for moderate to medium budgeted weddings, even if you can't afford a top shelf company, you still need a quality provider that won't let you down.
So when the details are important to you, you should recognize that you do need to spend beyond the absolute minimum to get what you want. Quality services and experiences can't be done on the cheap, and if they are, then it's a miracle!
Now nobody wants to spend more than they have to, unless their goal is to show off to the world how much they have, and service providers are more than happy to accommodate the big spenders! But just consider what could go wrong if you try to do your wedding and wedding transportation on the cheap.
You could end up with a run of the mill limousine and transportation company that cuts corners in order to get their business done. Perhaps they are in the habit of overbooking jobs, thinking they'll make more money that way.
The Best Wedding Vendors Don't Cut Corners
But it's a loser for both parties in the end, because they end up rushing from job to job, without proper preparation of the staff and vehicles. Vehicles might arrive dirty because there wasn't enough time to detail them right, or they didn't take the time to do maintenance on their vehicles before a big job! The result could be a breakdown when you least need it, perhaps even stranding some of your guests.
Even if that doesn't happen, they might show up with a vehicle with broken equipment, like a window that won't raise, or A/C that shuts off on a hot day. Maybe the on-board TV or WiFi isn't working! They may still get you to where you need to go on time, but the whole experience could be compromised by an unexpected failure.
Another problem with a less than stellar company, even if all of the equipment is working properly and people are on time, they may still fail to provide stellar customer service. Perhaps the chauffeur isn't having a good day, and forgets to smile, or treats your special guests indifferently or carelessly? Hey they may think, 'I'm doing my job, what else do they want from me?'
The answer is they client expects a lot from their transportation provider, whether they paid a lot for the service or not!
So it behooves you to put in a little extra time to find that quality wedding transportation provider. Do your research online. Read reviews and seek out the advice of friends or other event professionals who can point you in the right direction. It will all be worth it in end, even if you have to pay a little more than the next guy.
If you're wondering where you can start the process of ensuring you get the best, we've written an article about how to evaluate quality transportation providers. It would be a very good read if you're wanting to make sure you don't get stuck with a poor provider.