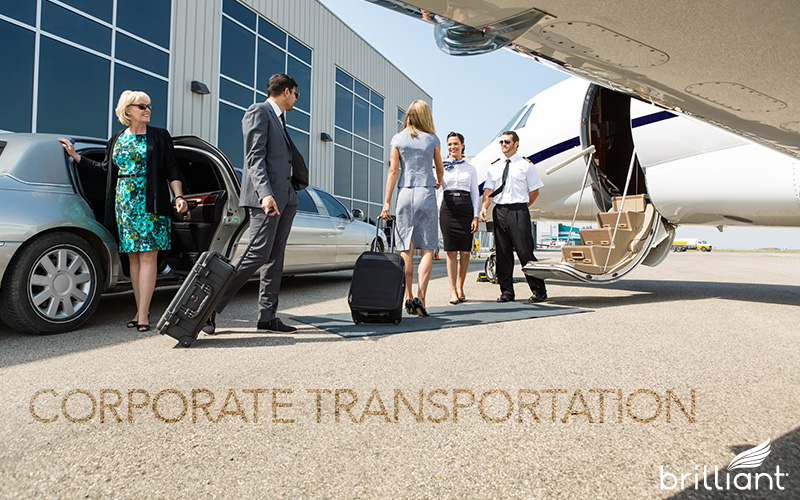 When it comes to corporate affairs, sometimes people think of corporate transportation as a backwater, but it's actually a very important part of the functioning of a business. After all, if executives have a hard time traveling or getting to their meetings on time, it could cast doubt on much bigger issues at your company.

The name of the game in transportation is efficiency, consistency and reliability. It takes a good transportation partner to make those things happen. If a company is saddled with an inadequate transportation partner, then it's going to create more problems down the line and the company in question would be well advised to start looking for a better partner.
Ways to Make Better Corporate Transportation Decisions
Find A Reliable Partner You Can Trust
As corporate transportation is most often a vendor provided service, the best strategy a company has to stay ahead of the game in transportation is to choose a reliable partner from the get-go. The best way here to minimize risk is to choose wisely and obviously keep tabs on their vendor. Once a relationship of trust is established, and it is backed up by reliable performance, only then can the client corporation start to rest easy.

But it terms of getting to that point, what is the best strategy? And what are some helpful hints to keep corporate transportation departments from making too many mistakes? Let's take a look at some of these issues in further detail now.

As I mentioned, the vetting process is the most important tool a client company has to exercise quality control over the transportation vendor. Of course, once a relationship is begun, benchmarks should be maintained and vigilance practiced, but the best way is to start off on the right foot. Here are some common sense traits that you'll want to start looking for in your ground transportation provider:
Choose A Company That Is Detail Oriented
Find a company that is focused on the details. Fulfilling transportation requests is in large part checking up on a thousand and one details. The fulfillment of a job can be pretty simple, but many parts have to be checked beforehand, because any one of a dozen minor details could quickly derail a trip if mistakes are allowed to occur.

So finding a company that really lives by the details and offers outstanding job performance, in addition to the good customer service that is expected is a great recipe for success. Companies that are happy to discuss their detailed trip preparations and vehicle maintenance procedures with a prospective client show that they take the issue seriously and they should be able to make whatever assurances (with proof of course) that are necessary to win over a client.

At Brilliant Transportation, we take the issues of following through with all details very seriously. We have multiple systems and regimes in place to make sure that every aspect of a reservation, client relationship, trip preparation, driver training and last but not least vehicle maintenance are checked and double checked before any vehicle leaves the base for a trip. Multiple checklists and forms must be completed prior to a garage out. Also we have electronic programs in place that keep us up to date in terms of all scheduled vehicle services as well as reporting any technological, mechanical or client issues, before, during and after a trip.
Are They Willing To Be A Strategic Partner to Help Grow Your Business?

Another important trait to look for in a transportation provider is a willingness to be a strategic partner in your company's needs. This is a case of being able to find synergies by using a partner who cares not just about their bottom line, but also about growing your business, because they understand the principle of partners succeeding together.

If a vendor can better understand your business, they can analyze your transportation needs more accurately, and suggest better solutions. With that mindset, they will be better positioned to help your business succeed because they have staked part of their future to your future success and are more likely to act accordingly. They form this tight relationship by being in close contact and asking the right questions.

Basically though, it is really just a matter of a vendor taking the time and interest to devote more attention to their client than merely fulfilling orders. By thinking forward and acting forward, your mutual chances for a successful outcome are simply that much greater.
Go With A Company That Puts The Customer First
Another crucial aspect to seek out in your transportation partner is using one who considers the customer experience and satisfaction the ultimate goal, not just moving people from A to B. In other words, it's about the client and their experience, not just about putting vehicles on the road.

By focusing on the client and their needs and desires, instead of just focusing on the internal workings on one's own business, a vendor will be more in tune with the customer's wants and expectations are, and be able to make those adjustments quickly if your service is not aligned to the customer's interests.

Of course, this approach only works well if the vendor in question already has their act together and is not struggling to operate a successful business. But let's assume some basic competence here, as we wouldn't want to consider working with a transportation provider that was only marginally competent.

Assuming you are working with a vendor who is able to run their business smoothly, they will have more time and energy to focus on the customers themselves and growing their business, serving you, the client better, and providing a more satisfactory experience than merely watching the bottom line. In an ideal situation, these two interests merge: the vendor is focused on running an efficient organizations, and the benefits realized by focusing on these details frees them up to do better customer service work.
The Brilliant Way Of Doing Things
For example, at Brilliant Transportation, we are continuously focused on being more efficient with our resources, our employees and our customers. And at the same time, we are very customer focused. We offer a high-end, executive luxury transportation service, so in keeping with our product, we are naturally concerned about delighting and pampering our clients. We work hard to ensure that all our reservation information is complete and perfect, that our entire fleet is in perfect working order, and that our customers are receiving what we have promised them: an extraordinary travel experience. It is an experience where the job execution is flawless, and customers receive a seamless experience.

When they step into one of our luxury vans, they can start focusing on themselves and their agenda, instead of worrying about the basic details of their reservation or their trip. Due to their unique set-up our luxury vans can enhance executive's productivity on the road, by providing them a mobile office.

Or if leisure or entertainment is the order of the day, clients can relax and enjoy their luxurious surroundings, and have a plethora of entertainment options in front of them to keep their mind off the mundane while we take them to their destination, or in some cases where the journey is more important than their final stop, on enjoying their time with friends and associates.

So this is the type of attitude and approach you should look for when vetting your future executive transportation provider, regardless of your location or region.

If you go with someone who cares about quality and excellence, and lives up to that goal every day, you will find not only that you have picked up a terrific vendor who helps make your life easier, but from a corporate planning perspective, you will find that are you dealing with far fewer mistakes and headaches than you once did. That is certainly something to get excited about!

If you have executive transportation needs in Los Angeles/Southern California or the New York metro region/Northeast, consider contacting Brilliant Transportation for your next trip. We'd be happy to put together a custom quote for you as well as show you a better way to travel.

Contact Brilliant at 1-800-543-1001 or chat with us online at www.go-brilliant.com