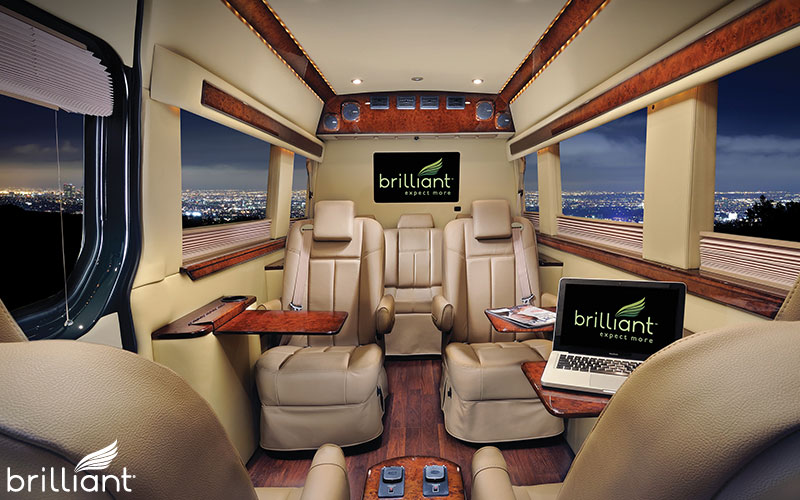 People use Brilliant Vans for many different reasons, they are supremely comfortable for trips around town, or going from city to city, and they also work ideally for special events, like weddings or even business.
For those of you who don't know (yet) about Brilliant vans, they are part of our special fleet of custom converted Sprinter vans, which can seat 7 people in total comfort, as well as provide a stimulating entertainment or work environment.
Our luxury vans come with a full compliment of entertainment technology such as WiFi, satellite TV and radio, large screen flat panel displays, PlayStations, teleconferencing equipment among other items. It's a great environment for entertaining friends or clients, watching movies, and just having a great time.
How to Turn Transportation into an Extension of the Event Experience
For those people traveling for work purposes, all of the seating comes with stowable desktops, outlets for plug ins, reading lights, storage space, and all that technology you can use to connect to the Internet, or watch CNBC, or watch a PowerPoint presentation from your laptop on the big TV. We have even transported executives who have conducted full-on board meetings while en route to their destination. It's an ideal work or play environment, the particular use is up to you.
Incorporate Vehicles Into The Style of Your Event
But the Brilliant van can also be used to much greater effect than simple business or leisure travel. When you use the Brilliant Van as part of your event planning, it can become an experiential extension of your event! What do I mean by that? Well, just that we can also provide moderate customization of the vehicle at your request, to help integrate it and compliment the theme of style of your event.
It's a way of personalizing your transportation and making it more relevant to what you and your guests are experiencing. For example, we work with a lot of corporate clients, and many times for PR events, they'll want to use our vans not just for the comfort and efficiency they provide the passengers, but to use the vehicle itself as an expression of their brand or event.
Vehicle Wrapping, Special Decorations, and Amenities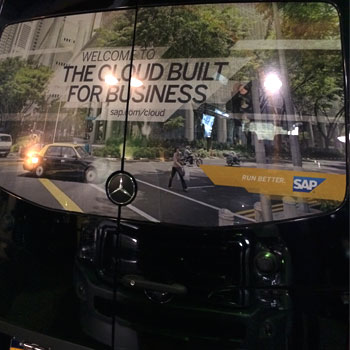 We have done partial and full vehicle wrapping of our vans to highlight the company logo or product, and as we travel around, we can become a moving billboard for the company, providing extra advertising for the brand. Of course, the client has to pay extra for the vehicle wrap and the time involved in borrowing the vehicle, but it can still provide a very cost effective means of getting your message out, albeit for a short period of time.
The vehicle wrapping is of the most obvious and visible means we have of integrating with the theme or style of your event. But there are also more subtle ways of adding value as well, without having to tell the whole world about it.
Use Video & Sound to Enhance Your Event Transportation Experience
Clients also have the option to customize the interior of our vans for their event. For example, we have had clients in the past who have created special DVD which can play in a loop on our large screen TVs, displaying a company or event logo, or a short video clip, highlighting the client or the events of the day. Some clients have chosen to display a photo slide show on the van TV for their events (like family photos for a wedding, or executives meeting people at an event).
It's a very creative and subtle way of getting your message across. It may seem like a minor tweak, but these are precisely the types of details that most other transportation companies never think about, and consequently have nothing of value to add in this category of enhancing an event's design.
Other design oriented options include using a special soundtrack of music which can be played in the vehicles during the event. Other ways to enhance the atmosphere is to add interior decorations to the inside of the van, like balloons, flower arrangements, paper lanterns or streamers, or other paper or cardboard decorations. Sometimes people have added special fabrics, like custom printed throw pillows or blankets to be used in the van.
Serve Food & Drink & Offer Other Giveaways
Other special requests have been using special catering for on-board meals and drinks in the van (which can always be arranged with some advanced notice), also including party favors or gift baskets in the vans for honored guests or even corporate giveaways like T-shirts, pens, and desk gadgets for people to enjoy once they've finished their trip.
Other things clients have requested is to have the driver's wear special uniforms or clothing to the events, anything from wearing tuxedos, or full chauffeur uniforms with caps and white gloves, company logo shirts, event themed hats, even Hawaiian shirts. Basically, whatever you need for your event to be a success, both in terms of the style and reaction of the guests to your event, we are happy to accommodate our guests when and where we can.
And any of these special requests can be accommodated regardless of the vehicle you select for your reservation. It doesn't have to be a Brilliant Van. We can decorate or modify any of our other vehicles, whether it be our Cadillac Escalades, or our 28 passenger mini-coaches.
Delighting Your Guests Is The Ultimate Goal
It is all part of our philosophy of putting clients' needs first and making sure to delight the customer. Too many transportation companies are just worried about the narrowly focused transportation/operational aspects the reservation, instead of stepping back and taking a wider look at the look and feel of an event.
By putting just a little bit of extra planning and effort into your event or trip, you can turn it from being an ordinary to an extraordinary event that your guests will never forget!