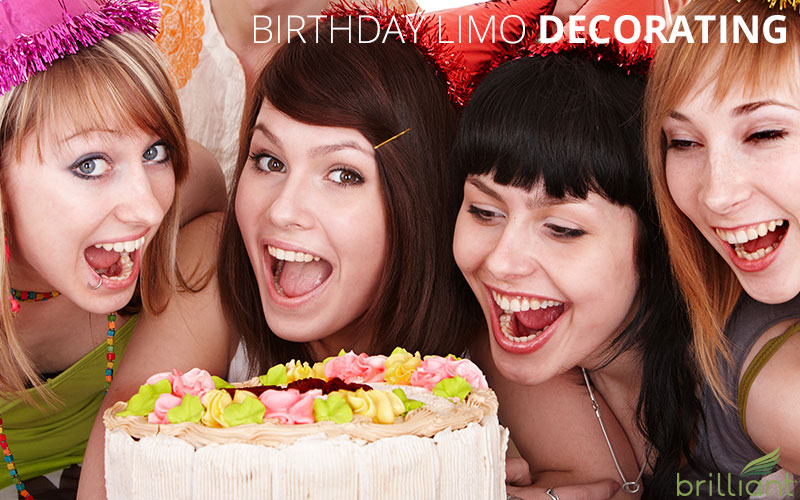 Birthdays and other personal celebrations are happy occasions and it's really the time when the person being celebrated should able to have their wishes granted. If they want a special kind of cake, eat in a certain restaurant, or want to ride in a certain kind of limousine, this is the time we should be able to indulge our loved ones, right?
How to Decorate a Limo for a Birthday
Certainly when party planning, you have a lot of choices when it comes to decorating and setting, including a decorated birthday limo. Getting a limousine for your birthday is a great way to celebrate the day. It can turn what was an otherwise ordinary birthday party into something extraordinary.
One of the questions that our customer service agents are asked a lot is, "are we allowed to decorate the inside of the limo for a birthday party?" The answer to that question is basically yes, but within reason.
We are happy to allow our customers to decorate our vehicles temporary decorations of their choosing as long as they leave no permanent marks, holes or glue on our vans. If it is something easy to put up and more importantly, easy to take down that leaves no marks or permanently alters the appearance of the vehicle, then we have no problem with that.
Perhaps some of you are surprised to hear this answer, after all, many limo operators don't want anybody messing with their vehicles. We are protective of our equipment also, but not to the point where we don't allow any modifications or customization that might make the client feel more at home. In our world, the customer is king!
We have even allowed customers to customize the exteriors of our vans using graphic wraps or logos on the outsides of our vehicles. They key of course is that these are not permanent alterations and they are easy to take off. And there are plenty of temporary decorations that fall under this category.
It's Your Birthday. Get What You Want!
The reason behind this decision is that we want our customers to be happy, and if it's a special request within reason, then we will do our best to accommodate that wish. We believe that our customers come first, and we like to treat them as equals and as individuals. You are not just buying a product off the shelf, but you are receiving a personalized service, that hopefully fully matches your personality.
So for a special celebration, you definitely want to try to create a unique and memorable experience. But this is something that goes beyond merely adding a few balloons or streamers to the inside of your limousine. Above all, you want to find a service that will match your personality and one that will provide the quality and level of service that you are looking for.
That is a much bigger issue than what type of decorations do you want to use. In the transportation industry, there are many different companies you could choose from for a birthday celebration.
In our industry, some operators focus on the corporate market, and therefore their vehicles have a more corporate or business like feel to them, and some companies focus more on the personal market, where colorful, party like vehicles are popular, like party buses or Hummer stretch SUV limos. Some people prefer the festive atmosphere, so it is recommended to choose a service that has those types of vehicles. Other prefer a more buttoned up or dignified approach and for those customers, I would recommend a more executive service with sedate and classy vehicles.
Your Best Options
We understand at Brilliant that we are not the best fit for every customer, as we do market to a very high end clientele for our business. And there are many other good limo companies out there that offer a variety of different vehicles that we don't. So we recommend looking at several different quotes from different companies before you make your ultimate selection.
But if you are looking for a high-end executive type limo service, with classy vehicles and impeccable service, then I would recommend you consider Brilliant Transportation and it's fleet of luxury Mercedes Benz Sprinter vans.
Birthday Limos Done Brilliantly
Our luxury vans can seat 7, 9 or 14 passengers. They are incredibly comfortable and luxurious inside and sleek and modern looking on the outside. The leather covered, reclining captains chairs facilitate relaxation or a great conversation with your co-passengers. There are leather and wood accents throughout the cabin, and a beautiful hardwood floor as well. Two large flat screen TVs with satellite channels and radio will keep you entertained during your journey.
And of course you can decorate the interior of the van to your heart's content, just as long as they are easily removable. The exterior is also game if you want to do some kind of vehicle wrap. These wraps are mostly done for corporate clients, but at a high end birthday party, well, the sky's the limit.
For more information about how we can make your next birthday celebration absolutely 'Brilliant', contact us at 1-800-543-1001 for more information or get a quote.