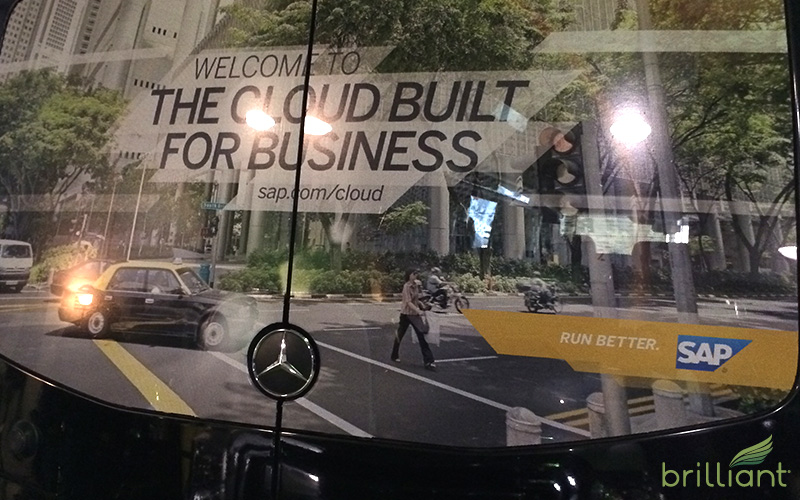 When you're putting on a corporate road show, especially one that deals with getting the public's attention, one of the questions our clients ask us is how to increase their brand awareness in cost effective way, transportation wise?
Well we have an easy answer for that: it's called vehicle wrapping. This is a relative new trend in advertising that has only been on the upswing. Advertising on vehicles through logos and posters and signs is nothing new, but the vehicle wraps are a new iteration of on-vehicle advertising, and it allows for much, bigger, more noticeable graphics as well as much more creativity in the way these things are presented. The entire appearance of the vehicle can now be changed as well as transforming it into a mobile marketing platform.
Vehicle Wrapping Advertising With NYC Limo Companies
Here are a couple of statistics from the industry: one vehicle wrapping company estimates that within the next 5 to 7 years, the vehicle wrapping trend will explode from being utilized on only one percent of cars to up to nearly 40 percent. That's a big jump, but it shows what a popular new form of advertising this is. I believe some of the growth this figure indicated that vinyl wrapping, as a technique, is increasingly going to replace current techniques used to advertise on vehicle, like billboards, on-roof signage, paint, and decals, among other formats.
Another industry insider notes that 98% of in-car audiences indicated that they noticed truck and car side ads. Also, individual vehicle advertising generates between 30,000 and 70,000 impressions per day. It is estimated that fleet vehicle advertising boosts name recognition 15 times greater than other forms of advertising media and that vehicle wrap advertising reaches more consumer at a lower Cost Per Thousand Impressions (CPMs) than all other forms of advertising. Compare vehicle wraps at only $0.15/CPM to a prime time TV spot (the most expensive form) at $20.54/CPM. When you consider that most Americans report spending an average of 15 hours per week in-car, that's a pretty powerful and economical form of advertising.
So how does this affect the limo business? Obviously this isn't something for retail or private clients, but corporate is a different story. Limousine companies would never rent out the side of their limos for advertisers just as a matter of routine; that would interfere with what their regular clients expect. But whenever a company is using limousines, vans or limo-buses for a corporate event, particularly trade shows and conventions, there is that chance there to offer additional branding opportunities.
Few Limo Companies Allow Vehicle Wrapping in New York
I can tell you that not many limousine companies have considered this issue before, but not so at Brilliant Transportation, because we like to be forward-thinking.
I did a brief search of limousine services in the New York City area and couldn't find one that advertised vehicle wrapping as part of their client services. Now this isn't unusual, vehicle wrapping isn't a common client request at all, but it does go to show that not many limo operators have considered alternative ways to enhance their corporate client's brand awareness.
This is the type of special request that you'll simply have to ask about over the phone, as too few companies are addressing this in their online literature. Our attitude at Brilliant is that we will do whatever we can to meet a client's request and enhance their experience. Other operators may feel the same too, but don't expect to get universal acceptance. Some companies may not want to deal with the hassle and time involved as it takes their vehicles out of service. Plus they might be concerned about vehicle damage, though these procedures can be done quite harmlessly.
Providing Wrapping As a Customer Service Item
You may have to shop around to find what you need. For one thing, wrapping a vehicle can take a couple hours. For those limo companies willing to executive your request, just be aware that they may bill you for the time that vehicle is indisposed, as of course it can't be used on other jobs, and this is true until the wrapped vehicle finishes up its assignment, because why would another client want to hire a vehicle with a third party's logo or information on it?
Each operator will probably be different in their response. Brilliant has wrapped our vehicles many times in the past. Mostly recently, for the Super Bowl, we did a large corporate job for SAP, the software company, and they requested a vehicle wrap/panel on our rear doors. We have also done corporate logos for Nike, among other clients, large and small.
We don't charge any special fees for the privilege of using this service, but we would charge for the time required to apply and discard the wrap, just as we would normally charge for time anytime our vehicles are being used.
At Brilliant Transportation, it all comes down to meet and exceeding customer expectations. That's something that we take seriously, and we enjoy exceeding those expectations every time.
To find out more about how we can further your transportation and marketing needs on your next road show, contact us for a customized quote.