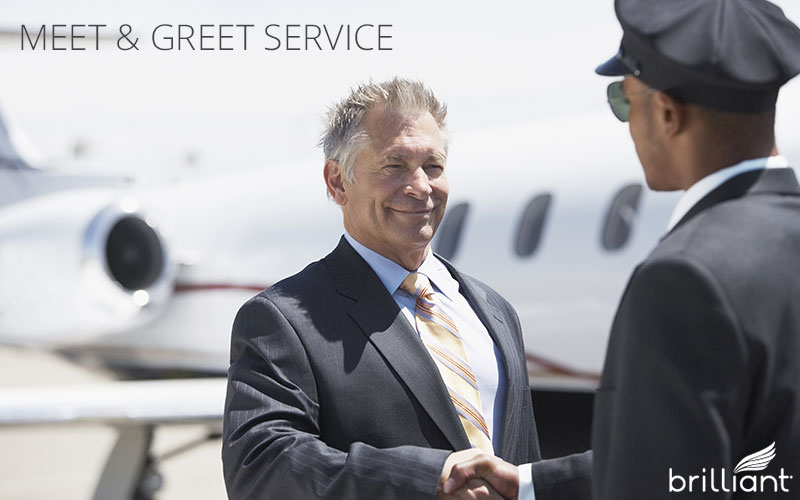 It's a very comforting feeling when you get off a long flight to have someone waiting for your arrival to greet and help you with your bags. It's even nicer when they are there to escort you to your waiting limousine, ready to whisk you off to your appointment in comfort and style. That's the benefit corporate executives or private citizens enjoy when they book a Meet & Greet at the airport.
Almost any limousine company can arrange this service for you. If your chauffeur is unable to personally meet you at baggage claim, for logistical reasons, it is possible to arrange a professional greeter meet you and escort you and your bags to your vehicle. These professional greets will cost extra if you have to book a separate service, but it can be well worth it; at times it's absolutely necessary, especially if you are dealing with a large group.
Meet and Greet Service in Los Angeles
Brilliant Transportation offers this service to all of our clients who are arriving at the airport. Whenever possible, we have the driver perform this duty. When it is not possible for the chauffeur to meet you, we will happily book a professional greeter service for you, upon your request.
Why wouldn't the chauffeur be able to do this in all cases you might ask?
Well, there's a good explanation for that. The reason is simple. If you have booked a larger vehicle, like a mini-bus for group transportation, or a tall passenger van, like the Mercedes Sprinter, there is no room for these oversized vehicles in short term parking at the airport. Without a place to park of course, the chauffeur cannot leave the vehicle unattended. Most of the open air parking lots that could accommodate larger vehicles are at a remote location, off of airport property, and too far away to chauffeur to be able retrieve the vehicle in a timely manner.
Not everyone requests an inside pick up, however, because it takes longer. You see, after the chauffeur meets you and brings you outside, he then has to go pick up the vehicle in short-term parking. This means you still have to wait at the curb. If you have only a short amount of time to get to a meeting or an appointment, this can eat up valuable time, especially if the chauffeur has to walk a long way to get to the parking garage.
If you're in a rush, it can be better just to meet the chauffeur outside with the waiting vehicle. As long as the driver has your cell phone number and vice-versa, getting in touch with him won't be a problem. If you really want an inside greet and don't have a lot of time, you always have the option of booking a separate greeter to escort you, although this will cost extra.
Reviews of Limo Companies That Offer Meet and Greet Service in LA
Like I said, this is a commonly arranged service, and I wouldn't make it the deciding criteria in terms of picking a limousine service. More important from the consumers point of view is the level of service you expect to get and the price.
At Brilliant, we are providing a bespoke luxury service, offering the finest in vehicles and customer service. But not every client who comes to us can afford it, or would want to spend extra for a routine trip. We understand, we're not trying to please everybody, but we would like to help. For that reason, I wanted to list a couple of alternative providers so everyone can find the best fit for their needs every time. For extra reading, we've also written reviews on the five best limousine companies in Los Angeles.
Avalon Transportation
We work with Avalon a lot as an affiliate and I can vouch for their great customer service and reliability. They are always available to do an airport meet and greet at any time of day. Once you schedule a pick up with them, a professional chauffeur will be waiting for at baggage claim when you get off the plane. They also offer a full time airport concierge service that can help you with your travel plans in addition to your airport pick up. Another benefit, they have their own staff of airport greeters on call to meet every arrival and it won't cost you extra.
LAX Town Car Service
This is a local company with a friendly customer service reputation and they specialize in providing quick airport service. They a basic, but adequate selection of luxury vehicles, including Town Cars, Cadillac Escalade for those who want an SUV, also stretch limos (including the Chrysler 300 Limo and party buses as well that can seat up to 25. In one of their party buses your party can start right at the airport, even available with a DJ upon request. Prices are reasonable as well. They offer an LAX pick up to Downtown LA or Santa Monica for only $55.00
Cool Rides
Another airport service specialist, serving all LA and Orange Co. airports; they'll get you there or from there to your place on time. They promise to take the stress out of your airport transportation experience! Aside from all the airport runs, they are also a full service limo service and can help you with chauffeured transportation in a variety of settings. They also have a full range of vehicles available, from the Town Car, to foreign luxury sedans, passenger vans, SUVs, Sprinters, mini-buses and full sized coaches too.
Getting Brilliant Service in LA
Last but not least, let's not forget about the premium luxury experience you can expect from Brilliant Transportation! We can pick you up from any Southern California airport and deliver you to your nearby residence or take you as far away as Las Vegas.
With our luxury Sprinter vans, going from your first class airplane seat to one of our vans is like having your own private office on wheels, or a mobile lounge if you're entertaining friends or business associates.
We're not always the perfect fit for every client who contacts us, but if you're interested in what we have to offer, you can get a quote or even give us a call at 1-800-543-1001!