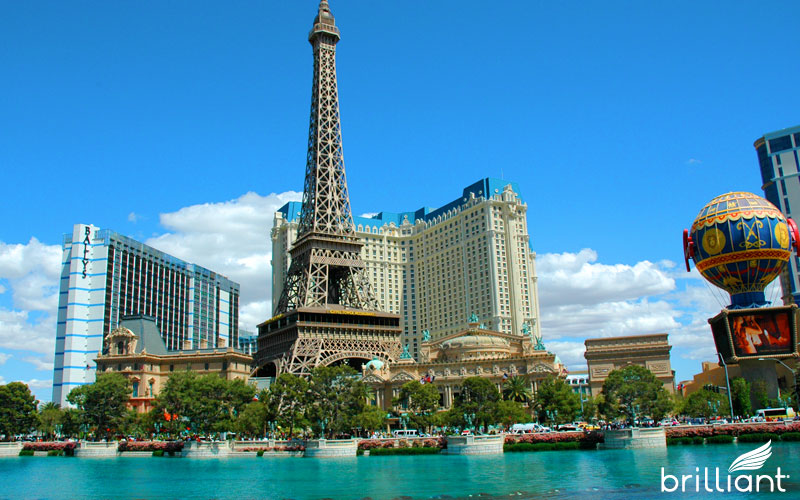 For travelers going from Los Angeles to Las Vegas, deciding which mode of transport to use getting there can sometimes present a conundrum. It's a very short flight, just one hour, almost to the point where the hassle of going to the airport is almost not worth the trouble.
It's also a straightforward drive as well, but for the impatient minded, the drive is a bit on the long side, about four hours, and that's without experiencing significant traffic in the LA area or on Interstate 15.
What's the Best Way to Get to Vegas, Fly or Limousine?
So what's the best way to get there then? Well, that really depends on your personal preferences and your specific needs. What might work for one passenger won't necessarily work best for the next. So it's worth spending a few minutes thinking about what your expectation for the trip are before deciding which way to go is the best for you.
At Brilliant Transportation, an executive transportation company specializing in luxury charters, we offer first class travel between Los Angeles and Las Vegas every day of the year, so we are well familiar with the choices that travelers face regarding this trip.
As a charter limousine company, we don't offer regularly scheduled service between the two cities as we do custom trips only; but we are available to make this trip any time one of our customers requests it, at any time of day.
That's one big advantage of choosing a charter limo service over a flight or other form of regularly schedule transport. With limo service, your personal timetable is what drives the agenda. You go whenever you're ready to depart, right from your doorstep.
What are some of the other pros and cons of flying versus driving (or being driven)? Let's take a look!
Flying Takes Longer Than You Think!
When you look at the total travel time involved in going door to door to your destination, making the trip by private vehicle is actually much more competitive time-wise than you might think. In fact, if you break down all the components involved in taking a commercial flight, or even flying private, the whole process takes much longer than you initially expect.
This isn't rocket science, but consider for a moment the total time it takes you to get from your home to the airport, and this is of course assuming you live in a metro area with relatively close access to a major airport.
Yes, the actual flight from Los Angeles to Las Vegas only takes one hour, but generally it is necessary to be at the airport a minimum of one hour before your flight (for commercial flights). So now your time investment is already up to 2 hours and you haven't even gotten to the airport yet! Let's give you one full hour to get the airport from your home, park and get from the parking lot to the terminal. Now you're looking at 3 hours already, maybe more if you're dealing with heavy traffic or crowded conditions at the airport.
Driving Can Be More Efficient Over All
Last but not least, you have to also factor in the time it takes to get from the terminal to your final destination in Las Vegas. Let's give you 30 minutes to claim your bag at the baggage carousel and just 30 minutes to wait in a taxi line at the airport and actually make the transfer from the airport to your hotel. Door to door you total time investment now stands at 4 hours!
That's exactly the amount of time it would take you to drive from Los Angeles to Las Vegas, door to door. Of course you could also run into traffic on the way or stop to have lunch which will lengthen your time, but you get the idea. Total flight and ground transportation times are almost the same as driving yourself. So in terms of total time investment, driving is actually quite competitive!
When you factor in all the benefits of being chauffeured to Las Vegas, then the car trip starts to look pretty good! Let's take a look at some of the benefits now.
Cost Is Secondary For Luxury Travelers
For the purposes of discussing luxury transportation, one area of comparison that we won't go into at length is cost. Depending on the level of luxury and privacy you require, obviously costs will vary greatly. There are cheap ways to get to Vegas, including cheap flights, or taking a bus and then there are also more exclusive ways of getting there too.
We're operating under the assumption here that our likely traveler here is more interested in comfort, convenience and the overall experience as opposed to cost only! If cost is your only consideration, then your choice is clear: you go with the lowest fare you can find, regardless of mode of transport, or personal inconvenience, or scheduling or whatever. In some cases that could even mean driving yourself in your own car. But you certainly don't start by contacting limousine companies for this trip if a low cost is your primary objective.
Getting back to our luxury traveler, using a chauffeured limousine service for a transfer to Las Vegas is good in so many other aspects. We've mentioned the comparatively competitive time frame, the convenience of choosing your own schedule and timing, efficiency of true door to door service. But there is also the experience factor. If you want to have a great trip as well as fun time doing it, then choosing private luxury transportation is the way to go.
Luxury Transportation Is The Way To Go!
This is where Brilliant Transportation can really help. As luxury ground transportation specialists, we have the ways and the means to make your road trip to Las Vegas a special one! Especially if you're celebrating a milestone or special occasion, booking a luxury ride to Las Vegas will be worth the extra cost.
Your party or vacation begins the minute you step out your front door and into the waiting comfort of your luxury van. Forget about spending hours at the airport and dealing with crowds and then exhaling only once you've opened the door to your hotel room! Instead, the quality me time begins the moment you're ready to depart.
And the way your luxury limo trip to Las Vegas unfolds is important as well. When many people think about a limo trip the first thing that comes to mind is a standard stretch limo sedan. You'll have plenty of legroom but no extra headroom, and it can still be awkward trying to move around the inside of these stretch vehicles. Yes, they're nice but that particular form of limo transport is becoming passe. The new frontier in luxury transportation is the luxury van.
This is what Brilliant Transportation specializes in, as we have an all Mercedes Sprinter luxury van fleet at your disposal. Brilliant concentrates on the high end of the high-end travel market and our luxury vans are the ultimate in luxury vehicles. Many of our guest refer to our luxury Sprinters as the 'Jet van' as the interior is similar to what you might find in a first class corporate jet.
The Brilliant Van Is The Ultimate in Luxury Transport
Our seven passenger luxury van, known as the 'Brilliant Van' features four large, leather covered captains chairs which face each other in a salon type arrangement, great for long conversations! There is an additional comfortable rear bench that seats another 3 adults, or can fold flat like a day bed.
The beautifully appointed interior features rich, tan colored leather and wood accents throughout the cabin, including a lovely hard wood, blond floor. Each seat is set up like a personal work or relaxation area with its own foldaway desk, great for a laptop or even eating a meal, adjustable seat settings and footrest, a reading light, electric outlets for your plug ins and lots of extra storage cubbies near your seat.
The Brilliant Van also features a full and closable driver partition, limo tinted windows, privacy shades and a large luggage space or trunk in the back. These tall van also offer outstanding head and elbow room, with a full 6'3" of head clearance, a running board for easy boarding, a large sliding side door that makes it easy to get in and out. Even fully loaded with 7 adults in the rear, there is plenty of space for everyone.
For entertainment options, our equipment can't be beat. We offer two large, flat screen TVs (32") featuring 158 channels of DirecTV, Sirius radio, a great sound system, DVD player and Sony PlayStation, a mini-fridge, wet bar and mood lighting. There are also several USB and AV connectors on our control panel, so you can plug in your own devices and watch them on the big screens.
Traveling to Vegas in your own chartered Brilliant Van is like having your own hotel suite on wheels before the party even gets started in Sin City. You're guaranteed to have blast, especially if traveling with some of your best friends.
There simply isn't a more luxurious way to get Vegas, unless you own your own Gulfstream, and some of our clients do! Yet the private jet is still much more expensive than using a Brilliant Van, and you can't stop at In and Out Burger on the way to enjoy a mouthwatering lunch!
Great Service Makes All The Difference
But aside from the luxury, privacy and convenience of hiring a Brilliant Van, we feel our greatest asset is our superior customer service. We treat all of our guests like royalty, and you'll certainly feel like a king or queen for day when you travel with Brilliant Transportation.
All of our staff and drivers have been trained to the highest standards of customer service. Aside from watching the road and doing the driving, the chauffeur's highest priority is to be attentive to our guests and making sure they have everything they need or want to have the best trip possible.
That's something you certainly can't say about any other mode of transport to Las Vegas, regardless of cost, except perhaps for that Gulfstream V!
If you'd like to find out more how Brilliant Transportation can delight you on your next planned trip to Las Vegas, contact us at 1–800–543–1001 so that we may provide you with a custom quote.