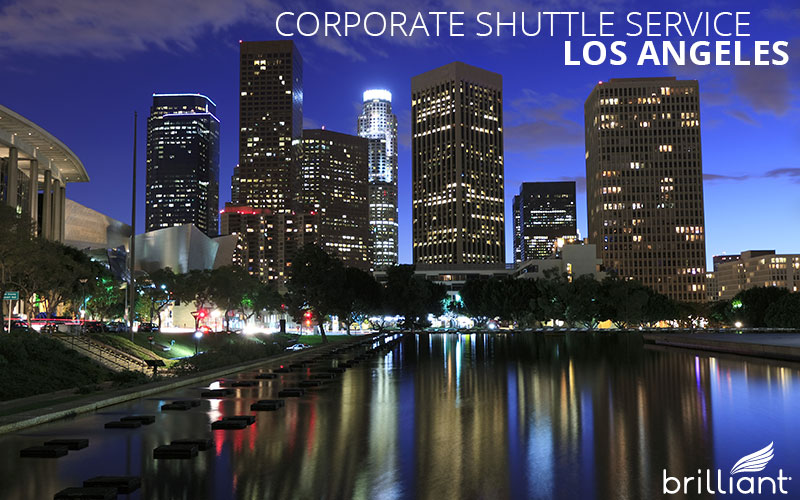 B2B and B2C companies often need special transportation services when hosting special events or even for intensive sales or customer outreach campaigns. Instead of owning and operating their own fleet of executive vehicles, it is more cost effective to farm out this work to a corporate transportation provider.
Brilliant is one such provider, with offices located both in New York City and Los Angeles. Many times potential customers have approached us to ask about the cost of providing luxury corporate shuttle service on the West Coast.
How Much Does Corporate Shuttle Service Cost?
The answer to this question really depends upon the particulars of the event, namely its size and scope. Before approaching a transportation company for a quote, work out as accurately as you can how many people need to be transported.
If it's on the order of hundreds, you many need to hire a several large motor coaches to handle the load. Anything from 50 to 100 people you might want to consider using a mix of vehicles, like minibuses, vans as well as full sized motor coaches. Under 50 people could be handled by 2 to 3 vehicles, using minibuses, vans and even using a mix of smaller vehicles like SUVs or sedans. The cost of the transportation will be affected by the number, size and quality of the vehicles you are requesting.
Variables That Influence The Bottom Line Price
Besides your vehicle choices the other major factor will be time and length of service. Most chauffeured transportation companies charge by the hour, with hourly rates increasing by the size of the vehicle. Obviously the longer the job the more it will cost in terms of the hourly investment. Also the type of service one is requesting can impact the amount of time it takes to deliver the service.
If you are requesting a corporate shuttle service to a local venue like a convention center, the number of hours it takes would be influenced by the number of trips you need to make, or if it's a general type of open shuttle arrangement, you would factor in the number of hours the event is open to attendees.
Other trip arrangements, like shuttle service between cities would be impacted by the distances involved and the time required for the vehicles to complete a round trip between destinations.
Another cost factor clients should be aware of is the common use of hourly minimums in the livery industry. Two and three hour minimums are common for every type of reservation, except perhaps commonly and quickly travelled routes, like airport runs.
The area where this might impact the customer would be if they only needed a minimum level of service, like two short transfers during the course of a day. Even if you only need a corporate shuttle for less than one hour or less per day, you would still likely be charged for a minimum of two or three hours. Charter companies cannot survive on such limited margins as they work only on discrete, pre-arranged trips, so the use of hourly minimums is required.
Vehicle Classes and Rental Rates
As I mentioned before, rates will vary depending upon the size and class of the vehicle, so let's take a quick look at some of the most common categories. The rate scale would start out on the small end, covering car service like using a Lincoln Town Car or something similar. Rates in Los Angeles for this type of service usually starts at around $50 per hour and go up to $75 per hour. Four door sedans can only handle 3 passengers maximum so this is only a good option if you're dealing with a very limited number of people.
The next size up would be using an SUV which could handle up to 6 people per vehicle. Cadillac Escalades and Chevy Suburbans are common choices in this category. These are stylish vehicles for sure and project a kind of power image, but again, this type of service is most appropriate for small groups. Prices will range in the $70-$90 per hour range for these, sometimes higher.
For small groups of up to 15, you could opt passenger van service. Standard passenger vans can carry up to 15 people per vehicle. These types are very standard vehicles, not a lot of luxury, but very practical transportation when you need it. Look for prices between $65-$75 per hour.
For medium sized groups of 20-40 passengers, minibuses are your best bet. Styles can range from very basic, to luxury minibuses to party buses for personal celebrations. Prices will range from $150-$300 per hour for these larger vehicles.
Upscale Transportation Options in LA
If you're planning an upscale corporate event, one vehicle type you'll definitely want to consider for smaller groups is the luxury van. These specialty vehicles are what happens when you take standard passenger van and turn it into a custom luxury vehicle. Extra seats will be removed to make way for larger more comfortable seats, an upgraded interior is mandatory, a partition to provide privacy for the passengers, and extra entertainment equipment will be added.
Brilliant Transportation in Los Angeles is the leader in this up and coming form of executive transportation. Our luxury vans are exclusively Mercedes Benz Sprinter vans which are the best vehicles in the category. The interior of our luxury vans are like that of a private jet, offering incredible luxury, privacy, and if necessary, productivity. Our vans can function very well as a mobile office or as a mobile entertainment lounge, depending on your requirements.
Our 7 passenger luxury van features four large captains chairs facing each other, to provide that social environment and there's also a back bench for additional passengers or it can fold down into sleeping platform. Each seat is also equipped like a mini workstation, with a stowable desk, reading lights, outlets for electronics and storage space for papers or personal effects.
The technology on board includes a WiFi router, two large flat panel TVs featuring 185 channels of DirecTV, a DVD player, a premium sound system, a Sony Playstation 3 and also a teleconference phone. These exclusive vehicles work very well for VIPs or upper management, taking them wherever and whenever they need to go in total comfort, style and privacy.
Naturally these special vehicles come with a premium price as well: $225 per hour with a 3 hour minimum, so it won't necessarily work with every budget or every customer. But for those companies that really need to impress, or treat their brass to a special experience, then this would be an excellent choice.
Contact Brilliant Transportation today to arrange your custom itinerary at 1-800-543-1001.