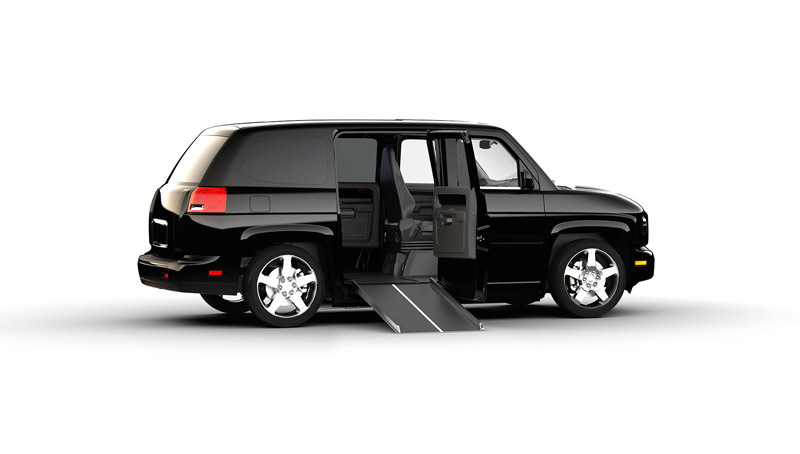 We are pleased to announce that we now offer our luxury chauffeured transportation service to wheelchair users with the introduction of our brand new Brilliant Mobility Van. While others call their vehicles Wheelchair Accessible Vans (or WAV), we prefer a more respectful name seeing our vehicle as a solution allowing clients to regain mobility.
Accordingly, our wheelchair accessible vehicle will be called by the solution it provides (mobility) versus a physical description of the vehicle itself (wheelchair accessible). While this naming convention may be subtle, the nuance speaks volumes towards our approach to working with the most influential people on the planet. We focus on peoples challenges and needs and then problem-solve.
The Brilliant Mobility Van
---
In researching how to approach this challenge, we evaluated many custom built solutions and the MV-1 Luxury Edition. Our goal, in everything we do, is to provide safe, reliable and discreet service to our clients much the way we would like to be treated ourselves. We were aghast with horror stories of Client's experiences with other providers who would send ambulettes as they were focused on the transportation and not the client experience. Can you imagine the embarrassment of being wheeled into an ambulette as neighbors gawk and wonder if everything is OK?
We firmly believe in maintaining every wheelchair riders' dignity and providing an equal travel experience irrespective of the vehicle a client may choose. After researching and test driving, we are thrilled to have selected the MV-1 Luxury Edition. Our Brilliant Mobility Van, and our roster or expertly trained and hand selected chauffeurs, are perfectly suited to accomplish this very important solution.

Not only is the Brilliant Mobility Van incredibly gorgeous, luxurious and comfortable, but also it feels and rides much more similar to a luxury sedan than a Wheelchair Accessible Vehicle. In fact, even the access to and from the van is a superior experience.
The MV-1 features a side entry ramp that slides from beneath the van chassis when stowed. One does not have to ride with a rattling hunk of metal inside the passenger cabin like most WAV lifts. And, we've upgraded our van to include a Jumpseat so a caregiver can ride next to the wheelchair to provide care and support while enroute. So, the journey itself is a very pleasant and brilliant experience. In addition, the Brilliant Mobility Van has significant luggage capacity enabling clients to bring all their luggage for a multi-night journey.
If you're interested in reserving the Mobility Van you can either request a quote or speak to one of our reservation specialists at 800-543-1001.