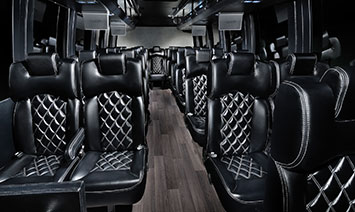 From the outset, Brilliant Transportation set the goal of being an innovative company and a category-changing leader in the ground transportation space. We pride ourselves on raising the bar when it comes to defining luxury transportation.
I launched Brilliant in 2010. People thought I was crazy when I described our business saying we were a chauffeured transportation service using "luxury vans". "Luxury van is an oxymoron" they would say. I went on to explain how special our custom made Mercedes Sprinter vans are and listed all of the features of the Brilliant Van. The real takeaway is how these vans can double as a mobile office or living room and that allow clients to reclaim valuable personal or productive time normally lost in transit.
With the great reception we received on the Brilliant Vans, we decided to add a few more variations such as our 9 passenger Executive Van which has also been well received as well as our standard 14 passenger Sprinter van. These 14 passenger vans are our go-to work horse for weddings, events and other group transportation needs. Quickly, we found ourselves using increasing numbers of the 14 passenger Mercedes vans when we transported hundreds of guests. At first, 10 black Sprinter vans lined up was a lot. Then came 20 vans. Then 30. Then 30+ vans for multiple days and… you get the gist.
As quickly as we were becoming the standard for small group and event transportation using Mercedes Sprinter vans, we recognized the need for a true oxymoron: a luxury minibus!
Nationwide, top event planners, wedding planners and corporations were noticing us due to our business and our attention to detail, logistics, processes, and procedures. They sought our assistance and expertise to handle the most discerning clients and hired us when everything transportation related must go right, or mission critical so to speak.
However, in certain circumstances either the size of the move required larger vehicles or the desired transportation required for all the guests to ride together at the same time. We have a lot of clients who prefer the more hospitable environments of the 14 passenger Sprinter van and like seeing the sleek, long procession of identical vans. Other clients prefer larger buses with everyone riding together. 

Immediately we began contemplating adding larger minibus options to our fleet. We initiated that phase with our near obsessive compulsive due diligence!
Adding A Luxury Minibus Fleet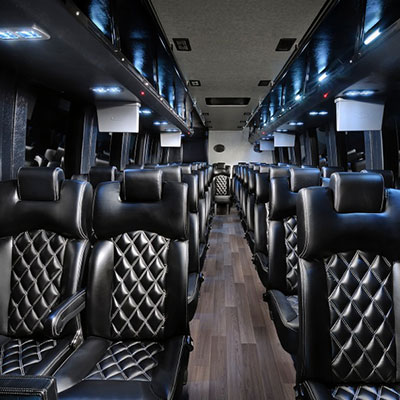 I researched and spoke to everyone who owned, manufactured, and operated minibuses to determine what luxury minibus we would custom build in true Brilliant style. I met builders, brokers, operators, and asked a ton of questions, then finally decided what our fleet would look like. 

Unlike traditional minibus offerings, we put an emphasis on build and ride quality while maintaining a strong desire to have a Brilliant aesthetic internally and externally. Unlike most operators, we ignored the traditional white or black exterior believing they were less than ideal.
We ended up selecting a gorgeous silver exterior which reduces the visual "mass" and "size" of the bus, yet creates a sleek exterior that is very pleasing without being overbearing. 

We purchased several units and now have assembled a fleet of the nicest, most comfortable luxury minibuses in the New York City / Tri State area. These vehicles range in passenger capacity from our 28 passenger luxury minibuses to the 36 passenger luxury minibuses that also have a small lavatory (bathroom) in case of emergency.
Our minibuses have overhead storage compartments, separate and sizable luggage storage in the rear, individual reclining captains seats, lap belts, and 110 electric outlets at every row. If you need to move small or large groups in comfort, there is no question that you should go right now to the following pages and check out the videos and 360 degree virtual tours:
Our buses have been on the road now for about 3 weeks and have received rave reviews. Our clients absolutely love them and have made terrific comments about the comfort, ride quality, and how once again we have raised the bar in chauffeured transportation.
Let us introduce you to a Brilliant way of travel. Be Brilliant! Go Brilliant.
---