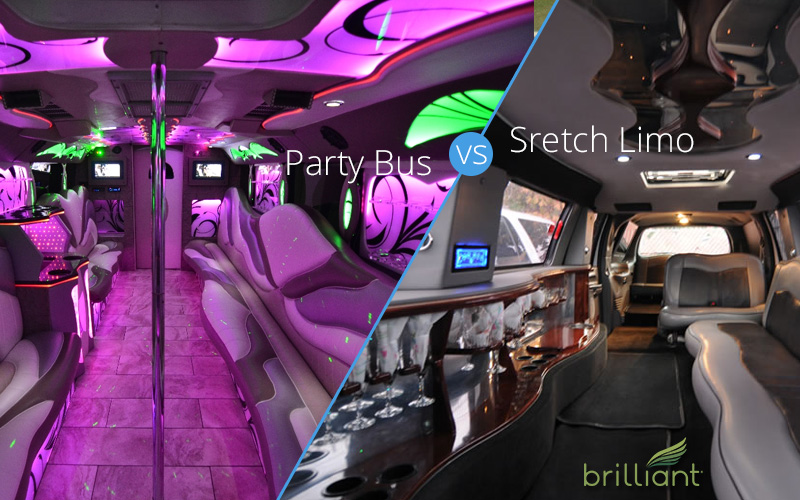 At Brilliant, we've been privileged to work with some of the best wedding planners in the business. We've provided transportation for the weddings of some most influential people in New York and Hollywood. We get inquiries all the time from wedding planners and brides-to-be about the best wedding transportation options for a lot of different types of weddings.
One of the common questions when it comes to group transportation for weddings is if a party bus is best, or if limousine are better for weddings. That answer, of course, depends on the bride and the atmosphere and aesthetic style she envisions for her wedding.
The Best Wedding Transportation: A Party Bus or Limousine?
At the end of the day, the bride's opinion is the only one that matters. So there's no way I could answer this question definitively for each and every wedding. What I can do is explain the differences and how each voice can impact the stylistic integrity of your wedding event design.
Party Bus For Wedding Transportation
There's no way to put down a high-end party bus. The atmosphere inside is unmatched with a feeling of being in a nightclub while rolling down the highway. For some, this type of atmosphere works perfectly with their wedding plans, as they have a virtual rolling party with the bride, groom, and their closest friends from the ceremony to the reception.
If you're looking for an upbeat, good time during transit for a group of people, a party bus could be the choice you want to roll with. Most of them have lasers and light shows, an on-board bar for drinks, and a loud, thumping stereo system to set the mood.
The downside of party buses for wedding transportation is that, they often clash with the elegant style of most higher-end weddings. Some brides spend a lot of time ensuring their wedding is story-book perfect, and bringing in a rolling nightclub doesn't complement that style at all.
Brilliant's Wedding Transportation Options
At Brilliant, our milieu is a more classic, elegant wedding style. We mainly utilize a fleet of identical Mercedes Sprinter vans. If you've never seen a long line of identical, sleek, black luxury vans in a line rolling into the venue driveway.
If you're interested in getting a free consultation for your wedding you can submit the request on our wedding transportation page.
We're not the best choice for everyone, obviously, because it goes back to the style the bride has in mind. While more and more weddings, including the Royal Wedding, are choosing to utilize tall, custom vans, some brides still prefer the next option over a van or bus.
A Stretch Wedding Limousine
This is the old-style, classic mainstay of many weddings. Watching the bride and groom get into a long, white limousine really is a thing of beauty. And, while finding a luxury van service like Brilliant outside of New York or Los Angeles is almost impossible, there are plenty of companies all over the world that offer the stretch limousine style of vehicles in their fleet.
Stretch limos are also a little cheaper than buses or luxury van services. So if budget has a major impact on your wedding transportation plans, going with a limousine could be the way you can get a beautiful vehicle for a lower price.
Which Wedding Transportation Option is the Best?
Again, this question ultimately goes back to the bride and her specific taste and wedding style. If you're looking to transport guests and need to move a large amount of people, some weddings still have to go with a bus of some sort. For those that dislike the idea of a party bus in their wedding, many companies offer luxury minibuses for weddings.
At Brilliant, we have this style of bus for weddings in 38 passenger, 36 passenger models. We're not the only companies that offer these style of vehicles so you can still compare and contrast wedding transportation from a number of providers.
One major recommendation to anyone planning a wedding is to set your metrics for grading wedding transportation services. We've found there are three things to think about: budget, style of vehicle, level of service needed.
For smaller weddings, getting a cheaper limo service is understandable. When the main responsibility is to take the bride and groom from the chapel, to the reception, then to their final destination, ordinary limo service should be able to perform good enough.
However, if you're providing transportation for a larger group, or if there is a large deal of details that must be attended to by the transportation provider, going with the cheapest will make your life miserable.
Ultimately, choose the company that makes you feel most at ease and can perform the service you desire in the budget you require.