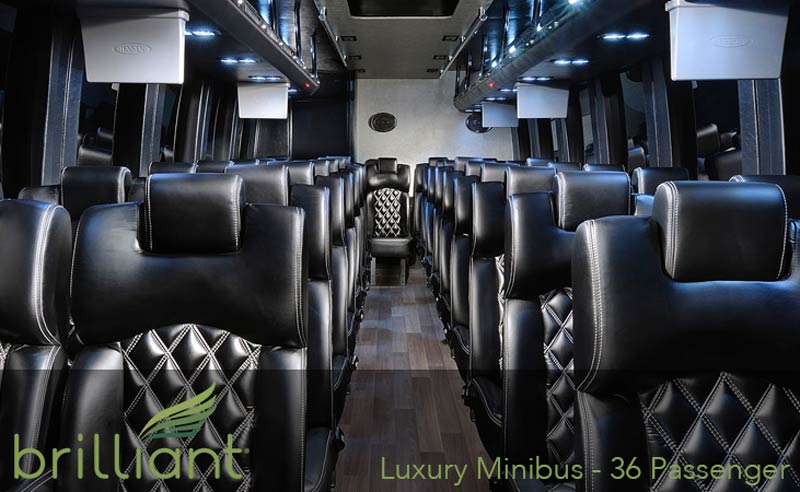 There's 4 main things to consider when traveling in a large group from NYC to DC - comfortability, flexibility, efficiency, and safety. We recognized the lack of options for this type of service so we decided to create a solution. With the Brilliant 36 Passenger Minibus all four of these factors are provided to our clients on a daily basis, especially between New York City and Washington D.C. - one of our most popular routes for luxury bus rental.
Premium Luxury Bus From NYC to DC

Comfortability
In the video you'll notice all of the seats are made of luxurious diamond stitched leather, the most comfortable option available. Each seat reclines and has ample leg room for your complete satisfaction. With other amenities such as overhead monitors, a large flatscreen TV, individual electric outlets, and privacy shades this really is the most comfortable ride in between New York and DC.

Flexibility
One of the major benefits of
booking a luxury charter bus
from NYC to DC with Brilliant is the ability to customize your trip. If you'd like to make a stop in Baltimore for a few hours before heading into DC then consider it done. We often see this with clients who are looking to use our frieghtliner as a
luxury tour bus
. You let us know your needs and we'll make your travels into a custom experience.

Efficiency
As of April 17th, 2015 we carry two minibuses in our fleet, the 36 Passenger and
28 Passenger
. However, for distances such as NYC to DC we highly recommend the former for it's on-board lavatory. Similar to a luxury coach bus, this allows zero unnecessary stops for bathroom breaks which cause you to run behind schedule. This also allows you to only make the stops that your group desires and not risk the possibility of using a dirty public restroom. Our bathroom is cleaned to the highest standards for your satisfaction and safety.

Safety
Before every trip we put all of our vehicles through a rigorous safety inspection to make sure it's in perfect working order. Traveling in a large luxury bus NYC to DC means many things need to be checked off before it's deemed completely safe. We make absolute sure to check every box before your trip. Also, each seat is equipped with personal lap belts to ensure you have every option to remain safe while in transit. As you can tell, we take safety very seriously, and want you to have the peace of mind that you're in good hands when you charter a luxury bus with Brilliant.