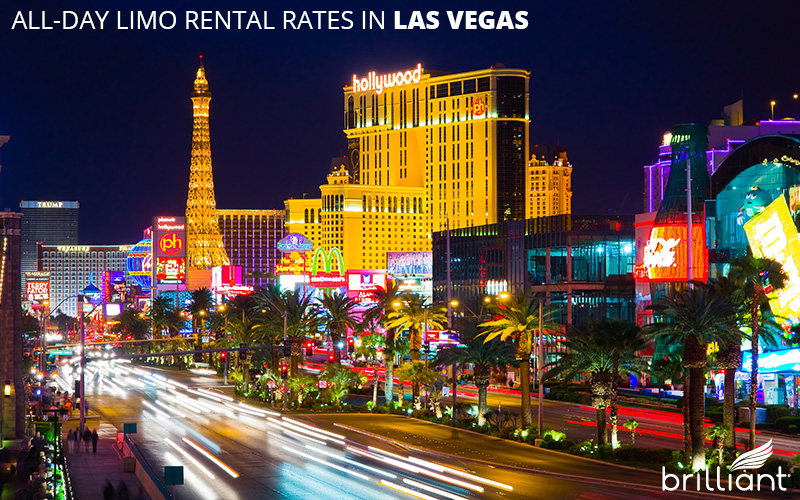 Many limousine customers use their transportation for just short periods of time. But even if you're staying in town and not planning a long road trip, day-long or multi-day service in a limousine can be very useful when you have an extensive personal or business agenda. Sometimes there's just no substitute to having a car and driver at your disposal when you have to make many stops and have multiple people and places to visit.
One of the more frequently asked questions we receive is about price, for example, 'what is the price of an all day limo rental in Las Vegas?' That's a useful question to ask because there are so many different transportation providers, and so many different itineraries one could have, it's easy to see how this issue could get confusing. It may be worthwhile to spend a few minutes discussing this issue in further detail.
Daily Limo Rental Rates in Vegas
Limousine companies generally rent their vehicles by the hour; that is the basic price unit for this industry. Because there are so many different schedules one could keep in a day, there isn't really a standard day rate in the business. You have to ask the limo companies what it costs to use their vehicle for the day. They in turn will ask you how many hours you will need the vehicle. In your case, it could be 6, 8,10 or more hours, depending upon what you need to do.
Some limo companies will have a daily rate based upon a set number of hours and the rate is determined by the basic hourly rate multiplied by a set number of hours. If your day is longer than the set time for the daily rate you will end up paying the hourly rate when all is said and done.
Alternatively if you end up using the limousine for less time than you thought you needed, but booked it using the day rate, you could end up paying for the whole time period anyway. This is because, although you may have ended your trip early, the limousine company may have had to turn other jobs away for that day as your original reservation precluded them from booking that vehicle for the hours you had reserved it.
For that reason, I think it is simpler when providers offer only one rate, the basic hourly rate, so there is no confusion about your billed amount what you actually used. This is how Brilliant Transportation operates, like many other limousine companies.
Additional Limo Rental Fees
Other fees to look out for besides the hourly rate are the driver's gratuity, usually around 15%-20% of your total hourly charges. Most limousine companies will add this fee automatically, but others, like Brilliant, do not. So ask ahead of time. We've written an article explaining why we leave gratuity to the discretion of our clients.
Other companies also sometimes use surcharges, like an additional 5% or 10% to cover the high cost of fuel, or workman's comp, or for 'administration'. It's usually only the cheaper limo companies, who quote you a low hourly rate to pull you in, then hit you with these extras.
Always ask in advance about additional fees. Any highway or bridge tolls you incur will also be added to your bill. Tax on limousine service is unusual, but some states like New York, require it. Nevada does not.
Vehicle Selection vs. Hourly Pricing
Time will be the major variable in terms of the cost of your limousine trip; others being the type of vehicle you choose, the quality of service the company is offering, as well as the number of other passengers you plan on bringing with you. Limousine companies don't charge per passenger, but the logic here is that the greater number of passengers you have, the larger the vehicle you need, or the greater number of vehicles, which will end up costing more.
The most inexpensive hourly rate will start out with the most basic service, which would be black car service. These are black, four door sedans, typically a Lincoln Town Car and what you get is a driver, a comfortable car and not much else. There are no extra frills here, but sometimes that's all you may need, particularly business travelers.
Prices in the class typically go anywhere from $50 to $70 per hour. If you want to move a bit more upscale, you could choose a more prestigious European luxury sedan, like an Audi or Mercedes, which could cost you in the $70-$100 per hour range. Of course, these would only be a good choices if you have 3 or fewer passengers. The other option is to book multiple sedans for more people if you want to stick with that type of service.
For slightly larger number of people, the next option up would be going in with an SUV. Usually this is a Cadillac Escalade or Lincoln Navigator, sometimes you see a Chevy Suburban or Audi Q7 in this line up. The rates for these vehicles are generally $80-$90 per hour.
A slightly higher price range than that will get you into stretch limo territory. Stretch limos have a traditional look as well as offering many more features and comforts than either a sedan or SUV. If you want to have satellite TV or a DVD player, a bar, mood lighting and things like this, a stretch limo could be a good choice. Stretch limos and super-stretches generally hold anywhere from 6-12 people max. The price range for these are roughly $75-$120 per hour.
Renting Larger Vehicles in Vegas
If you need something even bigger and flashier, there is always the stretch SUV limos, where some of the longer models can hold up to 20 people. Rates for this class are about $135-$175 per hour. And of course, this type of vehicle is really meant for parties and celebrations, not business trips, so you'll want to match the style of your limo to the type of trip you're taking.
Then there's larger group transportation for more than 20 passengers, but that's getting into a different subject. But minibuses and limo buses go from around $150-$300 per hour, depending upon the size and features. The cheaper alternative for group transportation is using 14 or 15 passenger vans, which go for about $65-$80 per hour.
The final category we'll look at is the premium category, which includes specialty and exotic cars, as well as luxury vans. These vehicle are much pricier and ooze prestige so if you really want to make an impression that's a good choice. Look for pricing in the $150-$200 + per hour range here.
The Brilliant Options in Vegas
A little bit more about luxury vans here: Brilliant Transportation is a pioneer in this emerging transportation category with an outstanding fleet of custom converted Mercedes Sprinter Vans on both coasts. These Mercedes Sprinter vans offer much more room, (including an impressive 6'3" amount of headroom) and add swankier style and amenities than competing brands and categories of vehicles. Using one of these vans would be about the most luxurious and convenient way to get around Las Vegas for one day, or several days.
The vans' interior is more like that of a private jet, with reclining leather captains chairs, leather and wood accents throughout, stowaway desks and multiple, large, flat screen TVs for enjoying satellite channels or a DVD presentation. WiFi is also standard on board. These vans offer unparalleled productivity, or even leisure time when on the road.
The rate for these vans is also in the premium bracket, at $225 per hour. For an 8 hour day, that would cost $1,800. But for many of our well to do clients, it is the comfort and convenience that this service provides that makes it worth the price.
One important note about our Sprinter Vans in Las Vegas: we can't at this time provide local only service in Las Vegas, but if your trip to Vegas originates or ends in California, then in combination with that route, we are able to provide as many hours of service in Las Vegas as you need.
We understand that Brilliant Transportation is not the right fit for every customer. We don't offer every type of vehicle; we focus on luxury vans and buses. We're also not in a price range suitable for all income levels. And there are many good alternatives out there for different customers.
But if you would like to experience the best possible service in one of the best and most versatile luxury vehicles on the road today, contact Brilliant Transportation at 1-800-543-1001 to get a custom quote for your next trip to Las Vegas.