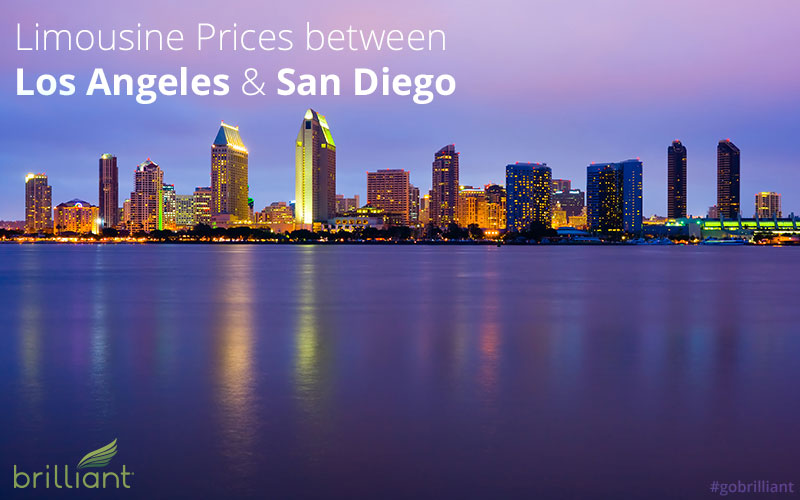 There is so much to see and do when you come to Southern California for a visit. While Los Angeles attracts the largest number of visitors by far there are many other great cities you could visit that also have wonderful beaches and a laid back lifestyle. Chief among those would have to be San Diego. "America's Finest City," as San Diegans love to refer to their home, has wonderful opportunities for outdoor recreation and world class attractions such as the San Diego Zoo.
Many times we have had potential customers ask us about the price of limo service from Los Angeles to San Diego. 'Limo service' is actually a vague a term and there are several possibilities you could contemplate while looking for chauffeured transportation. So, let's review a couple of key concepts in limo pricing so you understand what's involved.
Regarding pricing, limousine companies charge by the hour so the number of hours you use the vehicle for will be the first factor in determining your cost. Other factors that will come into play are the type of vehicle you select as well and the number of people you need to transport.
The Cost of Limo Service From LA to San Diego
Let's look at the time factor first. The drive from Los Angeles to San Diego only takes about 2 hours, depending on traffic, and covers about 120 miles. While most people drive straight through from Los Angeles to San Diego, the journey also offers many interesting places you could stop along with way. Theme parks like Disneyland, Knotts Berry Farm, or Legoland, are worth visiting. There are also many nice beach towns in coastal Orange County where you could stop for lunch such as San Clemente. Orange County is also famous for its many upscale shopping malls, such as South Coast Plaza Shopping Center and Fashion Island.
If you're staying in the Los Angeles area, we've also written about the price of renting a limo for a whole day in Los Angeles.
Hourly Pricing of Limo Companies in San Diego and LA
On a one-way limousine trip to San Diego, your cost will be based on a roughly 4 hour trip, even though you may only spend 2 hours riding in the limousine. The reason for this is that most limousine companies bill garage-to-garage, meaning the clock starts when the limousine leaves it garage and doesn't stop until it makes it back home.
Another way to look at it is while the passenger may only be going one-way, the limousine has to return to base. So the time between the drop off and return to base, also known as the 'dead head,' is the 'travel time' that will be billed to the reservation.
The reason for this extra billing is simple. Limousine trips are pre-arranged on a charter basis, there is only one party per reservation. The limousine cannot be used by another party until the last job is finished and the vehicle returns to its normal service area.
Because of charter company laws, a limousine coming back from an out of town run can't just pick up new passengers on the fly, hence the necessity of garage-to-garage pricing.
Group Transportation Options
The other major factor that will impact the cost is the type of vehicle you choose to ride in, which is also determined by the number of people you need to carry. Obviously there will be a major price difference between using a 4 person Town Car and a 40 passenger limo bus.
If it is just you and one or two other people, the least expensive option would be to use a car service, featuring black sedans like a Lincoln Town Car or a Cadillac. In most cities, cost for this basic chauffeured service starts at around $55 per hour and can go as high as $90 per hour.
Vehicle Classes and Average Rates
If you'd like something fancier than your average Town Car, many companies also offer European luxury sedans as well for a higher price. You could hire a Mercedes S-class or Audi A8 with prices ranging from $75-$100 per hour.
If a sedan doesn't provide enough room for you, most limousine companies also offer SUV service between $80-$95 per hour. These larger vehicles are good for up to 6 passengers and fit more luggage than your average sedan.
For small groups of up to 15 people, your best bet would be to choose a passenger van, a standard factory vehicle at most companies and the prices range from $65-$80 per hour for these vans. Some of the larger vans, and nicer ones, like the Mercedes Sprinter (it also comes in a 14 passenger minibus version) can cost more, up to $150 per hour.
Premium Transportation Companies in LA and San Deigo
For the traditionalist, there is always stretch limos, offering plenty of legroom, comfort and style. There are so many different custom limos out there at various ages so prices can vary quite a bit, anywhere from $70-$135 per hour.
These usually hold a maximum of 8 people, with some super stretches holding as many as 12. Stretch SUVs are even bigger and cost more, up to $175 per hour and up to 20 passengers for some of the larger stretches.
For the high end passengers, there is also more luxury to be had in the premium vehicle segment which could encompass exotic or specialty vehicles like a Rolls Royce or fully equipped luxury vans. Prices in this segment start at $150-$200 per hour and up.
What We Offer Our Customers in Los Angeles
Brilliant Transportation has done a wonderful job pioneering the emerging luxury van market in Southern California with their exclusive fleet of Mercedes Benz Sprinter vans. These custom converted creations have more in common with private jets on the interior than a normal passenger van.
With 6"3" headroom and plenty of space to move around during your trip, you won't arrive at your destination cramped. Our clients will be cradled in leather-covered captains chairs with reclining backs and extending footrests.
Each seat comes with a foldaway desk, light and outlet so it is possible to get some office work done during your trip if you need to focus on business. Also passengers will be entertained by the onboard WiFi or the many satellite channels offered by DirecTV, displayed on two large flat screens. There is much to like and love about these first-class vans.
Brilliant Transportation concentrates on a very exclusive segment of the market so we don't expect that we will be the right fit for every group. But that doesn't bother us because we like to provide the best in service to our clients. For travelers that are looking for a cheaper price range, there are many good alternative limo companies to choose from in the Los Angeles and San Diego areas.
However, if you are definitely looking for celebrity/VIP treatment and style, you don't need to be famous to to receive your custom quote for your next road trip to San Diego. Contact us at 1-800-543-1001 to find out how we can help you.