For skiers, winter and spring are the best times of the year! It's obviously the best time of year to head up to the mountains and enjoy the powdered snow while it lasts. For being known as a sunshine state, California has many world class skiing resorts, and one of the most popular is Mammoth Mountain.
Mammoth is actually a great place to visit in summer too, for those who enjoy the mountain air and outdoor activities like hiking and mountain biking. But for most mountain enthusiasts, wintertime is the best time to visit.
Limo Van Service Pricing LA to Mammoth Lakes
Being in the transportation business, often we have been asked by potential customers about the price of limo service from Los Angeles to Mammoth Mountain. There are many different ways one could arrange this trip, so the answer really is it depends. But before we get into that, I thought it might be helpful to review a few basic standard billing practices of the limousine industry so that you know what to expect.
The drive from Los Angeles to Mammoth Lakes is a very scenic drive and it will take you through some of the most remote and rugged territory in the lower 48. The most direct way to drive there is to take US 395 which tracks through the desert along the eastern side of the Sierra Nevada mountain range. Interestingly, this highway will take you nearby both the lowest and highest elevation points in the continental U.S., Death Valley and Mount Whitney, respectively. The drive is a little over 300 miles and it will take you roughly 5 hours with no stops. Sometimes in winter, chains are required to get through the mountain passes.
Hourly Pricing and Travel Time
In terms of cost, the first item to reckon with is that limousine companies will charge you by the hour for their services. The hourly rate is determined by what type of vehicle you hire as well as the quality of the service you are booking.
Another important factor to consider when booking a long-distance, one-way transfer to a place like Mammoth is that you will have to pay for travel time. Travel time is the amount of service time it would take for the vehicle to return to its starting point after dropping you off in Mammoth if your one-way trip was from L.A. to Mammoth Lakes. The way this is calculated is known as the practice of 'garage to garage' billing, which means the clock starts as soon as the limousine leaves its base and it doesn't stop until it returns. Therefore if the drive up takes 5 hour, the round trip will be approximately 10 hours, and that's what you'd billed for.
The reason for this is limousine trips are prearranged charters and they don't turnover as many trips in a day that a taxi or regularly scheduled shuttle service might. If you are taking a limousine 300 miles outside of it regular service area, it can't accept new jobs until the previous trip is complete and the limousine has traveled many hours to get back to its service area. Not to mention the fact that limousines should be cleaned and restocked after every trip, plus after 10 hours a driver change would be mandated. So you basically paying for the privilege of tying up a service vehicle for many extra hours while it take you on your long distance, one-way trip.
Luxury Vehicle Size and Selection
Besides time, the other major factor impacting the cost of your trip will be the quality and size of vehicle that you select for your journey. There are many different sizes and classes that you could choose from, and you selection will depend on how many people you need to transport. But the range could be from a 40 passenger minibus all the way down to a four door sedan.
The most economical choice for limo service would be your basic black car service. Typically this is offered in a Lincoln Town Car or something similar. This is your basic executive car with a comfortable back seat and a driver and not much else. Rates for this kind of service go around $55-$75 per hour normally. For a more exclusive kind of luxury car, you could also choose a European import, like a Mercedes or Audi sedan. Rates for those would in be more in line with $80-$95 per hour. These sedans are good options only if you have 3 or fewer passengers.
If you need more seats, your next best option would be to go with an SUV service featuring a Cadillac Escalade or Chevrolet Suburban. These larger vehicles will fit up to 6 people and much more luggage. Plus they're very stylish vehicles as well. For small groups of up to 15 people, your best option might be to go with a passenger van, which is basic transportation, but does a fine job handling these small to medium sized groups. Rates here are in the $65-$75 range, but can go much higher, up to range of $150 per hour for certain vans like the Mercedes Sprinter which is larger and has more features than your standard Ford E series van.
Just as one might opt for an economical black sedan, one could also go with higher end, more luxurious options, such as vehicles you'd find in the premium category. These could include exotic cars like a Bentley, Rolls or Maybach sedan and could also include an unusually well appointed luxury van. Prices in this level often start around $150-$200 an hour and can go higher for the best vehicles with the best service.
Premium Sprinter Van Limos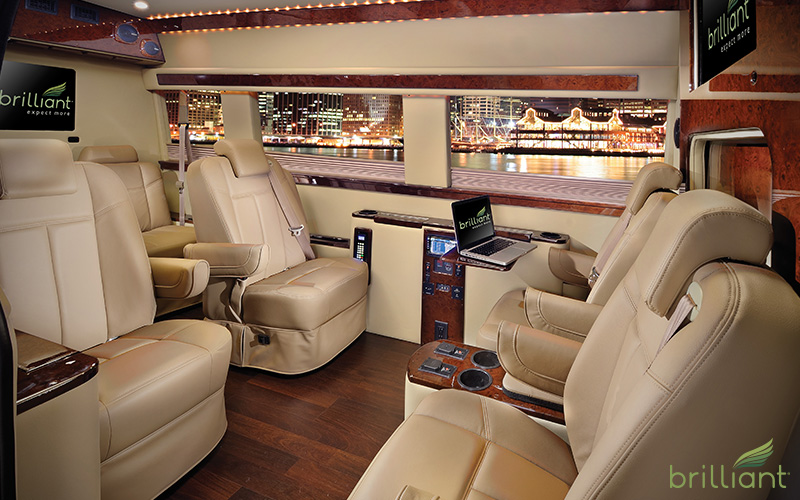 To this category I would include Brilliant Transportation's Mercedes Sprinter luxury vans. These custom creations have been reworked to include all the high end amenities that your VIP or CEO traveler could ever desire. Large screen TVs, satellite channels, WiFi, Sony Playstation and a wet bar with mini-fridge all come standard. Many of our customers compare the inside of our vans to that of a private jet, so far above normal it is compared to your average passenger van. These tall vans also afford best in class headroom (6'3") and plenty of room to move around while underway.
Reclining leather captains chairs with a built in desk will keep you comfortable during your journey, and the space is configured to work both as a mobile office or a mobile lounge for entertaining.
Rates for these exclusive vehicles are $225 per hour, so a 10 hour trip to Mammoth (garage to garage) would set you back $2,250. It is definitely an exclusive price for an exclusive product and we understand that it would not be in everybody's budget. There are certainly lower cost service you could choose, but they would also be offering a different, lower quality product.
It really depends on what your individual needs, desires and budgetary limits can handle. When you're ready to do it right and can command the best, then contact Brilliant Transportation for a custom quote for your next ski vacation at 1-800-543-1001.