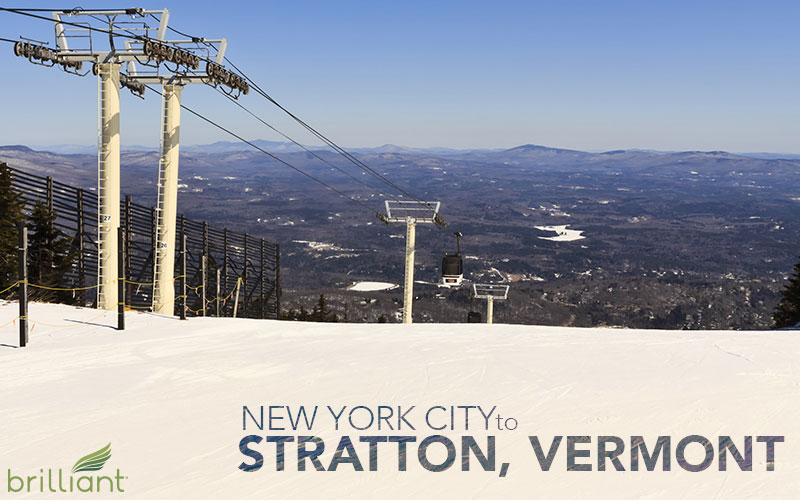 Stratton Vermont is a lovely little ski village in the Green Mountains, an ideal place for a family's winter vacation and definitely popular as a getaway for hard working executives from New York City. Brilliant Transportation travels there regularly from New York; in fact we have several loyal customers who maintain second homes there so we do this run a lot.
We also are often questioned by potential customers about what the cost of van service from NY to Stratton. Since there are many different vehicle options for such a trip, even within the luxury category, the answer will depend on what your needs and plans are. In this blog I will give you a general idea about rates but the more important point is to get you comfortable with the billing policies of luxury transportation companies so you know what to expect.
What a Luxury Van Service Costs to Stratton, Vermont
The first major point to make is that generally, all luxury van services are priced by the hour. So if you're taking a long road trip, the number of hours the vehicle is in use will be the primary factor in how much it costs. The other issues to consider are the type, class and size of vehicle you choose. The number of passenger also has an effect because you need to choose a vehicle that is size appropriate. Larger vehicles with more seats have a higher hourly cost.
Luxury Transportation Companies and Hourly Pricing
The trip to Stratton, VT is about 230 miles from New York and takes a bit over 4 hours one way with no stops. Another important fact to realize is that for a long distance, one way trip is that you will be charged travel time. Travel time is the amount of time it will take the vehicle to complete a round trip, either before the pick-up or after the drop-off. So after dropping you off in Stratton, the van still has another 4 hours to go in order to get back to its base.
This is what's known in the industry as garage to garage pricing. The reason for it is that luxury transportation companies would go broke if they had to make long distance one way trip all the time with no way to recover costs for full operational circuit. If a luxury van service is based in New York, it can't accept a new job in New York until it returns from Vermont. That's is why customers have to pay for the total time a vehicle is in use for a particular job.
Besides time and garage to garage pricing, the other major determinant of your reservation cost will be the type of vehicle you select. This in turn is decided by how many passengers you have to accommodate. Obviously, the more people and the larger the vehicle, the more the hourly charge will be.
Vehicle Classes and Average Rental Rates
Your entry level luxury transportation service, both in terms of cost and comfort is your black car service. This is usually provided in a Lincoln Town Car or something similar. These are comfortable four door sedans which basically offer you a driver and a back bench. If you wanted anything more than that you'd have to go with a different vehicle class. Prices for this category are around $55-$75 per hour.
If you only want a sedan but would like something with more prestige, most limo companies that offer sedan service would usually have an upmarket choice like a Mercedes or Audi sedan as well. You can book these for a moderately higher cost of around $80-$90 per hour.
If you need more room for passengers, try booking an SUV service that will seat up to six passengers and their luggage. Popular choices in this category include vehicles like the Cadillac Escalade, Chevy Suburban or Lincoln Navigator. Expect to pay in the $80-$90 per hour range for these too. For a small group of up to 15 passengers, your best bet would be going with a standard passenger van. These are plain factory vehicles that offer practicality, but not luxury. The cost for these is generally $65-$75 per hour.
A client could also choose to go in a traditional stretch limousine. These vehicles have a lot of style and luxury features you won't find in a standard sedan or SUV. Plus they are fun to ride in. Because there is such a large variety of these types of vehicles prices will vary as well. Expect to pay in the $70-$120 per hour range.
Premium Van Service in NYC
For the upper end of the market, one could also choose to do the trip in a premium vehicle. High end luxury vans like the Mercedes Benz Sprinter would be the perfect option. These vehicles are reserved for those willing to pay higher prices in order to make a statement, or simply because they demand the very best. Prices for this category start at $150-$200 per hour an up. Don't expect any discounts in in this price level either.
Brilliant only offers the very best in van service transportation. We have an exclusive fleet of Mercedes Benz Sprinter vans that have been custom converted to create a unique automotive environment. The interior is more like that of a private jet instead of a standard van. Our vans feature leather captains chairs with work stations, 2 large flat screen TVs with satellite channels and radio, and total privacy and comfort in the passenger cabin. The rate for these vehicles is $225 per hour. For the Stratton trip, it will cost $1,800 one-way.
As I mentioned, this is definitely exclusive territory and it's not something that your average traveler would be able to afford, but for VIPs or upper management executive looking to substitute for first class air travel, it can be the right fit. Not to mention in wintertime, it can be difficult flying in and out of these mountain towns. Sometimes ground transportation is your best option.
To find out how we can make your next trip to Stratton or elsewhere in New England extraordinary, contact Brilliant at 1-800-543-1001.