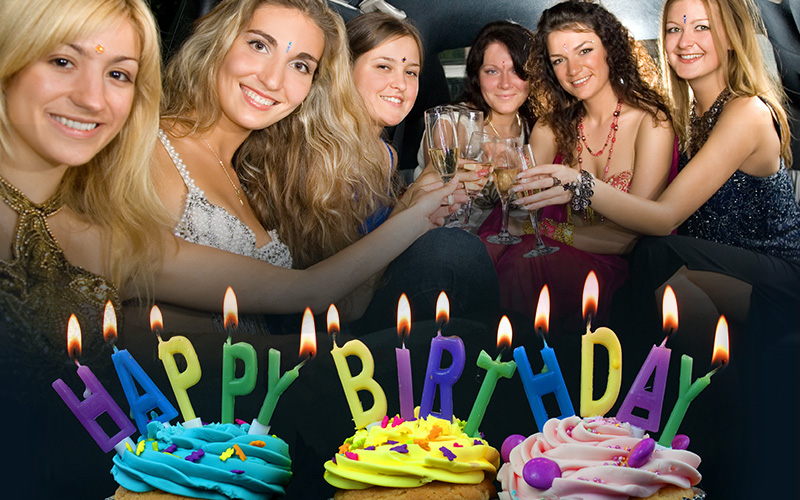 As a luxury transportation provider in New York, we get inquiries all the time about providing limo service for birthday parties. We've found our clients like to book a limo service for their birthday party plans, for birthdays from 16 to 85.
Being able to take a few close friends to the birthday party location in a limo or premium luxury vehicle is a superlative addition to the entire event, bringing a new level of excitement to everyone involved. At Brilliant, we do a lot of birthday party transportation with our fleet of premium customized Mercedes Sprinter vans.
Each of our vans comes decked out with the finest amenities and high-tech entertainment and connectivity options. The clients that have used us for their birthday party limo service have absolutely loved us. But, we're not the best fit for over half of the people that contact us.
We're a premium service, and our pricing reflects the level of service we provide. For many people, we're simply out of their budget range. Even for those who can afford our service, we're not always the best fit, and we understand that completely.
We've found for those who aren't the best fit for us, that these limo companies deliver a great service for birthday parties in the New York area.
A Review of the Best Birthday Party Limo Services in New York
These companies are normally very reliable and their vehicles are sure to impress your party guests. Finding the best service really depends on what level of service you desire and the budget your working with. It's wise to contact two or three companies at least and compare their services, pricing, and vehicle availability for your birthday party.
Santos Limousine
Santos Limousine offers tremendous pricing for their birthday party package in New York and New Jersey. Getting a stretch limousine for 6 hours with Santos will cost you under $600 and you can get a stretch SUV for under $1,000 for the same time frame.
They offer to add a special birthday message to the outside windows, and they'll also roll out their red carpet for your birthday party group if you choose their Infiniti QX 56 Limousine.
Whitestar Limousine
We've written about Whitestar Limousine before, and they offer a birthday party transportation service in some really nice vehicles. They have a special package for sweet 16 birthday parties where you can get a pink limousine, and they even have a pink hummer limo.
LI Party Rides
LI Party Rides cater strictly to parties, so their ability to provide a unique limo service for your birthday party is reliable. They offer a lot of unique ideas and services for birthday parties for teens and kids, including scavenger hunts and movie & ice cream nights.
If you're celebrating a birthday party with a lot of teenagers, this limo service can really ratchet up the fun level!
Gem Limousine
If you're looking for a more upscale provider, Gem can provide the classy kind of service your birthday party requires. They have some very nice luxury vehicles and their chauffeurs are absolute professionals.
We've recommended Gem plenty of times in the past, and even though their based in New Jersey, they can still provide amazing limo service in New York for your birthday party.
Choosing the Best Limo Service for your Birthday Party
Depending on what kind of party experience you're wanting to share with your guests, these limo services can be a good resource for your transportation. Like I said before, we would love to provide the luxury limo service for your upcoming birthday party, and you can get a free quote from us here.
However, we realize not everyone is going to match perfectly with our service. In that case, we recommend you contact most of these companies so you can compare and contrast what they have to offer. We hope your birthday party is a smashing success!