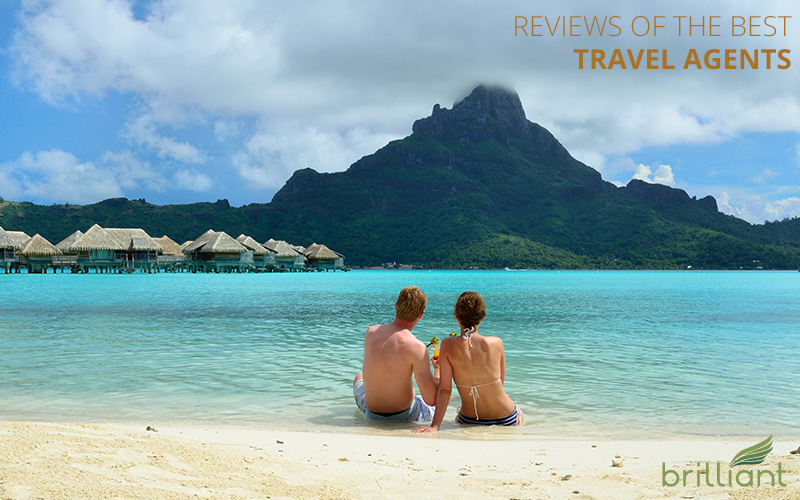 The world of travel can be so fun and exciting and rewarding! But behind every great trip there is much planning, research and arranging to do. Much of the time, an individual will have to take care of these details himself or herself, if they have the time. Or there are some spontaneous travelers who simply like to improvise and see what happens. But that approach is not for everyone, and it is certainly contingent upon having a lot of open ended time.
For those who don't have that luxury of time, and who also put a real premium on luxury and comfort, in order to make the best of that precious resource, it is better to make exact plans. And for those with more money than time, the best approach can be to hire a travel agent to do all of the time consuming legwork for you.
How to Find the Best Luxury Travel Agent in New York?
So the question becomes how do you find a good travel agent, and what makes a good travel agent in the first place? We frequently get asked this question at Brilliant Transportation by our loyal customers, so we'll try our best to provide some clarity on the issue.
First off in terms of framing the question, finding the best of anything in a customer service capacity, that is a highly specific and subjective area. There are too many variables to contend with in order to come up with a cut and dried answer. So we're not making any gold plated promises here, but just trying to be helpful and informative.
Obviously a competent travel agent will be able to handle a complex group itinerary and make all of the required plans and reservations accurately and within budget. That's our starting point. If they can't do that well then they're not worth dealing with. But to find someone who excels at this and really exceeds your expectations, that's something else entirely and worth seeking out, even paying a premium for. In order to be an outstanding travel agent, you have to be able not only to handle the routine stuff, but also the unexpected, last-minute, and urgent problems that travelers can encounter.
Potential Problems of not Using a Travel Agent
For example: your dream vacation is all booked in Tahiti and your airline cancels the flight at the last minute. Your hotel reservation is non-refundable and there are no other flights available for the next week. What do you do? Well, if you've ever had a travel agent save your bacon in a situation like this, then you know you are working with an exceptional individual, someone who goes above and beyond the call of duty and deserves to be considered among 'the best!'
Going the extra mile is what being an exceptional travel agent is all about. But in order to deliver exceptional service, it's not just about making a great effort and staying late at the office. It also has to do with dedication, experience, knowledge and having valuable relationships. These are hard to come by achievements because it can take a career to build up that level of expertise. So you're better off going with an agent who has lots of experience and tons of contacts, especially if they're independent, because in the end, that's what can make the real difference.
A Review of the Three Best Luxury Travel Agents in New York
Here are some names of a couple well regarded travel agents in New York who just might be able to help you plan your next trip of a lifetime:
Ms. Lebani is actually the hero of hypothetical travel disaster mentioned in the story above. Her clients did have their airline cancel their flight to Tahiti at the last minute. When there were no other flights to be had within days and with their allotted vacation time ticking away, she was able to book them on another flight and make hotel reservations at another resort on a different Pacific Island, all within a number of hours. Not only was their vacation saved, but with diligent follow through over a matter of weeks, she was able to secure a full refund of their Tahiti hotel reservations! That's what I call customer service!
Ms. Reategui has over 40 years of travel and travel business experience. In addition to focusing on high-end travel, she loves to provide the personal touch to each of her client's itineraries as well as solving client's travel problem, like the time she arranged for 3 last minute visas for one American and their two South American friends, to visit ancient sites in Libya and Syria. Not easy to do considering the multinational mix and the fact that these countries are not so welcoming to U.S. citizens. Another memorable assignment was providing the surprise of a lifetime for a valued client who wanted to propose to his girlfriend at the Flaming Cliffs in the Gobi desert in Mongolia. She arranged for a white tablecloth, candlelight dinner for the couple, smack in the middle of the desert wilderness after the big question was popped.
Ms. Sperrazza is an expert when it comes to booking a luxury cruise. She is a certified travel specialist for Cunard, Princess and Norwegian Cruise Lines. Not only has she visited resorts in advance of her client's large group trips to personally inspect everything, take photos and fine-tune all the arrangements, but sometimes she even travels with her clients to provide that in-person, concierge service. She makes it a priority to stay current on the latest offering and is always adding to considerable travel education and knowledge.
If you're planning for your dream vacation overseas, in most cases Brilliant Transportation won't be able to assist directly other than taking you to the airport. But as we believe deeply in providing top-notch customer service, we are certainly not above helping our loyal clients find a terrific travel agent, if that's what it takes to make your dream trip come true.