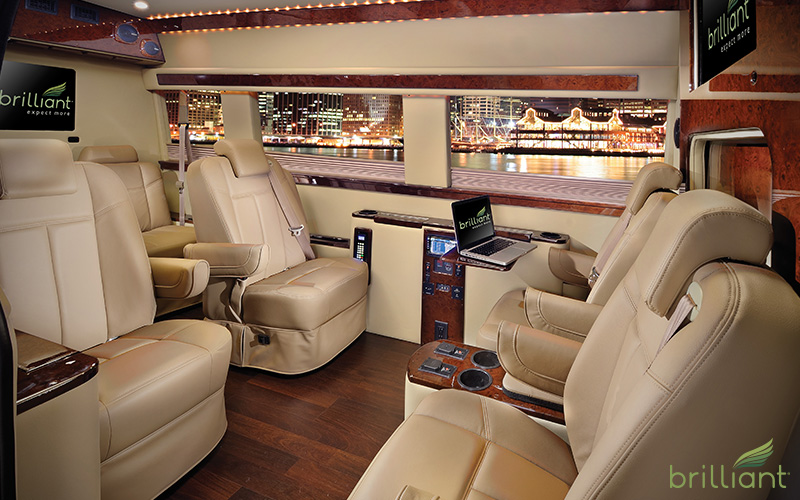 When it comes to luxury transportation options, consumers have many choices and there are many different vehicles to suit many different needs and tastes. If you are a private buyer looking for a personal vehicle, your choices are virtually unlimited, especially when you consider customizations. There are just too many options to mention in the space for a short blog.
When considering luxury transportation as a service (chauffeured service), then suddenly the options are a bit more narrow. Most limousine companies actually operate with a relatively small range of luxury vehicle options.
Chartering Luxury Vans: Reviews of the Best
For black car services, you have your standard Town Car, (which is falling by the wayside), your stretch limousine sedan, which offer many different varieties, but mostly still based on the Lincoln Town Car, although Cadillac and Chrysler 300 based stretches are also popular.
Then you have the category of imported European sedans that are popular with car services. These would be vehicles like the Mercedes E or S class sedans, BMW 7 Series, Audi 6 and 8 series, as well as even Lexus and Infiniti sedans. Then you also have exotic or specialty category like Bentleys or Rolls Royce Phantom or Ghosts lines, and also Maybachs (which are now also out of production.)
Luxury Vans Are Making Big Inroads In Limousine Market
But for today's review we're going to focus on small group transportation (where sedans and stretch limos wouldn't be of much help) and the luxury van segment, particularly the Mercedes Benz Sprinter lines.
The luxury van segment is a relatively newcomer to livery fleets worldwide, and the Sprinter vans are making a big impact, just as their relatively large size makes a big impact on the client when he or she steps inside one of these great luxury vehicles for the first time.
The Sprinter van lines started their lives as commercial cargo haulers and work vans but they have also always been popular as minibuses for small group transportation. Their superb engineering and flexible platform makes them ideal for just about any use you can think of.
And in the last few years they've been making inroads in a new vehicle category, the limo van. These vans are already long and tall, so there's been no need to make stretch limos out of them, and regardless of which configuration you choose, they always provide class leading space for passengers and ease of moving about the vehicle.
At Brilliant Transportation, an executive transportation company in New York and Los Angeles, focusing on high end clients, Sprinters have always been our only choice for our luxury van fleet. We offer three distinct models which I'll discuss in more detail below. The real difference is in the interior configurations, as on the outside, all of the vans look identical with their lovely flowing lines, gleaming black livery paint and chrome alloy wheels.
Sprinter Vans Give You a Wide Choice of Configurations
Brilliant offers four different interior configurations to suit the various needs and occasions of our clients.
One of our most popularly used vans is the 14 Passenger Sprinter Van. This is as close as we get to a standard factory vehicle in our van lineup. These vans are absolutely perfect for small group transfers, whether it's a ride to the airport, a cross-town transfer, or for use as a corporate shuttle or for sales events, school field trips and the like. Our 14 passenger vans have even been used by some of our client as a staff transporter and luggage vehicle, although their primary purpose is to move groups of people around.
This van features four rows of comfortable bench seating, but each passenger has their own seat cushion, seat belt and headrest. The seating is comfortable and supportive and works well for short trips as well as longer road trips. These vans have frequently been used by small groups on many of our long distance routes, like New York to Boston and Los Angeles to Las Vegas. These vans come with a very comfortable and supportive suspension as well as great handling.
A Green Transport Fleet
Our Custom Luxury Sprinters Are Over the Top!
While most limo companies simply stop their offerings with the 14 passenger Sprinter, Brilliant gives our customers a great luxury and custom van option: our bespoke luxury van line. We offer two variants, the 7 passenger 'Brilliant Van' and the 9 passenger 'Executive Van'.
These custom vans have been favorably compared to private jets by many of our customers. The seating and styling is first class all around and definitely more executive in style than say a party bus. Our styling in the luxury vans include soft beige leather seating and interior panels and beautiful blond hardwood floors.
The Brilliant Van has a more family style seating configuration, with four large captains chairs that face each other, and a comfortable rear bench that seats an additional three adults or can also lay flat like a day bed.
For entertainment options, our luxury vans can't be beat. The 7 passenger features two large flat screen TVs (fore and aft) with 158 channels of DirecTV. There is also a high powered sound system, satellite radio (Sirius), on board WiFi, a Sony PlayStation for the gamers, a teleconferencing phone, mini-fridge and AV connectors so you can play your own presentation.
They Work Great As Mobile Offices
The seating arrangement also offers each passenger their own 'workstation' with a pull out desktop, electric outlets, individual reading lights and storage cubbies for papers and personal effects. That's why our Brilliant Van is a particular favorite of traveling executives. You really can use our vans as a mobile office or mobile conference room. There's no problem holding a meeting or getting work done while you're en route to your next appointment.
And for those clients who are relaxing or entertaining friends or clients, the vans work equally well as a mobile living room and entertainment lounge. You can have fun non-stop on your way somewhere like a restaurant or theater and continue to fun between stops as well.
The 9 Passenger Executive Van offers a nearly identical features and entertainment package, with the main difference being the seating configuration.
The Executive Van has two rows of captains chairs in the back (seating a total of 8, with room for one more person up front next to the driver.) All the seats are facing forward so the feeling is a bit more like being in a private jet and it works great for both traveling executives or a group of your extended family or friends.
It has an open cabin with no partition in between front and back. Many of our corporate clients have used our Executive Vans as a scouting vehicle or even an onsite production office for photo and video shoots.
Regardless of which particular van you choose, they are all exemplary luxury vehicles and are a perfect fit for small groups of VIP travelers or for high end events.
The newest addition to our fleet is the 13 Passenger Corporate Van. Our clients expressed the need for a luxury sprinter van that provides the same experience they receive in the Luxury Van, but with a larger group. We're always listening to our clients needs and desires - this van is a direct result of that.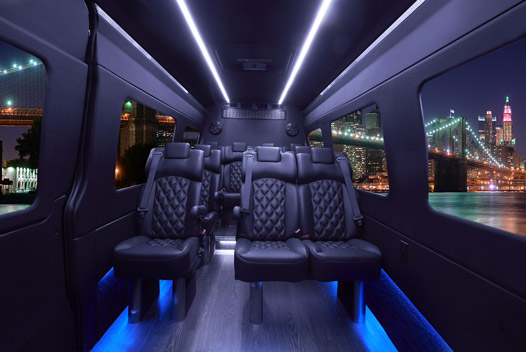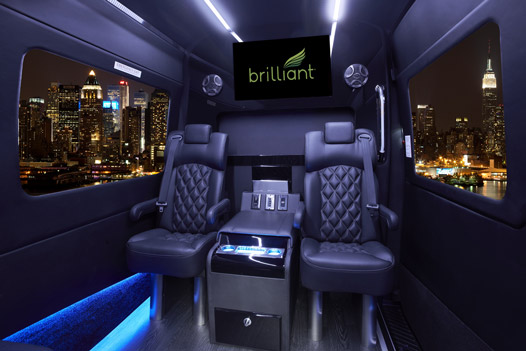 Perfect for any team that needs face to face interaction while traveling. Corporate teams agree that this van is far superior to a limousine for outings and entertaining clients.
You'll definitely make a favorable impression arriving in one or more of these lovely vans and you might be so comfortable inside as to not want to get out and mingle. But that is entirely up to you!
Are There Any Cons?
In terms of these vans having any cons, honestly it's hard to find any. Perhaps the most one could say against these vehicles is that they might offer more luxury and pizazz than what you really need.
Naturally offering clients the best in vehicle transportation means a higher price tag, both for the operator and the paying customer. Many times customers will contact our company for a trip quote looking for basic transportation and they are disappointed to be quoted a premium price.
After all, not everyone has a need for luxury transportation nor does everyone have the budget for it. But this doesn't pose a serious dilemma, you simply keep looking for lower cost options! No one really needs a Mercedes, but plenty of people desire it.
Downsizing Is Also An Option
Although we regularly transport clients with only one or two people in the party, if your group is three people or less, using such a large vehicle might be overkill for what you need. You travel needs might be just as easily met with a lower cost and smaller SUV vehicle, like the Cadillac Escalades that we offer. Some people may only want to book a sedan. More power to them, although our firm doesn't offer stand alone sedan service.
Private transportation is a large and diverse field, with many different customers having different needs. And lucky for them, the marketplace provides. Wherever you look, you will find high end and low end options for every budget. It is simply the customers' job to find the right match for them.
But when it comes to high end luxury for small group travel, it is hard to beat the Mercedes Sprinter van, especially if it's a custom Brilliant luxury van.
For more information on how we can serve your needs, contact our reservation staff for a custom quote for your next trip at 1–800–543–1001.