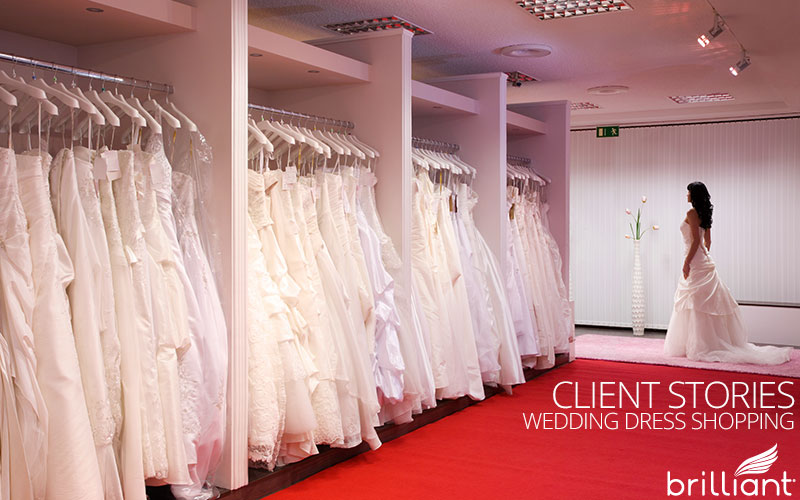 Guest Post: By Abby Zohn, of Brilliant Transportation
Having worked in the travel and transportation industries for the last nine years, it's safe to say I've seen the kind of exotic perks employees receive in a company's effort to ensure flawless product knowledge and top-notch customer service. From a familiarization trip to the Galapagos to flying on a private jet to a company sales meeting, the opportunities are ever-present and always improving.
Having joined the Brilliant team in December of 2013, as Customer Acquisition, Engagement and Database Manager, I've certainly been privy to all the positive feedback we receive from clients on a daily basis. It's clear we're doing something right and are mavericks in the current transportation market.
That said, there is no better way to understand if we can further improve our clients' experiences without becoming the client ourselves!
Wedding Dress Shopping in a Brilliant Van
My older sister's boyfriend recently popped the question, turning her into a future Wife and, of course, a Pinterest Queen! Given their short engagement and limited shopping options nearby, she planned a wedding dress shopping trip for my mother and I to meet her in Los Angeles where we all used to live some time ago.
Somewhere along the way, our President and CEO Richard Fertig suggested we use the luxury, 7-passenger Brilliant Van for the day in an effort to make the trip hassle-free and special for my sister.
I have to say, his idea was… well, brilliant!
I could not have predicted that going to eight (8!) dress appointments in one day could be so fun, relaxing and stress-free for the three of us. I recommend this idea to any bride planning her wedding.
In a nutshell, here are the top three reasons why:
1. No stress.
If you've ever been to Los Angeles or New York, you know the traffic can be unpredictable and a major hindrance to your plans. As a passenger on the Brilliant van, all we had to go was get onboard, pour ourselves a glass of wine and enjoy the ride to our next appointment.
2. Storage.
If you're planning to do some additional wedding shopping throughout the day, the Brilliant Van offers plenty of luggage space to store your new purchases. Whether you end up with your shoes, favors, or even your wedding dress off a fabulous sample rack, rest assured there will be room for it.
3. Memories!
Wedding dress shopping is supposed to be FUN. If you're worried about traffic, finding parking and filling the meter, you won't be able to relax. Being able to enjoy quality time with your bridal party or family on such an exciting day is invaluable. Perhaps most importantly, I have to think Brilliant brought us good luck; my sister said yes to the dress that afternoon!