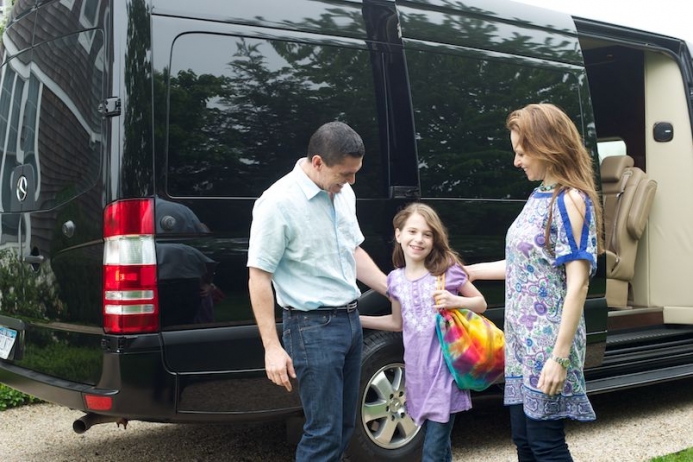 Whether you're just dropping your little one off at summer camp or turning the trip anywhere from upstate New York or Maine into an excuse to get some time away from the city, Brilliant Transportation is the best way to travel to Camp Wicosuta, Raquette Lake Camp, Tripp Lake, Camp Romaca, Camp Vega, Camp Winaukee or whichever cluster of shacks by the lake that your child is seeking to spend the summer at.
Don't waste any of the precious time you have with your child before their horseback riding and archery classes are more important than a phone call home. Brilliant's chauffeured luxury Mercedes Sprinter vans allow you to cherish those last moments you have as a family instead of worrying about directions, hassling through traffic or trying to find a rest stop when the only thing for miles are trees and wildlife.
Brilliant offers chauffeured transportation that can make your trip to Maine, Massachusetts, New Hampshire, upstate New York, Connecticut or anywhere inbetween enjoyable for the whole family. Kick back and watch that movie you've been dying to see on one of our two 32" television displays while tricky exits and cumbersome mountain roads go whizzing by. Take a nap on the foldout third row bench seat so when you get to your destination you'll have enough energy to keep up with your youngster as they rip up hiking trails. Keep the GPS at home and leave the scouring of maps up to our highly trained chauffeurs. Stop at whatever scenic outlook or roadside gem catches your eyes. Make dropping your child off at summer camp into the family road trip you've always dreamed about.
Brilliant also offers 14 passenger vans that are perfect if your child is trekking to New England with some buddies or if the family down the street is also trying to find a better way to get their child to a sleepaway camp all the way in Maine. The more voices in the highway singalongs the better!
Pretty soon your child will be navigating their way through waterways on kayaks or forests on 10-speed bikes, but don't leave their navigation to summer camp up to chance. Being by your youngster's side when they meet their counselor or get a first look at the bunk bed that they'll call home this summer is invaluable. Waving goodbye from an airport or bus terminal just doesn't cut it -- even if they're at that age when independence is what they're searching for. Our Brilliant luxury van doesn't only offer a premier transportation experience, but a peace of mind when leaving your kids behind at summer camp.
Once you know your child is safe, situated and ready for some rock climbing and campfire food; mom and dad can use the ride home in one of our luxurious Mercedes Sprinter vans as an excuse to grab dinner at one of Massachusetts' world-renowned crab shacks or stop for a bottle of wine at an upstate New York winery. If everyday life has you run down, spend the trip back relaxing and taking advantage of our van's 185 channels of DirecTV to catch up on your favorite show and our cozy plush leather seats for the in-each-other's-arms cuddling that your favorite love seat in the living room is usually for. Alternatively, plan ahead and bring the DVD you've been meaning to watch and reunite as an empty nester couple.
The Brilliant luxury Mercedes Sprinter van is hands down the best way to drop your kids off at a summer or sleepaway camp. Give your little ones an experience that they'll be telling all of their new friends about. For your little explorers, the summer is going to be filled with memories. A chauffeured Brilliant van turns the journey into memories that the whole family can be a part of.
Summer camp pick ups, drop offs, and visiting days are one of the most frequently requested journeys our brilliant vans or minibuses back. Kick back, enjoy your family, and leave the driving to your highly trained and hospitable brilliant chauffeur.