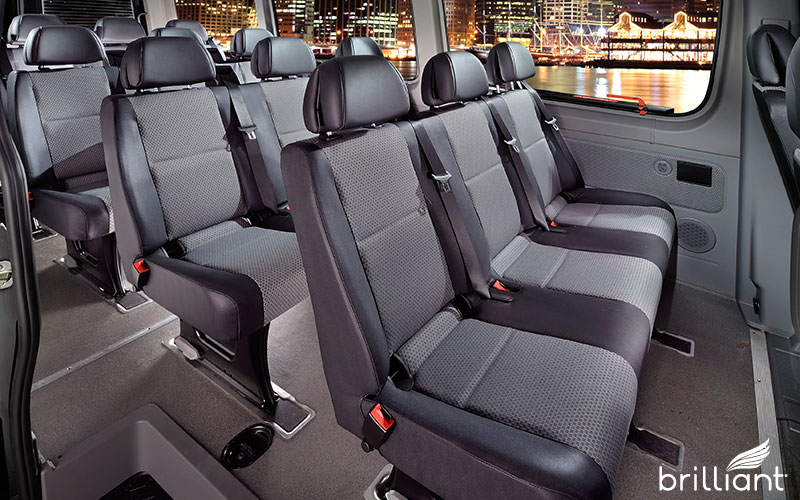 In terms of commuting to work, alternative transportation solutions are the future. More and more workers are abandoning their private vehicles to commute to work using public transportation and ride shares.
Increasingly employers are playing a bigger role in their worker's transportation as well, with many companies, particularly in cities with high-tech industries providing group transportation and shuttle service to help get their employees to work. There are many reasons for this trend, including increased urban congestion, rising gas prices, concern for the environment as well as companies competing with each other to attract employees with better benefits.
Best Minibus and Van Employee Transportation
Whatever the specific reason, the end result is that employees are receiving the benefit of more choices in terms of work transportation, and it allows them to save money and be more productive with their time. And companies are seeing the benefits of increased employee satisfaction, better work/life balance and more efficient use of employee time.
Employee Shuttles Are the Commute of the Future
There are many different ways companies can structure employee shuttle programs and companies will usually tailor a couple of different approaches to fit their particular needs, depending upon the region they're in.
Some companies offer door to door transportation for a select group or groups of employees using a combination of shuttle buses, vans or even sedans. Others offer enhanced commuter options, with fleets of buses staging in different suburbs, along heavily traveled routes or at important transportation hubs allowing employees to drive part way to a central point, where they then can park and ride.
These can be arranged to serve long or short distance commuters, or a combination of both. While many big companies have long had these kinds of programs, the trend is spreading more widely, and now medium to small sized companies are also joining the employee shuttle movement. Some companies invest in their own transportation fleets, while others outsource. By using an outside vendor, even small companies can now join in the game, requiring very little upfront investment on their part.
Other companies incentivize employees to use existing public transport lines, where they then offer final mile transportation from train stations and bus stops to the corporate campus.
Regardless of which method is used, the end result is saved costs, more efficiency and a net benefit to the community in terms of less congestion and pollution, and employee satisfaction.
Employee Transportation Is Going Upscale
What's interesting about this new trend is that it's not just low level employees that are using these services, but they are now appealing to a broad cross section of the corporate workforce. Even top management is taking advantage of these new arrangements, leading to a new category of luxury, or executive shuttle transportation.
Brilliant Transportation is at the forefront of the commuter trend. We are a executive transportation specialist, based in New York City and Los Angeles, both corporate rich territories. We already provide luxury group transportation to many corporate clients for business trips and special events.
Brilliant Transportation has proved itself in the marketplace, providing flawless transportation with a luxury twist, with high profile corporations and individuals by covering their special transportation needs. But increasingly, our clients are turning to us for daily commuter solutions.
Brilliant offers what many companies are seeking: reliable, quality, upscale transportation with outstanding performance and customer service. There are certainly tons of corporate transportation providers to choose from in the New York metro area, but quality varies, so it's really important for corporate clients to carefully consider their potential transportation partners, and vet them for their quality and performance.
We Have Vehicle Types For Many Solutions
And Brilliant has many solutions to offer for our corporate clients as we are able to arrange employee transportation on short notice for group sizes from 20 to 100+ passengers on short notice. We also offer custom corporate solutions for long term contracts, dedicated vehicles and leases and custom scheduling upon request.
In terms of employee transport, Brilliant has two different vehicle classes that work well for commuter solutions. We have our van fleet, an exclusive, all Mercedes Benz Sprinter fleet that provides great vehicle comfort, reliability and performance in daily use. Our 14 passenger Sprinters are the great all-around vehicle workhorse for the corporate fleet to get your people to and from work, or shuttle transfers between corporate campuses.
While for large sized groups, you'd want to go with bigger buses, but the primary advantage of the vans is the ideal size: not too big, not too small. They're great for use in modular transport, where you add extra vehicles on demand as needed.
In other words, if you have small groups of employees scattered over a wide area, it may not be as cost effective or practical to use the larger buses on these spread out routes. The 14 passenger vans fill this gap nicely, being more fuel efficient, less costly to use, and are more flexible for doing many small pick ups.
The Luxury Van Is the Ultimate Commuter
If you need your employee transportation to go high-end, in order to serve top executives, we have a perfect solution for that as well: our luxury vans.
The Brilliant luxury vans, based on the same 14 passenger Sprinter discussed above, have been completely customized to provide a more exclusive and luxurious environment. We have a 7 passenger and 9 passenger models, and the interiors have been configured to be like what you'd get in a private jet. There are leather captains chairs, hardwood floors, leather and wood accents throughout, tinted windows, privacy shades and driver partitions. This is the limousine version of employee transport.
But these aren't just mere luxury vehicles. They are complete mobile offices, adding a new layer of productivity possibilities on top of your morning commute. In our luxury vans, each seat is able to act as a workstation with a stowable work table, outlets for laptops and phone and reading lights, and storage cubbies.
The luxury vans also come with built in WiFi routers, large screen TVs, DVD players, satellite TV and radio, and audio-visual connectors so executives can use their laptops to view a presentation. It is possible to watch live TV during your commute or hold a conference call with our on-board conferencing phone (although most clients simply use their own smartphones these days!).
Everything you'd need to have a productive day is available in the vans. They also make a nice space to hold a meetings whether you're on the road or on location.
Mini-Coaches Work Best For Medium Sized Work Forces
For most of our corporate clients however, the most practical vehicle size for employee commuting will be use of our mini-coaches. We have luxury mini-coaches that come in 28 passenger and 36 passenger versions. These are ideal for transporting medium sized groups, by themselves or in multiples to your company locations. Our 36 passenger mini-coach also has an on-board lavatory.
All of our mini-coaches are luxury versions, meaning they come with all rows leather captains chairs, hardwood flooring, premium materials used throughout the cabin, electric outlets, large screen TVs and additional LCD screens, ample overhead storage and WiFi upon request.
It's an extremely comfortable way for groups to get to the office, to be productive on their commute and also have a bit of social interaction with their co-workers as well.
Regardless of which vehicle size or type you choose, all of our vehicles come with a promise of outstanding service and performance. Our clients will always experience a spotlessly clean vehicle, in top condition with all equipment on board working properly. That's because we clean our vehicles every night, and during the day betweens pick ups if necessary. All of our vehicles are maintained to the highest standards, and every system is inspected and checked before garage out, or we don't send that particular vehicle if something is amiss.
Our chauffeurs are friendly, attentive, courteous, efficient and professional at all times. Even though a client will be using our vehicles for daily transportation, passengers will still receive first class treatment everyday, and we will provide an environment that is conducive to relaxation and concentration.
Brilliant Transportation is THE perfect solution for your daily corporate transportation needs. Give usa call to find more about how we can work together.
We would be more than happy to provide you with a custom quote, or better yet if you want to schedule us for a trial run, we are available anytime to serve your needs! Go Brilliant! Expect more.