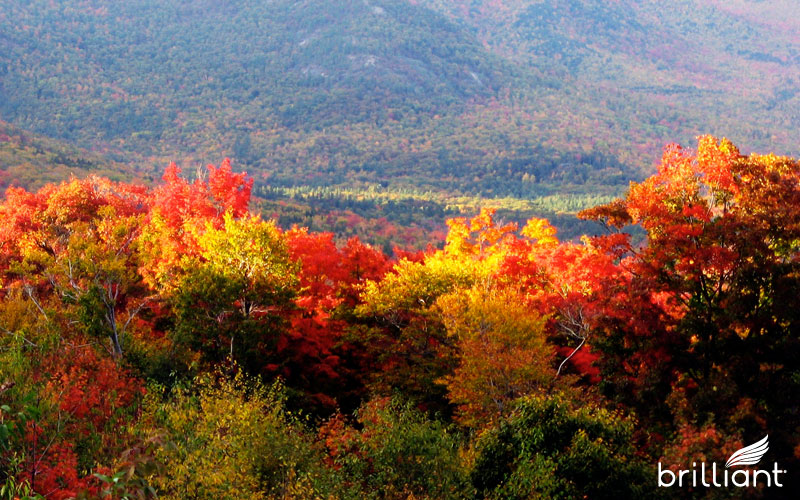 As summer winds down and we enter the cooler fall months, there are many wonderful traditional seasonal activities that can be enjoyed with family and friends. And one of those activities is enjoying a fall foliage tour!
Residents of New York are perfectly positioned to enjoy this fall splendor as they are right on New England's doorstep. And of course upstate New York is no slouch when it comes to great fall colors as well.
Enjoy The Colors of Fall in New York
There are so many great locations that one could visit to see the leaves change, it's almost too hard where to decide to head off to. Just traveling up the Hudson River Valley an hour or two from NYC provides wonderful vistas, colors and quaint riverside town to visit. One could continue up through the Catskills and Adirondacks and find many more scenic mountains and lakes to visit.
Or one could head east and see the fine colors all over the state of Connecticut. A little bit further afield you can visit the Green Mountains of Vermont or the White Mountains of New Hampshire. And western Massachusetts also has an abundance of wonderful locations in the Berkshires.
In fact, your hardest decision may be figuring out how soon you can go and how many of your friends and associates you want to take along. Timing is of the essence as peak leaf season only lasts a few weeks at most before the oncoming grey of winter starts settling over the land.
Chauffeured Transportation Will Elevate Your Trip
This type of sightseeing really lends itself to chauffeured transportation as it covers a large, diverse rural area and can require a lot of driving to hit all the right locations. Why not have someone else take care of the driving you can focus on enjoying yourself and making sure you don't miss any breathtaking views with your friends?
Brilliant Transportation, a luxury and executive transportation provider in New York City could be your perfect partner in this endeavor as we have a long list of VIP and corporate clients who use us to satisfy their transportation needs throughout the year, and elevate their style as well while doing it.
We have a variety of different luxury vehicles and sizes that can accommodate all different sized groups. And we also do overnight trips and multi-day reservations as well if you want to make more of an extended journey out of your fall foliage tour. After all, it's the perfect time to combine your sightseeing with stays in quaint historic inns or doing a gastronomical tour of the region.
The first order of business is deciding how much transportation you actually need. If you're doing a small group of only 7–8 people an excellent choice would be to use one of our Brilliant Vans.
Brilliant's Sprinter Vans Offer Outstanding Comfort and Convenience
The Brilliant Vans are our company's flagship vehicles and what we are famous for. Brilliant features an all Mercedes Benz Sprinter selection for its van fleet, and our so-called Brilliant Vans are the top of the line. We have taken standard passenger vans and custom converted them into luxury suites on wheels. Some of our clients refer them the as the 'jet vans' because the interior is very similar to a first class corporate jet.
Our tastefully colored tan interiors, featuring lots of leather and wood surfaces contain four large captains chairs which face other in a salon like seating arrangement. There is also a comfortable rear bench which can seat an additional three adults, or even fold down like a day bed. And each seat comes with a foldaway desk, overhead reading lights, electric outlets and plenty of storage space for your effects. We also have a mini-fridge and wet bar on board for beverage service.
This arrangement is perfect for doing work on the road if you're a corporate road warrior, but it's also great if you're on a leisure cruise and want to eat a meal at our seat, or play checkers, or play with whatever device or laptop you have brought.
The Brilliant Van also has a full suite of entertainment technology at your fingertips as well, so you can enjoy a movie on the road, watch live sports, or keep the children occupied if you bring them too.
The vans feature two large flat screen TVs (32"), fore and aft and offer 158 channels of DirecTV satellite offerings, or you can use the DVD player or even the Sony Playstation. And the vans also come standard with on board WiFi so you can stay online and in touch with those not traveling with you.
Your Luxury Van Is Like A Hotel Suite on Wheels
Many of our clients have used the Brilliant Van for scenic tours combined with stops for picnic lunches, or at your favorite restaurant while checking out great locales in New York State. Others have used them for overnight trips going to Boston or Vermont. Whatever tickles your fancy we have a great way to get you there, especially if the journey is more important than the destination.
For groups of slightly larger size, we also have the 9 passenger Executive Vans which offer two rows of all captains chairs facing forward. Perfect for sightseeing tours or corporate scouting trips!
Use Luxury Mini-Coaches For Larger Groups
For groups of roughly 20–40 people in size, you're better off choosing our mini-coach transportation that can handle all of these guests in one vehicle. Or two or more, if you have on the order of 50–100 guests. For many transportation companies, mini-coaches are just large shuttle buses with not too much attention paid to creature comforts. Not so at Brilliant Transportation!
Once again Brilliant Transportation is outshining the competition by creating true luxury transportation in the mini-coach segment. Our buses are custom made to exacting standards and equipped with the best interiors to ensure a better quality experience. Upon boarding you'll notice the beautifully polished hardwood floors, and the large, leather covered, all captains chair seating for every guest.
The interiors are fully padded with quality materials and each seat has its own reading light and electric outlet. There is also plenty of overhead storage and our 36 passenger bus comes with an on board lavatory, great for those long road trips.
There is also a great entertainment package that come standard, with a high output stereo system, PA system, DVD player and a large flat screen monitor in front so everyone can watch a movie. There are also additional drop down LCD screens to enhance the viewing experience and to make sure that no one's view is blocked by anyone else's.
These mini-coaches would be perfect for a luxury fall foliage tour, but what really distinguishes Brilliant from the competition isn't just our fine vehicles, but our outstanding customer service as well.
Our Quality Service and Dedication To Excellence Makes The Difference
We try harder to make sure that every guests and every party that books with us is not merely satisfied, but also delighted and impressed. We aim to have our passengers not just remember on what a great trip they had, but how fantastic the transportation was as well, and to experience how a quality service can actively elevate the entire experience.
We do that by having a fanatical attention to detail, making sure that every aspect of the reservation is correct and that all of the passenger requests and special needs have been met. We also train our entire staff from drivers to reservationists to the highest standards of customer service. Our job is to make you feel comfortable and cared for, and not just transporting bodies from A to B as is so common in our industry.
Also our vehicles are cleaned and maintained to the highest standards as well. Putting together charter trips is a multifaceted operation that require many moving parts coming together in the right time and right place. That just takes a lot of coordination, oversight, judgement and safeguarding to make sure that everything turns out as planned. It is this commitment to operational excellence that defines us as an organization.
And our laser light focus on customer care also compels us to go further in terms of helping arrange and execute this trips. We offer many extra services you won't find with other limousine companies, like on-board catering of meals which can arranged by special request.
If you're planning an extended itinerary and you need help with the coordinating, staging, loading and routing of vehicles to specific places and times, we'll help arrange that for you too as well as as passing along our hard won knowledge on the most efficient and effective way to organize trips and vehicles.
Go With The Pros!
We want our clients to think of us more as partners in their production, than simply hired hands who come in and do the shuttling. Our aim is to elevate your entire experience, by providing flawless transportation that adds value to your event.
This is exactly the opposite of what some people unfortunately experience when they book their transportation at the last minute with an unfamiliar vendor and spend a great deal of time worrying about the bus showing up on time or at the right location, having no idea if the chauffeur is prepared to deal with last minute changes, or able to make decisive and correct decisions when a trip has to be rerouted because of traffic, weather or construction.
With Brilliant, we come prepare and you'll enjoy a smooth and delightful trip without having to worry at all if things will turn out right. That is the definition of luxury and peace of mind in our book.
If you'd like to experience how we can transform your next group sightseeing tour from an ordinary into an extraordinary experience, then contact Brilliant Transportation for a free quote.