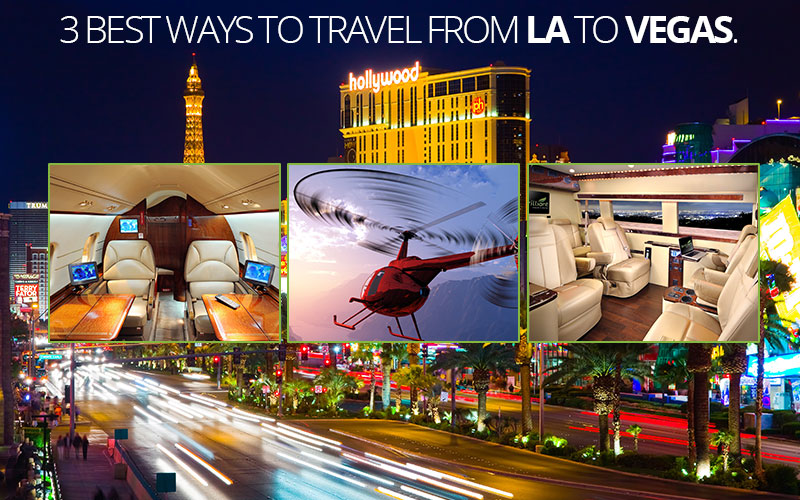 At Brilliant Transportation, we specialize in executive ground transportation in both New York and Los Angeles. On the West Coast, one of our most popular routes is Los Angeles to Las Vegas. Although we operate private, luxury charter trips, we do this trip on a weekly basis.
Many times though, potential customers have asked us about the best way to travel to Las Vegas. That's an interesting question because there are many ways one could go about this trip. The best way really depends on the consumers preferences and ultimately his or her budget. As we are in the luxury transportation business, when people ask us about the "best way to travel," in our book, this usually means 'the most luxurious and/or convenient, private way to go to Vegas. That's a different meaning than the way most travelers would define the question; which is usually the cheapest or most available way to get to Vegas.
So for the purpose of this blog, let's assume that our potential consumer is a high-worth individual or high roller who is looking to get to Vegas. They will be staying at only the best hotels in the best suites, eating the best food, and having the best time they possibly can. This is more likely to be the typical customer for Brilliant Transportation instead of someone who is just looking to find a cheap bus ticket to Las Vegas to go play the penny slots.
The Best Ways to Travel to Las Vegas from Los Angeles
In the case of the high-end traveler, what would their options be?
Most forms of transportation offering trips to Las Vegas, are of the public or common carrier kind. Whether traveling on a plane or bus, or even a vanpool, you are sharing a vehicle with other passengers. But for the most elite travelers, these commonly shared forms of transportation simply will not do! For the type of clients that we do business with, private, exclusive chauffeured transportation is the way to go. We're talking methods of travel that might include a private plane or even a helicopter charter.
These types of transportation are beyond the means of ordinary travelers, but for the movers and shakers of the world, it is a defining aspect of their lifestyle. This kind of privilege, beyond being incredible luxurious, does have a larger purpose. For high worth individuals, there is one important commodity that they can't claim to have any more of than an average individual, and that is time! Likewise, the one they thing money and unlimited budget can't produce more of is time. Time ultimately becomes more valuable than money.
Flying to Vegas in a Private Jet
This is why some individuals would gladly pay thousands of dollars an hour to charter a private plane to fly to Las Vegas, when easily available commercial alternative exist for much less. The reason is to save time, but not necessarily in the conventional sense. After all, a private jet won't fly to Vegas any faster than a commercial jetliner. Yes, our luxury traveler may save some time though bypassing the regular airline terminal and using an FBO. They won't have to stand in line to check in or go through security.
But the real time savings happens during the private flight. Having gone to the expense of chartering a private flight, our luxury traveler can make use of his plane in any fashion that serves his or her best interest. Do they need to conduct a business meeting, or entertain clients? No problem there, they have the entire space of the aircraft at their disposal, without needing to accommodate or defer to other passengers! Perhaps they will use this time to catch up with family or friends, or just use the duration of the flight as personal time. Having your own plane is like never having to leave your living room. Whatever you desire, you have the space and privacy to do what you need.
So in the ultimate sense, a private jet could be the best way to get to Vegas. It would be the most exclusive, the most luxurious, the most comfortable and the quickest way. And it is also surely the most expensive as well. Chartering a private plane to Las Vegas could cost in the neighborhood of $10,000 to $15,000. In certain circumstances, this could be well worth the trip.
Chartering a Private Helicopter to Las Vegas
Another luxury possibility that would be quite exclusive and fun, and still quite expensive, not as bank-breaking as a private jet, would be to charter a private helicopter ride to Las Vegas. Private helicopters have many advantages, including speed and flexibility of landing sites. Helicopters can land pretty much anywhere, including your backyard if its big enough. Also many skyscrapers in the city also sport landing pads which would make it convenient for business clients, getting a lift without ever having to leave the building.
On the downside, however, helicopters, even the big executive ones are cramped and much too noisy to enjoy a conversation. In a helicopter, passengers usually have to communicate with each other using radio headsets. Of course, the noise level also precludes listening to your favorite music or watching a movie on your device. On the other hand, the views are spectacular!
Most people who fly in a helicopter are too busy looking out the window to worry about wanting to listen to music or watch a movie. And while many helicopters will take you to an airport, sometimes passengers have the ability to land directly at their destination, saving more time by cutting out the transportation from the airport to your final destination.
Exclusive Ground Transportation
What would be a third luxury option to get you to Vegas in total comfort and privacy without taking to the air? I would posit that you can get virtually the same experience, and the same level of comfort and privacy by taking a premium luxury van, and for much, much less than chartering a private aircraft. Of course, this journey by road will take a little longer over the road, about a total of 4 hours as opposed to a 1 hour flight from Los Angeles to Las Vegas, but sometimes the journey is just as important as getting to the destination.
Many limo companies will try to offer you a luxury van when in reality what they are giving you in little more than standard passenger van with leather seating and black paint.
However, there are true premium, customs luxury vans available that really have earned that distinction and provide a level of comfort and quality that truly surpasses regularly outfitted vehicles! Brilliant Transportation is one such executive transportation company in Los Angeles that offers true luxury vans and true luxury service that is a cut above all the rest.
Brilliant uses an all Mercedes Benz Sprinter fleet for its luxury vans, which are the class leading van vehicles, offering more space, more headroom, more performance and more luxury than any other comparable vehicle on the market.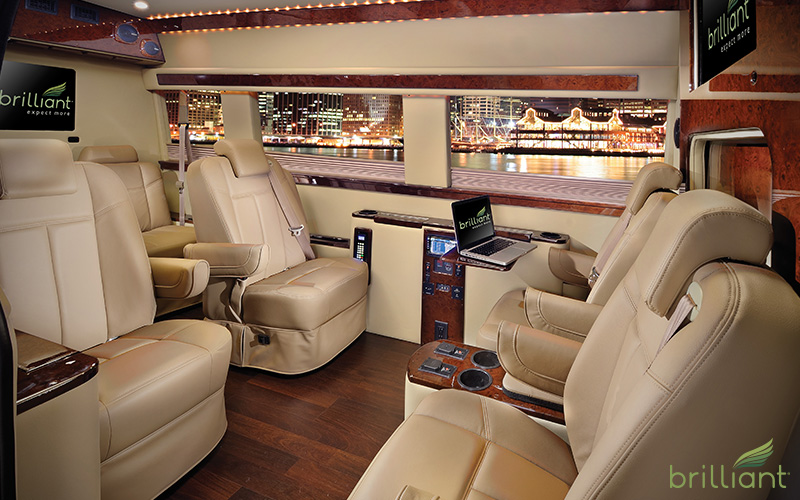 Brilliant has outfitted its luxury Sprinters like a real private jet inside. Every available surface area is either covered by fine wood burl paneling and leather. Brilliant's 7 passenger luxury van, also known as the Brilliant Van offers 4 large, reclining captains chairs that face each other making for a nice conversation area. And a comfortable back bench can seat an additional 3 people or fold down flat like a bed. The vans also offer tinted windows, privacy shades and full partition (both solid and glass) between the chauffeur and passengers, offering complete privacy.
In addition, each seat is set up like its own workstation, with a stowable desk, reading lights and outlets for your plug ins. Anything you could do in your living room, or in your office, you can also do in our Brilliant Van. Now that's true luxury while on the road!
The vans also feature two 32" large flat screen panel displays that play DVDs and satellite TV, receiving 185 channels of DirecTV. You can also plug your computer into our TV screens to demonstrate a business presentation from your laptop. The van also features a hidden minifridge, a stemware cabinet and wet bar so you can serve drinks as well.
These very exclusive vehicles also come with premium pricing, compared to other limousine services, given the very high level of quality, service and features available. Yet this first class transportation will cost you far less than any private aircraft would cost. And taking 7 passengers in first class luxury is also competitive with commercial flying, especially if you consider the cost of first/business class tickets.
While our first class service to Las Vegas won't be a great fit for every category of travelers, especially those only concerned about cost, when comparing other forms of first class and high end travel, the Brilliant Vans offer tremendous value and an incredible ride to top it off, on the way to your next desert adventure!
If you're interested in a getting a quote from Brilliant Transportation for you next excursion to Las Vegas, contact us at 1-800-543-1001.