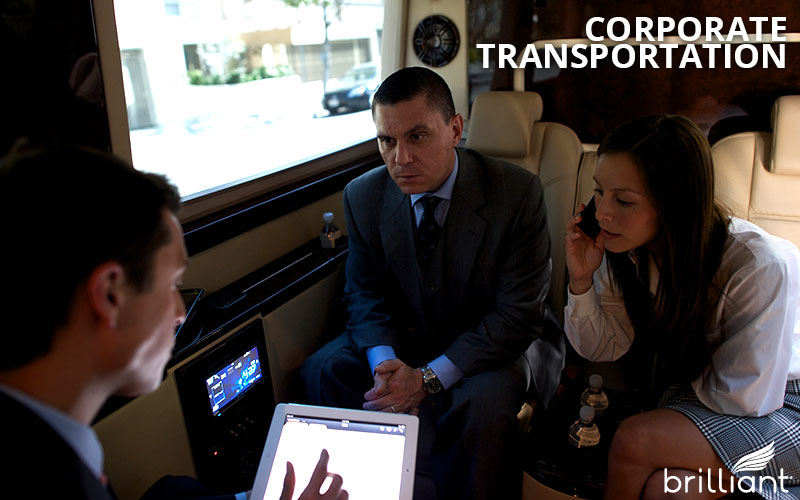 When booking corporate transportation, travel planners like to work with vendors who are reliable and flexible. They simply want to get the job done and get it done right. But what they may not have considered is instead of merely filling a transportation request, is how an executive ground transportation company can enhance their company's mission on the road.
Beyond arranging the standard black car executive transportation that executives often use to get the airport, corporate travel planners need to know that they can find a specialist executive transportation company that can really elevate their game. We can do this by offering our clients a unique fleet of luxury vans, vehicles which have capabilities that other standard chauffeured vehicles don't offer. In addition, we also offer legendary customer service, so that travel with our company is more akin to staying in a 5 star hotel than just using a sedan or SUV to go somewhere.
Questions for Corporate Transportation Providers
What are these unique capabilities exactly and how can they help our clients, and help your management experience a beyond ordinary transportation experience?
Tip 1: Will It Help with Productivity?
Here's the first tip you should consider when looking at Brilliant Transportation, or even comparing other transportation providers in your area: Will the vehicles help with your passengers' productivity?
For many other transportation companies, this tip might leave them scratching their head. But at Brilliant it's all in day's work. Our unique, custom converted luxury vans, using the fantastic Mercedes Benz Sprinter platform can double as a mobile office.
This is possible because the Sprinter vans, with the tall roof option offer more interior room than any other passenger van available today. With 6'2" standing headroom, it is also extremely comfortable and allows for easy entrances and exits. Furthermore, our luxury vans have been configured with four large, leather covered captains chairs that recline and also offer an electric operated footrest. These seats face each other, so its very easy to carry on a conversation or even hold a meeting while the van is standing still or moving down the road. A comfortable back bench that seats an additional 3 adults expands the passenger capacity, and even when it's not being used, it can fold down into a flat sleeping area for long distance or overnight trips.
Besides comfort, another important feature is that each place comes with its own stowable work table on which you can set your laptop or other device, and each seat also comes with individual reading lights, cubbies for storage and 110 volt outlet so you can plug in your devices. This whole setup makes for a great work environment. Also aiding productivity is our on-board entertainment system, featuring mobile WiFi, satellite TV and radio, large screen flat TV, fore and aft, audio/video connector to plug in other devices and a teleconferencing phone. We can also provide a compact, Bluetooth enabled printer upon request, so your passengers can print out reports if necessary.
We have had clients even hold board meeting while their executive staff travel to different corporate locations and many important business deals have been struck with clients while traveling in the Brilliant Vans (what we call our exclusive luxury vans).
Tip 2: Will They Provide On-Board Catering?
Here's something that people expect with the airlines but which is virtually unheard of in ground transportation: on-board catering. This isn't a standard feature, but it is special request we can honor anytime a client asks. It's definitely a luxury touch that many clients aren't expecting. And it can add enjoyment as well as efficiency to your trip.
While with chauffeured transportation, it's certainly possible to stop somewhere for a meal, if you're in a hurry to get somewhere, this can be a huge time saver, and also kill two birds with one stone! And in some cases, when are clients are traveling on the Interstate or are perhaps is some remote location, like the Green Mountain in Vermont (where many of our clients go skiing), there isn't always a place to stop, so having that on-board catering, whether it's breakfast, lunch or dinner, can be a real convenience. And with an on-board mini-refrigerator, we can keep perishable items cold, like dairy or meat. So you can have something fancier than a brown bag lunch if you so desire.
It does take extra work and preparation in order to offer a service like this but not as much as you might think. For Brilliant, it's less about the catering itself than it is about delighting the customer and exceeding their expectations. It's all about our focus on the customer and providing the best possible customer service. In this regard, it really is about the the little details that add up to the larger picture, creating something that is larger than the sum of its parts.
And being able to offer little extras like these will also make the corporate travel planner's job easier, because they know can really take care of their executives when they're on a trip. Everyone knows that travel can be stressful and tiring, so anything little thing than a service provider can do to take off the edge will definitely make a difference, and also create a good impression for both those using the service and those who have to book the trips.
Tip 3: Will the Trip Allow Executives to Reclaim their Travel Time?
This final tip kind of sums up the whole affair. Ground transportation that is done exceptionally well, like any kind of rarified travel, really does add value to your trip and to your overall experience. I just mentioned above how Brilliant can help extend your teams' productivity when they are on the road, due to the unique setup we offer in the vans, which can work so well as a mobile office. That is a big part of the equation here. But it doesn't end there either.
Just like Brilliant's customer converted luxury vans will help extend the presence of your office, our service will also allow you to use that travel time to your advantage. It can also serve as a comforting refuge from your busy day as you travel between meetings or corporate locations. Sometimes everyone needs a bit of a rest and time to recharge their batteries. Our luxury service is perfect for that too. You can sit back and relax while you catch up on your reading, or watch a movie or maybe even play games on your computer. However you choose to unwind, whether it's by yourself or with a small group, your time in the luxury van can be your exclusive time.
Another facet of using the service is that it's great for entertaining. Whether you're taking our VIP clients, or even entertaining friends and family of the organization, using Brilliant Transportation can really up your game and make it much more memorable service. Taking the Brilliant Van to a business convention, or a concert or a sporting event, whatever the occasion is, will enhance the entire experience. Now instead of thinking about arriving to wherever you're going, the party starts as soon as the the passengers step inside. Immediately, the mood shifts as they step out of their work-a-day world into something more exciting and enjoyable. All of the amenities are available to enjoy a mini-vacation while they travel to their event, arriving refreshed and in a great mood.
Thus regardless of which mode you're in, the Brilliant Van will deliver that experience in spades. It's a win-win-win situation. The common denominator to this is that you or your client is in total control. That's the beauty of private chauffeured transportation, particularly when it's done at such a high level. You are giving the client or passengers the chance to remove themselves from the everyday experience, and are given them the sense of having the world as their oyster. It is reclaimed time, to the highest degree. That time can be used as you wish, but now you seemingly have more of something that you didn't' have before, which is more personal time, more control and more satisfaction.
And those are valuable qualities that any good corporate travel planner shouldn't have any problem selling to their superiors, as long as the time is right. And as the travel planner, it gives you more credibility and appreciation for doing a job well done, and going the extra mile. If you ask me, that's the best tip of all that one could give to a travel professional.
To find out more about how and when we can serve your corporate travel needs, contact Brilliant Transportation at 1-800-543-1001.