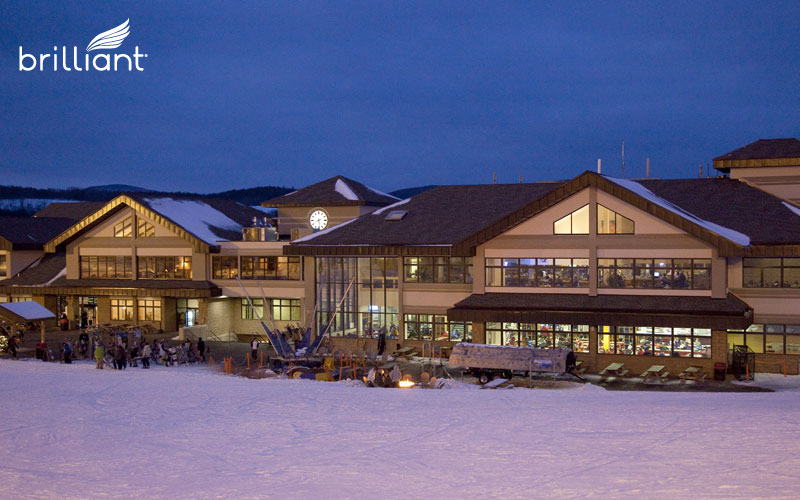 New Yorkers looking for a quick and natural respite from city life have the advantage of being downstream from the Catskills Mountains, one of the Northeast's most beautiful and wooded natural areas. Less than an hour outside of New York City up the Hudson River Valley and you'll feel like you've left the grit and grim of urban life a million miles behind. There are many resorts, vacation homes and beautiful natural parks that one can explore in the this area. And it doesn't matter what time of year either, for the Catskills are a great getaway whether it's summer or wintertime, and any season in between.
In the summer months, there's opportunities for golfing, boating, hiking, mountain biking, and many other outdoor activities. The same can be said for winter, where one can enjoy winter sports in many locations like skiing, snowboarding and cross-country.
One of the great locations is the Windham Mountain Resort, open year round for skiiing in wintertime and golfing in the summer. Located a mere 140 miles from New York City, it's only a two and half hour jaunt from the canyons of Midtown to this lovely mountain paradise. The Windham Inn and Condominiums also offers excellent accommodations right at the base of the mountain. Many people also choose this location for weddings, and other special events.
Use a Quality Limo Company For Your Resort Destination
So being in the transportation business, many people have asked us, 'what's the best way to get to - Windham Resort?' and we always tell them: it depends on what your specific needs and expectations are. There are many different options you could choose for chauffeured transportation, and you'll want to find a quality transportation vendor who can best suit your particular vehicle needs and style. One thing for sure though, is that if you're going to be traveling in a large group, whether it's for a ski club trip, or a wedding or a corporate golf outing, arranging group transportation is a good idea. Not only does it provide great social cohesion for your group, it's fun and definitely more efficient and environmentally friendly than everybody driving up in their own car.
On the first decisions you'll need to make when booking group transportation is determining the size of the group. It's important for planning purposes because it will determine ultimately what kind of vehicle(s) you need to hire and what level of service you are looking for. Limousine companies are a good source to turn to when booking private trips because they specialize in charter transportation and many companies have a wide range of vehicles and buses to choose from.
Brilliant Transportation is an executive transportation company that specializes in luxury and also has a range of different sized vehicles that can accommodate many different group sizes.
Vehicle Choices and Sizes
Brilliant offers SUVs, Sprinter vans and mini-coaches which are suitable for groups ranging from 20–40 people. If you need transportation for a group even larger in size, then we can simply scale up using more vehicles.
So let's take a moment to explore these options in more detail. If you have small group of six people or less, then using one of our comfortable SUVs would be the most efficient option. We feature the Cadillac Escalade ESV in our fleet, black on black with a leather interior and six bucket seats for the passengers. We can also offer you on-board WiFi upon request, at no additional charge.
If you need something larger and even more comfortable, then you're next best option would be to choose one of our Sprinter vans. Brilliant is well known and loved for its all Mercedes Sprinter van fleet, which is the best choice of vehicle available for van transportation. For groups of 14 people, you can choose from our 14 passenger van Sprinters, which have a factory interior, set up like a minibus inside with 4 row of comfortable bench seating. One the primary advantages of the Sprinter vans are their tall roofs, which allow for 6'3" head clearance inside, enough for large adults to stand tall. It also makes getting in and out much easier, particularly with its generously sized side sliding door and running boards.
The Brilliant Van Is The Ultimate Travel Ride
If you're looking for something more luxurious and exclusive however, Brilliant also has the perfect solution. Our Brilliant Vans, our custom converted luxury vans are like a private jet inside. A rich leather and wood interior greets passengers when they first step inside. Four large adjustable, leather covered captains chairs face each other to create a great conversation space. A comfortable rear back bench seats another 3 adults or can also be folded flat like a bed. For entertainment there are two large flat screen TVs connected to DirecTV with 158 channels, satellite radio, DVD, Sony Playstation as well as the ability to plug your laptop into the system to display custom presentations. WiFi is standard in these vehicles, as are stowable desks, electric outlets and reading lights at each seat.
All in all, there is no more comfortable way to take a road trip, whether long or short. The technology and amenities in our luxury vans allow them to be used as a mobile office for business trips, or as an entertainment bus if you're bringing along friends and family for a fun leisure trip. Riding in the Brilliant van will make your trip to Windham Mountain resort fly by in no time! For slightly larger groups, we also offer a 9 seat luxury version, called the Executive Van. This van has the same equipment as the 7 passenger, only with 9 forward facing captains chairs. Great for a trip to an executive retreat!
Luxury Mini Coaches Are The Way To Go For Group Travel
Now if you need to accommodate a larger group, then using our mini-coaches is the way to go. Brilliant features 28 passenger and 36 passenger mini-coach models. All of our buses are designed for luxury, and are especially built to provide that high level of quality that you won't find in other mini-coaches. Again, these are perfect for corporate groups, especially if you're traveling with management or you are planning a high-end social event, like a wedding or charity fund-raiser.
Our mini-coach fleet is all identically equipped with passenger features (save the on-board lavatory only available in the 36), and the exteriors feature a high quality, metallic silver paint job that is very classy. Our buses also come with beefed up suspension to provide that smooth ride.
The interiors are where our guests will enjoy quality comfort. Every seat in our buses is a comfortable, leather covered bucket seat that will keep you relaxed on your trip up north. There are also reading lights and outlets on every row, allowing guests to plug in their devices and phones. A large flat TV in front with a DVD player allows for movie time during trips and additional LCD screen are placed throughout the cabin so everyone has a clear view.
Good Service Makes The Difference
But regardless of which vehicle type you end up choosing, we know you'll thoroughly enjoy your trip because of our superior customer service and job performance. We take our mission of transporting our guests in great comfort very seriously, because customer satisfaction is what our business is all about. All of our drivers are highly trained professionals, but ones who know how to treat people right. Every guest is made to feel welcome on board and any special needs or requests you might have will be taken care of, as long as we have advanced notice to prepare. We can offer special perks, like on-board catering if you request it. Most other ground transportation companies don't even bother with such amenities.
What you'll always find with Brilliant Transportation is on-time arrivals and chauffeurs who know what they're doing and where they're going. Unfortunately, if you've traveled plenty, you'll know this is not a given in the ground transportation industry. All of our vehicles are immaculately cleaned before every reservation, and all mechanical, safety and on-board systems are checked for optimal performance.
It's the little details that we sweat because we know that the little things that most passengers never consider are what adds up to a sum greater than their parts. It's flawless transportation done with style and luxury. That's what our customers expect and demand, and it's what Brilliant is happy to provide.
Brilliant Transportation is making ground transportation better. If you'd like to experience how we can make your next road trip extraordinary, then contact our reservation department at 1–800–543–1001.