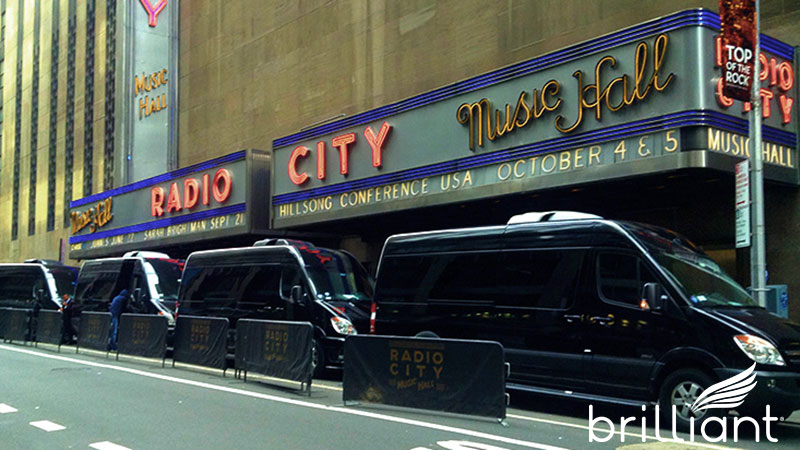 Since 1933, the Radio City Christmas Spectacular has been a holiday tradition for families visiting New York City.

In fact, more than 1 million people come to see the show every year! As is the case with many shows, the transportation can elevate or ruin your entire experience. Getting to Radio City Music Hall can be tricky around this time of year so make sure you understand all the options before you decide on your form of transportation.

To help guide you, I've provided the most popular transportation options to Radio City below. This will help you make a clear decision on what's best for your family.
Subway
---
you can expect:
Cheap transportation costs ($2.75 single ride)

Consistent arrival/departure times

Heated train cars

Standing room only

Modified service on the weekends

Need to navigate/plan on your own
Side note: Not all stops are wheelchair accessible so if your family includes a small child, then you may have to get help carrying a stroller up/down the stairs.
Taxi
---
you can expect:
Cheap transportation costs
Seating for your family
Trunk space for bags
Difficulty hailing a cab during peak holiday season
Possibility of waiting outside in inclement weather
Uncertain arrival time
Needing to split-up depending on the size of your family
No pre-planned dry runs/coordination
Side note: If you decide to take a taxi make sure you get a receipt when you've reached your destination. This way, if you left anything behind you can call the dispatcher and let them know which cab you were in.
These options work great for families who just want to get from A to B. To some families, time lost in transit isn't a huge deal. To other families, all time spent together on vacation is priceless and traveling in a taxi/subway eats away at that valuable time. That's why they choose to travel like this....
Best Way to Travel to Radio City's Christmas Spectacular
---
Chauffeured Luxury Van
you can expect:
Flawless execution on your arrival/departure times
Coordination long before the show
Detailed vehicles inside and out
Chauffeurs standing by during the show
32-inch TV with surround sound
Video games to keep your children entertained
Brilliant Transportation pioneered the way for custom Mercedes Sprinter Vans back in 2010, and every year we provide clients with premium chauffeured luxury transportation before and after the Christmas Spectacular.
Side note: If you wish, we can also provide your family with on-board catering in our luxury vans. Families love being able to eat lunch/dinner in our vehicles while enjoying the views Manhattan has to offer.
Take a look at the vehicle video tour below to get a better idea of our Sprinter luxury vans.
We currently offer 4 luxury Mercedes Sprinters configurations ranging from 1-14 passengers in size. All the vans in our fleet offer solutions to many different travel situations. If you'd like to learn more about the suggested uses and amenities you can check out our recent blog post, "
4 Luxury Sprinter Van Layouts: Find Out Which One Best Suits You
"
This is by far the
best way to get around Manhattan
to see the Radio City Christmas Spectacular. We understand that chartering a luxury van isn't in everyone's budget and that's just fine. Just make sure you weigh all the options and make a decision not based on price, but the experience your family desires while enjoying Christmas in New York City. And..
Be brilliant!