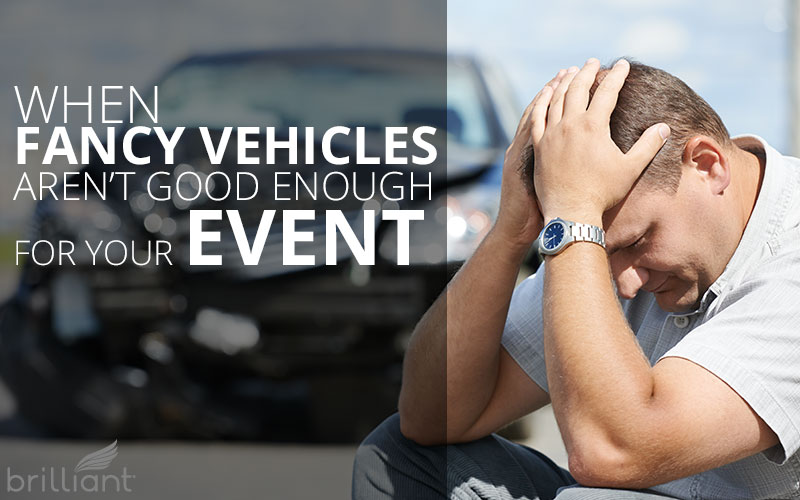 Getting nice vehicles and drivers for your upcoming event is one thing, but to get a really great experience, you need the whole package. And that's using a company that knows how to deal with customers and has an excellent customer service record. You need to work with a company that will attend to all of the details that could affect your reservation behind the scene.
Because when you order a limousine service, you are really paying as much for the experience as you are paying for use of the vehicle. Just having a nice and luxurious vehicle is not enough! Neither is having a good looking chauffeur enough, unless they really know how to treat customers well.
Five Signs Your Event Needs Better Transportation
What are the five signs that your event needs more than just fancy vehicles and drivers? Let's take a look at this issue in greater detail in this blog.
1. Driver was late or got lost!
Even if you have the hired the nicest vehicles in the world, if the driver can't get the basic elements of your reservation correct, then it may be time to switch to another provider. Drivers need to be well trained so they don't make basic mistakes.
If you get frustrated that your vehicle is not on time or not where it's supposed to be, then are you really going to be in mood to appreciate the fantastic leather interior of your vehicle, or how great the satellite TV is?
2. The vehicles arrive dirty, or have equipment and mechanical failures.
A quality transportation company will be rigorous in their maintenance and inspections of their vehicles, especially before they go out on a reservation. Anything less than a perfectly functioning and spotless vehicle is unacceptable when you're paying good money for that very service.
And yes, mechanical things can break while you're on charter, but if a vehicle is properly maintained and serviced at all times during its service life, then these kind of 'unexpected' problem can be minimized to the point where a breakdown would almost never happen.
Even if a vehicle you ordered were to have problems the day of your reservation, the chauffeur or dispatcher should be able to find these problems during a pre-trip inspection before it reaches the client. That way, the vendor has the opportunity to work around the problem, like switching to another vehicle if one is available.
3. The driver and/or reservation staff are rude and unhelpful.
Whether you're planning your event on the phone with a client care specialist, or dealing with driver in person during your event, you should expect the highest standards of customer service principles to apply. There's no excuse for inconsiderate or thoughtless behavior when you're paying a lot to hire a chauffeured service. Yes, everyone has bad days, but a professional chauffeur should be trained in proper etiquette as well having enough customer service training and presence of mind to put aside their personal problems and deal positively with the clients.
Like checking in at a 5 star hotel, it is not unreasonable to expect terrific customer service, even if you have to deal with a difficult customer. It's how a vendor responds to a difficult situation that you can see their true character.
4. The transportation vendor doesn't work well with the other vendors
If you putting on a large, complex event, the only way to get through it in one piece is to do a lot of pre-planning and put a premium on good communication and coordination. That oversight should be extended to your transportation provider, and consequently, the provider should also extend their courtesy and best foot forward to you as well. If that means that your hired drivers need to work with other event staff, like security people, or valet parking, or event planning assistants, or the caterers, then they need to be on the same page as everyone else and work well together smoothly.
Communication is a two way street, so both parties have to be engaged. But if you transportation provider won't meet you half-way, or show any interest or effort with working with the other parties involved to create a successful event, then you are just setting yourself up for problems during the event. If you're not too far along in your planning, you may want to consider changing transportation providers at this point before plans cannot be canceled.
5. All in all, I'm not impressed by the service we receive.
Perhaps the transportation company you hired didn't do anything wrong or didn't make any big mistakes. But they didn't really shine either. It just seemed like they were going through the motions, or they didn't enjoy being there. When you go to a lot of trouble and expense to put on a special event that has real meaning to you, you don't want other people's lack of enthusiasm with whom you have to work to rub off on you.
It's a happy or exciting occasion after all, you inviting a large group of people who all really want to be there. Why wouldn't you want your transportation provider to feel the same? You are going to be in close physical contact with them, and you wouldn't want a disharmonious attitude to mess with your great vibe!
Expect more, and get more from your transportation provider. They are an integral part of your event, so they can also contribute real value to your to event beyond the mere physical providing of needed transportation. That is the Brilliant Way of thinking!