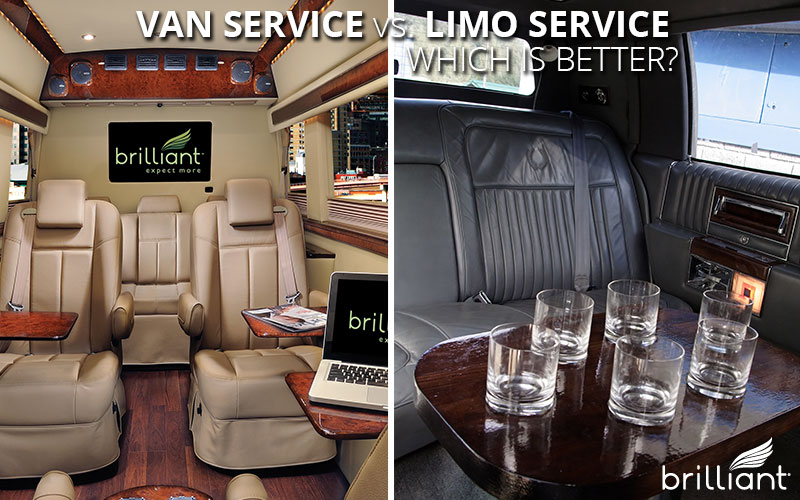 Traveling executives have many transportation options these days, and when it comes to ground transportation they like to use services that are efficient, quick and also offer a good dose of luxury. Using chauffeured transportation can be a great way to get you to your meetings, or getting around in a foreign city when you're on the road, or just getting to the airport and back.
In terms of limousine service, the old standbys have been black cars, SUVs and stretch limousines. However in this hectic, mobile and always connected age, executives are starting to demand more from their ground transportation services.
Sprint Van Limos vs. Executive Limousines
They want someone who is reliable and understanding of their needs, yes, but they also want to make more productive use of their travel time. Certainly before the cell phone era, riding in a car to get to your meeting was purely downtime. There wasn't any way to stay productive while on the road unless you brought someone with you to converse with.
Productivity in Transit Is Now An Important Consideration
Nowadays with our smart phones, tablets and laptops, we can maintain contact and stay productive wherever and whenever we go somewhere. So expectations about productivity and downtime are different. Even though it may be difficult to stay in touch with the office or our clients when we travel, now there is the expectation that business people will be reachable and productive all the time.
One of the trends in executive travel has been towards the use of larger vehicles, like executive vans and luxury vans, which give passengers more room to spread out and work like in an office, as well as the addition of helpful technology to help keep us connected.
And one of the most popular choices in this regard has been the Mercedes Sprinter vans. These outstanding vehicles are great for small group transportation and they are also easily convertible into custom luxury vans that work great for executives.
This is where Brilliant Transportation comes in the picture. Brilliant is an executive transportation company that works closely with its corporate clientele to provide exclusive and flexible transportation solutions for demanding executives on the go.
Located both in New York City where we started and now in Los Angeles, Brilliant is known for its fleet of custom luxury Sprinter vans that provide its customers with the most luxury and productivity options available.
With Sprinter Vans You Have Many Options For Your Trip
As a Sprinter specialist, Brilliant can offer our traveling clientele several different van options depending upon their need. The first van in our lineup is the standard 14 passenger van, which is a very flexible vehicle and the workhorse of our fleet. This van has four rows of cloth bench seating and a large luggage compartment in the back.
This vehicle is primarily a people hauler and it's the perfect fit for groups of 14 or less and works well as an corporate shuttle, or convention bus, or airport transporter, or even doing double duty as a school bus or group excursion vehicle.
With this van you'll get the terrific Mercedes Benz styling, performance and comfort, along with the ecological efficiency of its fuel sipping turbo-diesel powertrain. While this factory outfitted vehicle doesn't have the flash or sumptuousness of our luxury van versions, its more standard interior is more appropriate for a wider variety of events, where cost, room and convenience are more important considerations than just luxury.
Luxury Vans Are A Great Option For Top Managers
But when luxury is in fact the order of the day, then Brilliant has two fantastic options for our executive traveler. Our two luxury versions are known as the 7 passenger 'Brilliant Van' and our 9 seat 'Executive Van'.
The 7 seater Brilliant Van is our flagship product and one of our most frequently used choice of vehicles. Many of our clients refer to it as the 'jet van' because the interior compares so favorably to that of a luxury private jet.
These vans feature four large leather covered captains chairs that face each other in a salon type seating arrangement, perfect for facilitating long conversations. Each seat has an electrically reclining backrest and footrests as well. There is a rear bench that seats another three adults or can lay flat like a daybed.
The interior is a rich mix of leather upholstery, a lovely hardwood floor, wood accents on the panels and a creamy beige colored interior throughout. There is a full chauffeur partition and large picture windows with limo tint and privacy shades as well.
One of the main reason these vehicles work so well as mobile offices is that each seat is set up like a work station. You have a large comfortable seat with a stowable desktop that's great for placing your laptop and doing some writing. Each seat has its own reading light and household electric outlets for your devices.
There is ample room for several people to work simultaneously, without getting in each other's way. One of the most important features is the on-board WiFi network that allows you to stay online while you go down the road.
Our Luxury Vans Are Packed With Great Features
Speaking of equipment, the rest of the entertainment package is outstanding as well. The Brilliant Van features two large flat screen TVs (32") that can play 158 channels of DirecTV. There is also a DVD player and connections for your laptop or iPhone. There is also a terrific 10 speaker premium sound system and a Sony PlayStation 3 for those who enjoy gaming.
With all of these options surrounding you and as well as the complete privacy and flexibility that comes with having your own luxury van it's no wonder that executives love to use our vans as a mobile office, or when entertaining, as a mobile living room.
For groups of up to 9 passengers our Executive Van is also an excellent option as a mobile office or even as an on-location workspace. The Executive Van has the nearly the same equipment list and styling, but with two long rows of all captain chair seating and an open cabin layout.
It doesn't have the same luggage space as the Brilliant Van but the configuration works really well for companies who have used it as a scouting vehicle for executive teams or even as a small production trailer for video and filming crews.
I can't emphasize enough the fact that these wonderful vans give you the platform and the space to do whatever it is you need to do when you have to travel. It's a mini office or mini hotel lobby or mini executive board room.
We have clients that use the van for company travel during the week, then take their family on excursions to the beach or the mountains on the weekends.
We're About Helping You Reclaim Lost Time
Having this valuable and convenient space at your beck and call is what we at Brilliant call reclaiming lost time. We allow you to reclaim that important personal or work time during transit that would normally be lost because otherwise you'd be traveling in a vehicle that offers you nothing more than a place to sit while you go somewhere. But with Brilliant, now you can bring your life, and your family or your company with you when you travel.
Even if you don't find this service a real necessity, (and for some of our clients, it truly is!), the benefits of using these vans also act as a luxury that can elevate whatever trip you're on from just a regular trip into an extraordinary occasion.
The van becomes your home on wheels as we give you permission to use it to work, play, entertain or just relax. The decision is yours.
In addition to reclaiming lost time, another major benefit of using our vans and our service is convenience and flexibility when it comes to your travel plans. While many of our luxury van trips are local affairs, many of our clients also use the vans for long distance/intercity road trips. Here again the van format pays real dividends.
Van Travel Can Be Competitive With Flying
For medium distance trips of roughly 200–300 miles, traveling by luxury van is actually quite competitive in terms of time and cost (when you consider the group costs as a whole) with flying, which is the standard for business travel.
Many of our clients use our vans as shuttle between New York and Boston or New York and D.C. And on the West Coast, many of our clients use the vans to transfer between Los Angeles and Las Vegas, or Los Angeles and San Diego or San Francisco.
For example, although a flight from Los Angeles to Las Vegas only takes an hour, when you factor in travel to the airport, parking, checking in, waiting on your flight and dealing with ground transportation at your destination, your total time investment stands at around 4 hours, the same time it would take to go in the van.
But here's the kicker, when you fly, you have to adhere to someone else's schedule, and have no real privacy due to having the traveling public along for the ride. You can't make unscheduled stops, or multiple stops, or any stops for that matter if you need to visit several companies or people along the way.
Traveling in the Brilliant Van, you can do all of these things! You can take as little or as much time as your need for your journey, and you alone set the schedule. Plus you can enjoy the real luxury of door to door transportation! It's actually much simpler than having to fly or even take the train.
You can use our services for point to point or as-directed transportation in New York City, the Hamptons, Boston, Philadelphia, D.C., Los Angeles, Las Vegas, and now in Miami and South Florida due to our recent expansion there. We cover all of the great places you want to be!
Great Service Makes A Big Difference
Plus what you won't find by taking the plane or train is our superlative customer service and our concierge level of attention paid to our individual passengers. You're not a number with Brilliant Transportation, but an important VIP that deserves the best treatment.
All of our staff members are trained to the highest level of customer service handling and fulfilling your special requests are our pleasure. We're here to make your trip not just successful but extra-ordinary as well.
Part of the great service is our first class job performance. After all, if your transportation provider gets the wrong reservation information or is late in arriving, then regardless of whatever courtesy they show you, they have failed in their essential mission. Our goal, and our promise, is not to fail you (novel concept, no?) and to execute your itinerary flawlessly and exactly as you requested it.
We're able to offer this level of performance at Brilliant because we don't take anything for granted and we pay attention to details. Each reservations is a carefully choreographed ballet of moving parts and different employees to bring each aspect of the trip to life.
We have numerous systems in place to catch mistakes, double check for info accuracy and equipment for safety and make sure everything goes smoothly. We go the extra mile for you because every passenger we take is important and it is our goal to move you safely, comfortably and efficiently.
If you'd like to experience this outstanding service for yourself, contact Brilliant today at 1–800–543–1001 to receive your custom quote.