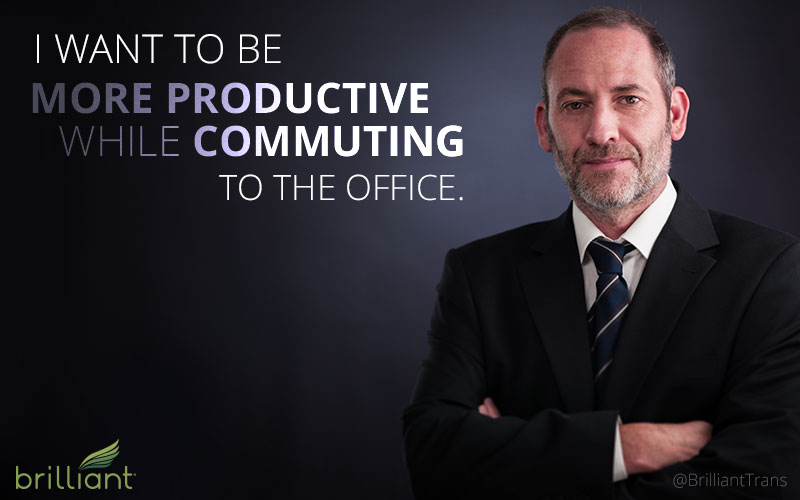 In a client service related industry, providing the client with outstanding customer service and the ability to do what they want to do at all hours is very valuable.
In a digitally connected, globalized world, the boundaries between work and our personal lives are no longer so clear cut. Sometimes we may have to work on putting a business deal together in Singapore while being at work at 5 am on a Monday morning in New York, or stay late on a Friday evening to tweak a spreadsheet for a deal closing the next day. That's why when providing transportation services for busy executives, you want to be able to give them the flexibility and convenience to be able to work, even if they are in transit.
Be More Productive On The Go
That flexibility is one of the key reasons commuting services can be so valuable for executive staff members. Not having to drive themselves to work and being able to ride on a company provided shuttle service or utilizing a company paid car service, this gives business people an extra hour or two a day to be able to get things done!
Brilliant Transportation understands this need, and that's why we are so happy to be able to provide our client's businesses with much needed transportation services. These services can run the gamut from an SUV or luxury van service going to a meeting, to daily scheduled bus transfers going from the suburbs to the corporate headquarters.
The Brilliant Van Is A Mobile Office
For small groups, Brilliant Transportation has the ideal solution for mobile productivity. It's called the Brilliant Van. Brilliant has a fleet of Mercedes Benz Sprinter vans which it has converted into custom luxury coaches. We have three different models available: a 7 passenger model which is perfect for an executive staff group, a 9 passenger model which also works well for slightly larger groups, as well as a 14 passenger van. All of these vans come with a high-roof and 6'3" worth of headroom, so getting in and out the vans is extremely easy.
The first two models in particular are set up to act as mobile offices whenever they are on the road. The 7 passenger van, which we call the Brilliant Van, comes with four captains chairs that face each other. This is very conducive to having face to face conversations or conducting a meeting. In addition there is a back bench which will seat an additional three people.
In order to enhance productivity, each seat comes with a stowaway desk, a reading light and power outlets to power your laptop or other devices. Each seating area also has it own cubbyholes so you have room to store extra paperwork or folders. There are also privacy shades on the window as well as a partition between the driver and passenger compartment, so total privacy is ensure for those meetings where sensitive information may be discussed.
The van also comes equipped with two flat screen TVs (measuring 32") which are connected to DirecTV and a DVD player. The TVs can be used to catch up on the latest financial news from CNBC, or perhaps to watch a corporate presentation using our DVD player. The center console also has several different connecting ports, like HDMI, so you can also plug your laptop in and beam your latest PowerPoint presentation directly to the TV screens. There is also an on-board cellular phone which is optimized for conference calling. There is also a premium sound system with multiple speakers and most importantly, WiFi service is standard. In today's connected world, the WiFi service is one of the most important conveniences we cannot do without, even for a short shuttle ride.
Productivity During Group Travel
All of these features I've mentioned add up to an incredible suite of productivity amenities that transform an ordinary van into a mobile office and conference center. Many of our clients have used our vans for executive transfers, sales appointments, mobile conference centers, or even on-location production offices. You can book our vans by the hour, by the day or by the week. We stand by ready to provide service whenever you need it.
The Brilliant Sprinter vans are our most advanced mobile office solution, but due to the vehicle size, obviously they can only accommodate small groups. For larger groups, we also offer 28 passenger and 36 passenger luxury minibuses. These minibuses are excellent for transporting larger sized business groups, whether as a commuting shuttle or as transportation to a conference or convention. Due to the number of seats, the larger buses don't offer a stowaway desk at your seat, but each seat does come a reading light, and there are 110 volt outlets distributed throughout the cabin. The larger buses do come with WiFi service and video screens with a DVD player. So even with a large group, it is possible for passengers to get plenty of work done if they bring their laptops on board.
The Best Options for Productive Commutes
Brilliant Transportation focuses on the high-end executive transportation market and our pricing reflects the need to provide superior customer service and high quality vehicles to our clientele. But we understand that we may not be right for every customer who comes our way.
Certainly in New York City there are many excellent limousine and bus companies that focus on the executive transportation market. To potential clients do have many options to explore.
And while other companies can also provide luxury Sprinter vans, to my knowledge no other company has Sprinter vans that are quite like ours. Our vans have an unusually optimal configuration for both luxury and productivity. For the right clients, it is a winning combination.
If you're interested in learning more about how our Sprinter or bus fleet can help your company solve its transportation and productivity needs at the same time, please contact us at 1-800-543-1001 to get a detailed quote.