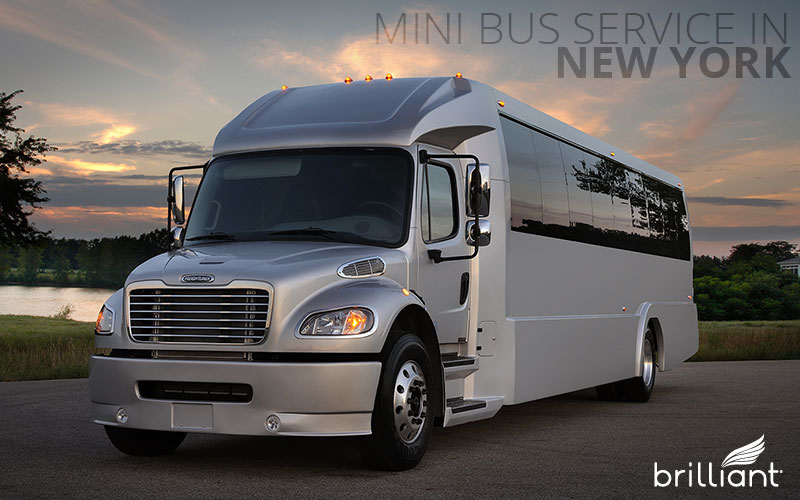 When it comes to moving large groups of people for a special event or corporate function, there can be no substitute for the practicality of using a mini-coach or mini bus to get the job done. Using several smaller vehicles like vans or SUVs to cover a job that a larger vehicle would do is often impractical and uneconomical.
Even though larger vehicles like minibuses cost more per hour than do the smaller vehicle types, it can still end up costing more to use multiple vehicles at the same time. Additionally with a minibus you have the advantage of the group staying together. If you need to book a minibus for the first time and you don't know any bus companies, fear not. If you've used executive transportation before, you may have already been served by a limousine company that also has larger vehicles available.
Not every traveler would know this, but many executive transportation companies that offer limo, sedan and van service can also help you with larger vehicles as well. That's because many of these companies keep a few minibuses in their fleets to serve large corporate clients as well as retail clients who put on large weddings or other social events.
As I mentioned above about the price advantage of using one larger vehicle instead of several smaller ones, it is often logistically simpler and an easier reservation to manage when you have fewer, albeit larger vehicles to contend with.
Minibus Service in New York City
And for those unfamiliar, what is a minibus anyway? A minibus is simply a bus that is smaller than a full sized motor coach and has a passenger capacity of anywhere from 20 to 40 passengers.
They are usually built on truck chassis with a coach compartment added to the back. They have many of the same passenger features and amenities that a full sized coach would have. They also come in many different styles and sizes. Common seating arrangements for these minibuses are 21, 24, 28, 31, 34 and 36 seat versions.
These size vehicles are great for doing large corporate events and conventions, sporting events, tour groups, airport shuttles, weddings, festivals, commuter groups, and the list goes on and on. Whenever you need move a group between 20 and 40 people for whatever reason, a minibus can be a very practical choice.
The quality of the interior comforts of minibus can vary widely. Some models come with a very basic interior. This is what you might expect for an airport shuttle or public transit vehicle. And the scale can range from basic all the way to very luxurious. The luxury versions of a minibus are often used by limousine companies as limo-buses or used by other private charter companies who service high end events.
If you're looking for something smaller than executive mini bus service in New York, we've written a review of the best executive transportation companies in NYC you may want to read.
Features Found in Luxury Mini Bus Charters
Just like you would expect in a long distance coach, minibuses usually come with one or two rows of seats going down both sides of the bus. Individual bucket seats are the standard, usually cloth covered or vinyl, but on the nicer buses you can also find leather seating. Like their larger brothers, minibuses come with overhead and under-seat storage for your bags. Many models of minibuses also have a rear luggage compartment.
But you won't find the the large undercarriage luggage space that is typically found in full sized motorcoaches. For that reason, minibuses aren't as ideal for long city to city transfer if your group is also bringing large amounts of luggage with them. Ride quality is comparable to the larger coaches, especially on higher end minibus models that offer additional suspension features (i.e. a softer ride)!
Also typical cabin equipment would include features like a large screen TV, a DVD player, a PA system, electric outlets for the passengers, overhead lighting, additional monitors to improve entertainment viewing visibility. Also an additional important feature that you can sometimes find on the larger minibuses: an on-board lavatory, great for those long over-the-road trips.
When You Want Quality Customer Service in NYC
But regardless of which size or style of minibus that you end choosing, one of the most important decisions you'll make in terms of finding a minibus is choosing a company that offers a quality customer service experience.
It is important to find the right sized bus with the right features for your trip or event, but it really comes secondary to finding the right service. Even if the bus is wonderful, if the company you work with doesn't provide great service, or worse yet, screws the job up, then the entire event or trip that you carefully set up has the potential to be ruined!
Good service is equal parts excellent on-the-job performance and also treating the customer right. Quality transportation companies understand this and plan, hire and train the employees accordingly. Just because you're riding in a bus doesn't mean you can't expect outstanding hospitality. Quality transportation companies know this and will work hard to treat you and guests right!
Reviews/Ratings of Mini Bus Companies in New York City
Given the variety of customer needs and situations, and the fact that different customers have different budgets, there isn't going to be one-sized fits all solution to every transportation problems. Customers should shop around to find a company and a price that best suits their needs.
In light of that, we wanted to provide some helpful suggestions of quality executive transportation and minibus companies in the New York area. Based on our experience, these are some of the companies you can trust to get your next job or trip right! (These recommendation are not ranked in any particular order):
Empire CLS
Empire CLS is one the bigger executive transportation providers in the country. Their size and experience counts for something, because over the years they have shown thousands of customers that they get the job done right. They also have a real strength in serving the Fortune 500 market in New York with their large fleet, great selection of vehicles and their efficiency in working with large corporate travel departments.
Carey
Carey is another larger corporate provider that started smaller and grew larger as it proved it can handle the big leagues. The pros of working with a company like Carey are experience and expertise. They have the resources to implement comprehensive driver and employee training, so you can expect a consistent and quality experience.
Commonwealth
Commonwealth is one of the 10 largest limos and executive transportation companies in the nation. Their experience and reputation for quality makes them a safe choice for any individual or company who is considering using minibus transportation for their next trip. Commonwealth is firm that started in Boston and that is still their home market, but they also have a very strong presence in New York as well. But given their size, and their large, national affiliate network, they can helpful in any number of different locations.
Executive Town Car & Limo
This is a company that is more local to New York but it is also a strong, mid-sized independent player in the New York metro area. They have an advantage with their reasonable rates and are probably better positioned to work with retail clients and handle personal celebrations more so than the larger, corporate providers mentioned above. They maintain a full fleet of Lincoln and Cadillac sedans and SUV as well as customized minibuses for all sorts of occasions.
Bermuda Limousines
Bermuda Limousines has been providing excellent chauffeured service since 1941, which is a pretty long time in the limousines business. Bermuda is a family owned company and they have retained that aura. They are known for treating their drivers and customers like family and have a strong reputation for personable, friendly customer service. While most of their business focuses on car and van service, they also have a fleet of minibuses that works well for small groups. When you want to work with a medium sized company that is locally owned and give your event lots of personal attention, then Bermuda would be a good choice.
The companies mentioned above are all great companies to work with, but we would be remiss if we didn't mention that Brilliant Transportation also specializes in small group transportation with our luxurious fleet of minibuses. We believe not just in providing first class vehicles, but first class service as well.
Brilliant's Executive Minibus Service
At Brilliant Transportation, we understand that the consumer has a full range of transportation choices and other companies one could work with. But what makes the difference between an ordinary and extraordinary travel experience is the quality of service you receive. That is why all of our efforts go into pleasing and serving our customers. Our chauffeurs are trained to provide hospitality like you would expect in a 5 star hotel!
In addition to our laser like focus on excellent customer service, we also distinguish ourselves with the quality of our minibuses. Unlike what is offered by most other transportation companies, our minibuses offer true luxury. The interior of our minibuses offer genuine black leather captains seats, an attractive hardwood floor, full standing room, a large flat screen TV in front with DVD player and as well as additional drop down monitors throughout the cabin so that everyone has a good view.
Each seat also comes with its own reading light and outlet for whatever plugs in your bring on the trip with you. On board Wifi is also available upon request. The buses also feature tinted windows, window shades and spacious overhead luggage storage.
Our minibuses come in two size variations, the 28 passenger minibus built on a Ford F550 chassis and a larger, 36 passenger minibus built on a Freightliner platform. The 36 minibus also has a lavatory.
These buses really have everything you could want in a luxury minibus of this size. These buses look very classy when pulling up to convention or sporting event, or even a country club or 5-star hotel.
These exclusive minibuses do come with a premium price, as befitting their equipment list and the outstanding service that comes with the vehicles. We realize that this level may not be a good fit for every customer, which is why we also wanted to suggest some alternatives above.
However, when you realize that your next event or trip requires nothing less than the best, with precise execution and no room for failure, then you'll want to contact Brilliant Transportation to receive a custom quote for your next adventure!