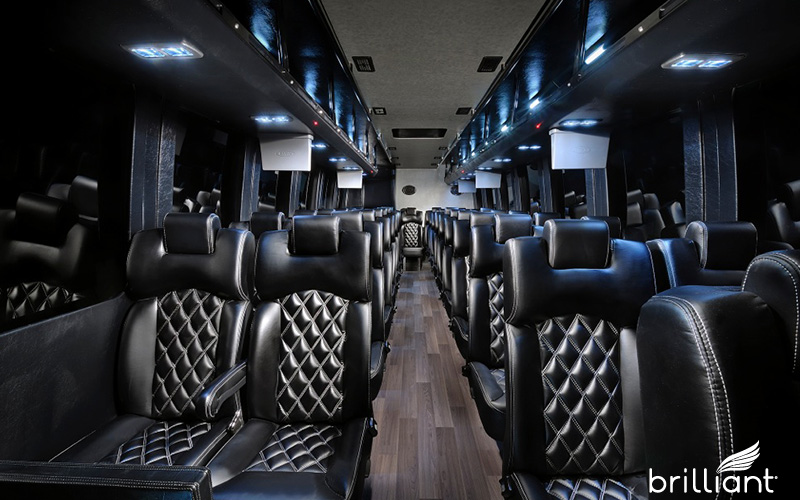 Corporate shuttles buses are a big business in any major metro, but particularly in New York City, being the center of the universe, as Big Apple fans love to say. There are so many companies and organizations that need to arrange transportation on a daily basis, whether it's going to special events, corporate outings, business conventions, meetings, or just simple daily commuting. Shuttle buses are on the go, constantly.
Shuttle Bus Companies in NYC
For corporate travel planners, finding a reliable transportation provider is essential, particularly if you have regularly, or daily transportation needs that have to be met. One big challenge that faces shuttle service customers is that the industry is pretty fragmented and there are many niche players. One issue with this is that the quality of service can vary quite widely. Many companies do a good job, while others are not as consistent. And unfortunately some players persist when they shouldn't really be doing business. It's just that the demand for service can often outstrip supply which is why substandard vendors linger on.
Finding a Quality Vendor is Crucial
Regardless of what your experience with corporate shuttle service has been in the past, one thing we hear from many potential customers is that whey wish there was a better service in the industry. Finding the right company to serve your transportation needs can be quite challenging, particularly if you are short on time.
The best strategy to find a quality provider is to do a lot of research and to carefully vet the companies that you inquire with. Using personal recommendations helps, but sometimes trial and error is the only way to know for sure. But that's taking a risk you have a live reservation on the line.
If I may humbly suggest an alternative, I would recommend that you give Brilliant Transportation a looks see. Especially if you've had issues with your transportation vendors in the past, you should be contacting companies that can assure high quality. High quality and luxurious corporate transportation is what Brilliant Transportation is all about.
Brilliant Does More
Our founder started the company because as a former corporate road warrior himself, he found high end ground transportation services to be sorely lacking, no matter where he went in the world.
While Brilliant Transportation doesn't cover the globe (yet!) we are based in New York City, one of the world's most demanding transportation markets, and we've made a growing niche for ourselves servicing high end and demanding corporate clientele, who are looking for a higher standard in shuttle bus transportation.
And we have accomplished many of our goals in a few short years, not by talking a big game or advertising much (we do almost no advertising) but being a firm that takes action! We have endeavored to do more for clients than what they expect, and we have proven time and again that we can exceed expectations.
There are many reasons why we feel that we are the best (though certainly not the biggest) corporate shuttle bus transportation in New York City. Let's discuss a few of those reasons below.
Our Minibuses Offer The Most Luxury
For starters, we know that we have the most luxurious C class mini-buses in New York City. Mini-buses are a category of buses that can handle anywhere from 20–40 passengers at a time. Also known as cutaway buses in the industry, they consist of a bus body attached to a small to medium truck chassis , behind and attached to the truck's cabin.
They are multi-purpose vehicles, usually used for short to medium distances. They are known as minibuses because they don't have the same passenger or luggage capacity as a full sized bus. But they are perfectly sized for corporate shuttle trips and in-town transfer trips. The term mini-bus or mini-coach can be used interchangeably.
Our bus fleet consists of 28 passenger and 36 passenger mini-buses. They were custom built to our demanding specifications by Gretch, a well-known quality coach builder. All of the materials used in construction and equipment list have been upgraded to the highest level possible. Many corporate shuttle buses are painted white, or black or in various other colors. Our fleet however comes in a distinctive silver grey, a rich but subtle color that has a very high class and quality look to it. We use premium chrome rims on our wheels and the buses have an upgraded suspension. Tinted windows come standard, giving our passengers a sense of privacy.
It's on the interior however we are our buses really shine! All seating on the bus is taken care of by comfortable captains chairs, covered in high quality black leather with detailed stitching. The floors feature beautiful hardwood planking which give the buses a custom, quality feel. There are privacy shades, electric outlets and reading lights by each seat. As most everyone travels with a smartphone or some other electronic device, the outlets are a premium and hard to find feature on many shuttle buses. There is also ample overhead storage for bags.
The buses also come equipped with great entertainment options, including a large, flat screen TV in front as well as additional LCD monitors throughout the cabin so that everyone has a clear view. The TV is hooked up to the DVD player and there is also a PA system. Our 36 passenger version comes with an on-board lavatory. One of our most in demand features is on board WiFi, which is available upon request and for no extra charge.
We Offer the Best Service in the Industry
In addition to the outstanding quality of our coaches, our buses are also the cleanest in the business, which can be a big issue with many bus companies. Our vehicles are cleaned and meticulously detailed on a daily basis by professionals. Buses are also cleaned out after every trip, even if the bus has to stay on location between trips, the chauffeur will bring cleaning supplies.
Another great feature of Brilliant Transportation is not just quality and cleanliness of our buses but the outstanding customer service that goes along with it. Our chauffeurs are the friendliest in the business. Nothing could spoil an otherwise great trip than an ill-mannered chauffeur and there's no excuse for it.
All of our drivers and employees are trained to highest standards of customer service and they are also carefully selected to be good natured, 'people' persons. In a role such as this where the driver must constantly interact with the public, you don't want person in place who isn't comfortable dealing with other people.
But good customer service has to go more than skin deep. It is important for an organization to perform its various tasks at a high level of accuracy and consistency for good customer results to be delivered. We are extremely thorough in terms of checking our reservations and routing information and each trip is always individually prepared and planned for. Brilliant has spent a lot of time and effort as an organization perfecting our logistics, coming up with checklists and reporting systems to ensure that all details are accounting for, and any problems, whether they be operational, vehicle or client related can be solved quickly and efficiently.
Customer Service Is the Name of the Game
If necessary when we're doing a scheduled route for the first time or working on an elaborately choreographed event, we will organize a dry run of the trip at no additional charge to make sure we can perform perfectly on game day. Also, we can furnish on-site coordinators to help with staging, arrivals, boarding and unloading when there are large numbers of passengers involved.
Brilliant is also excellent and forward thinking in terms of handling special requests. We can offer on-board catering and beverage service, something very rarely, if ever offered in the industry. In addition we'll go to extra lengths to please our customers, such putting on special signage or magnets, corporate logos or vehicle wrapping if requested or to help with PR for public events.
If you get the idea that we're labor intensive when it comes to making clients happy, that's exactly what we do. We provide a higher level of service than is common in the shuttle industry, and all of our clients have come to love it.
If you're in need of a better way to move your company's members around town, for whatever purpose or frequency, then you need to be in touch with Brilliant Transportation.
Contact us for custom quote and find out exactly how you can elevate your transportation experience to extraordinary! Our reservation staff can be reached at 1–800–543–1001.