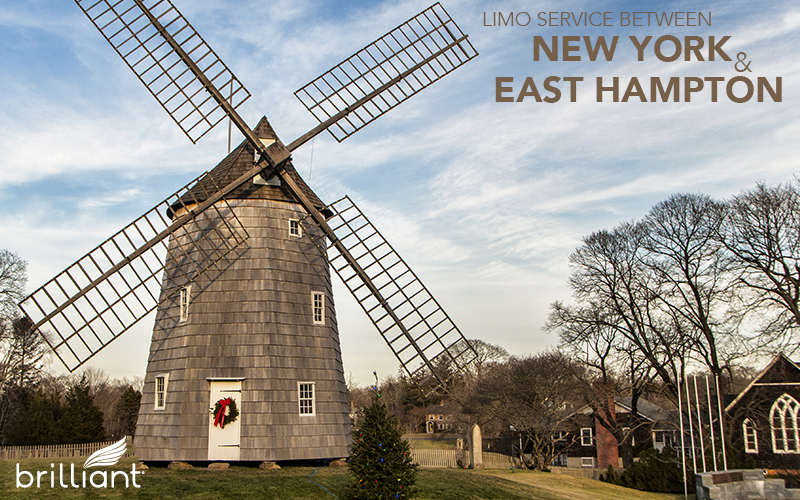 The Hamptons are always a popular summer spot for the movers and shakers in New York City. But summer isn't the only time to visit the Hamptons; there's interesting stuff happening out there year round. In fact, many of our clients maintain second homes in the Hamptons, so we have people wanting to go out for the weekend throughout the year.
There are many options for travel out to he Hamptons, even when considering limousine service. As there are different vehicles and pricing you could choose, there isn't just one answer to the cost question. In this blog I'll explain what some of those options are, as well as some basic limo billing practices to help make you more comfortable about using such a service.
NYC to the Hamptons: Limo Prices
The main thing to remember about limousine pricing is that it's done on an hourly basis. The concept is simple enough, the longer you use the vehicle, whether it's going a long ways or making many stops, the more expensive it is going to be.
Aside from the time issue, the other important factors influencing the price will be the class of vehicle as well as its size in terms of how many people it can hold. Limo companies don't charge by the passenger, but the larger the vehicle, the higher the hourly rate will be, which makes sense.
Limo Hourly Rates in NYC
The trip to East Hampton from Manhattan is a bit over 100 miles and will take you two hours at a minimum. It could take longer, depending on traffic, especially during those busy summer weekends.
Another important concept to grasp in limo pricing is the practice of travel time. This is the time that is billed for traveling to the pick up point from the limo garage if it is far away, and conversely for the time it takes a vehicle to travel from the drop off point back to its base if that is also far away.
The reason for this category of billing is what's known as 'garage to garage' pricing. Basically the idea is that the clock on the reservation starts running as soon as the limousine leaves it base for the pick up and it doesn't turn off until that vehicle returns to its base. So if even the passenger is going one-way, the vehicle still has to make round trip, and the client is billed for that time.
Why is this you might ask? Well, each limo trip is a distinct, pre-arranged charter for one party. Limos aren't allowed to pick up new passengers off the street or at an airport without a prior reservation. So operators can't easily pick up new fares for a return trip for an empty vehicle. Therefore, the limo can't accept a new job until it returns to its normal service area. Then after the vehicle has been cleaned, restocked and usually the driver switched out they make another trip.
Thus a two hour one-way trip to Hamptons for a client will be billed as four hour round trip by the company. Just so you know.
Limo Types and Rates
The other major factor in limo pricing is the type of vehicle you choose. And there are many different classes of vehicles to choose from, depending upon how many passengers they need to take. For your basic and economical limousine service, you could choose a black car service. This usually takes the form of a Lincoln Town Car. It's no frills compared to other limo types yet if offers comfort and convenience.
This size vehicle is good for 1-3 passengers. Rates are generally around $55-$75 per hour. If a Town Car is too Plain Jane for you, most sedan companies will also offer service in a upscale Euro import, like a Mercedes S-Class sedan or Audi A8. Prices for those are bit higher, look for $75-$95 per hour in those.
If you have more than 3 people but less than 6, your next best bet might be an SUV service. Usually you'll find Cadillac Escalades, Lincoln Navigators or Chevy Suburbans. These vehicles would also be a better choice for three if they are also carrying a lot of luggage. Prices for this service are usually around $80-$90 per hour.
If you need to move up to 15 people, the best option might using a 15 passenger van. Again this is basic transportation but sometimes you need to be practical. Costs shouldn't be too much more than $65-$75 per hour in one of these vehicles. For Mercedes Sprinter vans, the cost is usually higher than that.
Of course when people think 'limo', usually the first thing that comes to mind a stretch limousine. And that's always an option as well. Fun and stylish to rent, these would be a good a choice for 4-8 people, particularly if you're celebrating an occasion like a birthday or anniversary.
These vehicles offer many more amenities than a standard sedan or SUV so it's a good choice if you're looking for a little something extra. Due to the great variability among providers in terms of equipment and styles, prices will normally range between $70-$120 per hour.
Premium Transportation Options for NYC to the Hamptons
For every level of consumer there are options, including our high end travelers who are looking for something better than your average executive sedan or typical stretch limo. That would be your premium vehicle category, which includes exotics and even high end custom luxury vans, particularly the Mercedes Benz Sprinters.
Brilliant Transportation travels in these circles, offering an unparalleled fleet of luxury custom Sprinters that will elevate your travel game. Our luxury vans come in 7 and 9 passenger configurations, providing large, comfortable captains chairs that recline and also provide footrests.
Each place is also like its own workstation, with a folding desks, reading lamps and outlets for your laptop or i-Phones. Indeed, many busy executives use these vans for that express purpose, to take care of business on the road, but they work equally well as a mobile entertainment lounge too, with two large flat screen TVs with 185 channels of DirecTV and satellite radio.
The cost for the use of such an exclusive vehicle is $250 per hour, base rate. It is competitive when you look at cost of first class air travel for a smaller group; also you have to consider that there are no commercial jet flights to the Hamptons from New York City at all, much less ones that offer first class service service. The distances are too short. Even on a private jet, it doesn't make economic sense to fly such a short distance. Advantage: Brilliant Transportation.
Of course we realize that the exclusivity and price of this service is beyond the reach of most average travelers as well. But no harm done, there are many other lower cost limousine services available in New York City, and I tried to give you an idea of typical limo rates above for your convenience.
However, when it's got to be the best, you can't afford to go with a lesser service that might disappoint for the occasion. So let Brilliant Transportation arrange your next trip to the Hamptons!