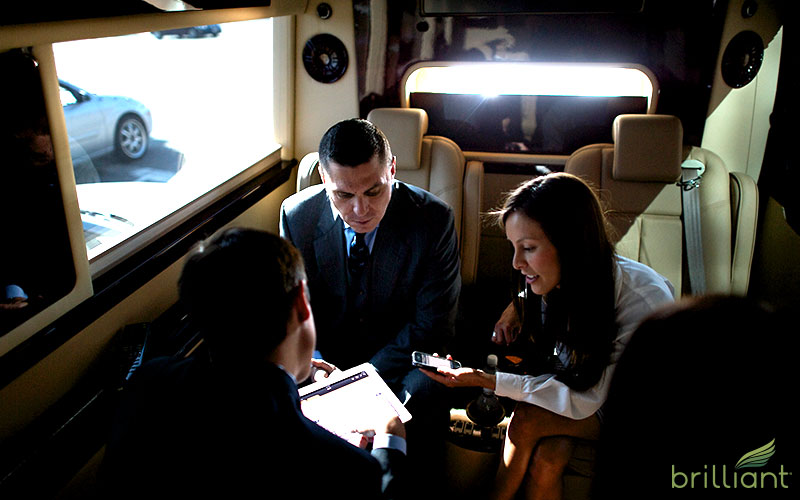 Professional service and consumer product/service companies quite frequently need executive transportation that goes beyond the scope of their daily business. We've found, this need arises when attending or hosting business conventions and conferences, arranging a roadshow, or even visiting satellite locations.
Whatever the need is, most companies hire a transportation company to put their executive staff on the road, instead of keeping a fleet of company buses or vans to do the job. It is simply more cost effective to do it this way, even if the company in question owns their own distribution vehicles.
How much does Luxury Corporate Transportation Cost in NYC?
The answer to this question really depends on your particular company's needs and how big of an event, or how many people need transporting. Answering these questions will determine the scope of your transportation needs: do you need fleet of buses to move hundreds of people or maybe just less than a hundred or perhaps only several dozen? Once you know the answer then it's easier to figure out the necessary mix of vehicles involved as well as the cost.
The cost of the vehicles does depend on their size, with the larger vehicles costing the most, naturally. Generally speaking, the smaller the capacity of the vehicle the less it will cost, although there can be exceptions if the vehicle is a specialty or premium type.
Quality of Service vs. Total Price
The other cost factor besides vehicle size and class would be the length of service required. Most limousine/chauffeured transportation companies charge by the hour, so the more hours you need them, the more it will cost as well. Some companies may offer a special daily or weekly rate for multi-day reservations, but these rates will be based essentially on a company's standard hourly rates, with perhaps some discounts offered if a large volume is required.
Also the length of service will be influenced by the type of trip that has to managed. If a local shuttle is required to service a convention or conference, then usually the hours involved would mirror the business or public hours of the event in question. Sometimes clients will request long distance shuttle service to transport people to satellite locations in different cities, be it for a short period of time, or in certain cases on a on-going basis or at regular weekly or monthly intervals. For those types of long term jobs it is often advantageous for the client to enter into a contract arrangement for a pre-specified period of time.
Hourly Rates for Corporate Shuttle Services
Another factor to consider is a vendor's hourly minimums. Most transportation companies will require an hourly or daily minimum for a single day's service. Hourly minimums for corporate transportation companies usually range from 2 to 3 hours in order to cover their cost. Enforcing hourly minimums are necessary, especially if the client's needs are for usage for a small period of time.
An example of this would be a single transfer from Midtown to Downtown in the morning, which might take 30 minutes or less, then a return transfer in the evening. Even if it only takes an hour to do these two trips, transportation companies will enforce a minimum number of hours in order to make it worth their while.
Choosing Shuttle Vehicle Types
There are many different vehicle options a client could choose for the particular job that needs doing. Let's take a brief look at typical pricing for the various class of vehicles, from small to large.
At the small scale of things you start with sedan service, usually delivered using Lincoln Town Cars or a similar four door executive sedan. In the New York City marketplace, rates for these type of vehicles start at $55 per hour and could go as high as $75 per hour. If you were to decide upon a nicer sedan, like maybe a Mercedes or Audi, the rates could go much higher, starting at $80 per hour on up to $120 per hour. Sedans are good for up to three passengers only.
The next size class would be to hire an SUV, seating up to 6 passengers. Rates for SUVs generally start around $65 per hour and can go as high as $120 per hour. For groups bigger than six you would have to choose the next size up, such as a standard passenger van holding up to 15 people. Rates in this category start at $65 per hour and can go as high as $150 per hour, especially if using a premium van like a Mercedes Sprinter.
Beyond the passenger van size the next step up would be to use a minibus or mini coach. These larger vehicles hold anywhere from 20-40 people and prices range from $100 per hour up to $300 per hour. The largest size bus you could use for a corporate shuttle is a full sized motor coach and they seat up to 60 passengers per vehicle. Prices here range from $200 to $300 per hour.
The New Luxury Standard - Custom Conversion Vans
Another class of vehicle worth considering, especially if you need a premium ride, would be a luxury van. This is a relatively new category of vehicle for livery companies and it usually involves taking a standard passenger van and transforming it into a custom, luxury ride.
Conversion builders will take out bench seats and replace them with comfortable captains seats, add a partition wall between the driver and passengers, upgrade the interior materials and finish and add optional equipment like a bar, DVD player, perhaps even satellite TV and things along those lines. Passenger capacity can be anywhere from 4 to 12 people. There is no real standard for luxury vans so styles and equipment will vary considerably. Look for rates anywhere between $100-$300 per hour.
In New York, Brilliant has really distinguished itself in the field of luxury vans. First of all, Brilliant has focused relentlessly on providing top notch customer service, striving to make every customer feel special and also going to extra mile to accommodate unusual requests or difficult and challenging assignments. Add to that its offering of the highest quality vehicles available for corporate shuttles and you have a winning combination.
Our all-Mercedes Sprinter fleet of vans are outfitted like private jets. We have 7 and 9 passenger configurations in the luxury models, featuring leather and wood paneling in the cabin. Oversized captains seats provide excellent comfort for trips long or short, and each seat comes with a stowable desk top, outlets and reading lights. Standard equipment includes onboard WiFi, satellite TV and radio, large screen TVs, a passenger intercom, a Sony Playstation 3, a minifridge, 6'3" worth of headroom and total privacy for passengers.
These special vans work really great as a mobile office or even a mobile entertainment lounge. Rates for these exclusive vans are $225 per hour with a 3 hour minimum. It's not a price that every client is willing or able to afford, but then again there are many executive transportation companies to choose from in New York. We aim to serve an exclusive market and for those companies who know they just need the best, most luxurious transportation for their next event, these incredible vans can provide an optimal solution.
Contact Brilliant Transportation to plan your next corporate outing.