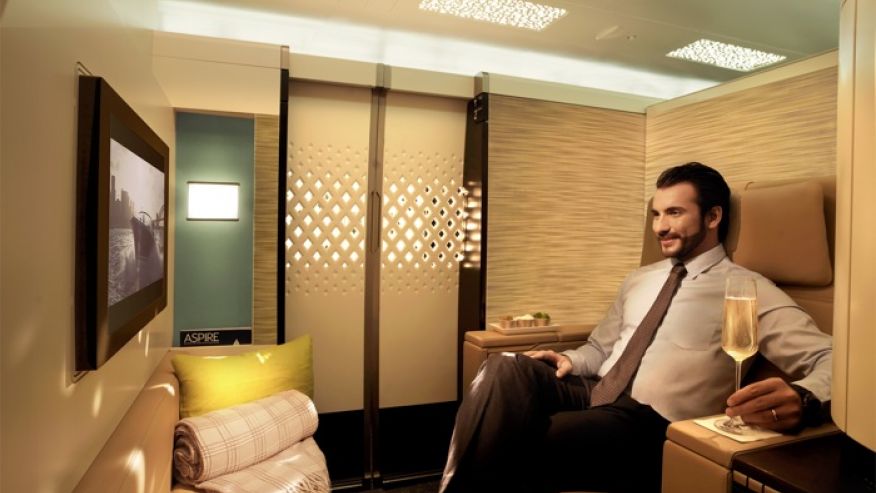 Etihad Airlines has created the first-ever apartment in the sky deemed "The Residence."
It has three rooms—a living room, bedroom and bathroom—and comes with a butler and personalized cuisine provided by an on-board chef.
A double bed with Egyptian cotton sheets, personal shower, two LCD TVs, chilled mini-bar, and a reclining leather sofa are some of the amenities provided when you charter "The Residence."
This is ground breaking innovation in the luxury transportation industry. However, often times there is a huge disconnect with the experience in air vs. the experience on the ground. When you exit a luxurious plane and jump into a limo or sedan you are left with a feeling that could ruin your travel experience entirely.
Usually, limo companies won't offer:
Real leather captain's chairs
Excess standing room
Flat screen TVs with 185 channels of DirecTV
Refrigerators
Wine chests & stemware
WiFi
Face to face interaction necessary while communicating with high-end clients
That's more high-end travelers are starting to charter luxury Sprinter Vans. These vans eliminate all of these problems and provide you with an experience far superior than a limousine. Take a look at an example of a luxury Mercedes Sprinter Van below:
Brilliant Transportation pioneered the way for custom Mercedes Sprinter Vans back in 2010, and we've kept our innovative spirit throughout the years. We now offer 4 different Sprinter Van configurations to provide our clients with the most custom experience possible.
To learn more about our vehicles, please download our free vehicle guide below, or check out our fleet page on the website.
Be brilliant!