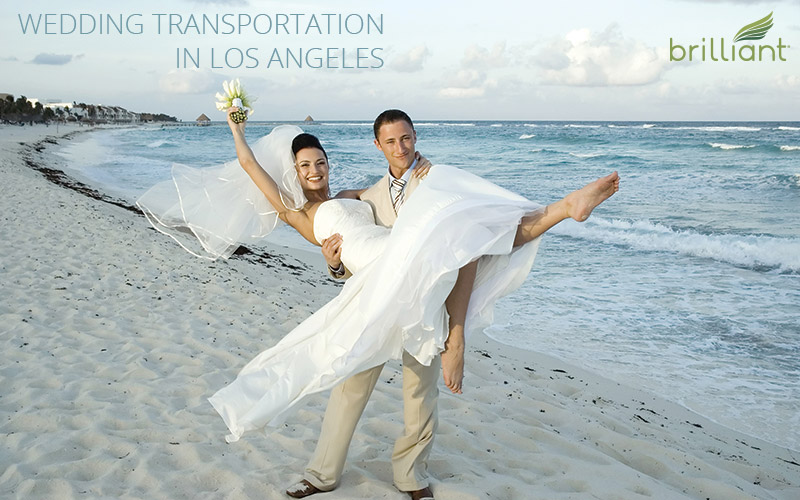 When planning a wedding there are many variables one has to consider. For the person planning the wedding all of these decisions can sometimes cause anxiety. So in this blog I'd like to review some of the different factors that could affect your wedding transportation and hopefully in the process put your mind to rest.
Planning the Transportation for your Wedding in Los Angeles
Transportation costs, just like wedding planning really depends on what type of event you want to have. Will it be big, will it be small? How many different locations will be involved and what will be the distance between location? More centrally, how many guests do you plan on inviting and how many of those will require transportation?
All of these variables will impact the scope of your wedding transportation and hence the cost of it. If you have planned for an elaborate wedding with many guests, you have to reckon that the transportation costs could be considerable. Before you go out to a limousine company to get a quote however, you should have a somewhat detailed plan in mind so that they can respond to you with an accurate estimate.
Perhaps the most important variable to decide first is the number of passengers that will need transportation. Once you determine that, then it much easier to decide how many vehicles you will need and what size vehicles.
If it is going to be a small wedding, then one or two sedans or limos might suffice to take care of the bride and groom and the family. If it is going to be a much larger production, obviously more vehicles would be required.
Choosing the Right Vehicles for your LA Wedding
Just to give you an idea of what types of vehicles would be on offer, a typical limousine company might offer the following assortment: sedans (both foreign and domestic), SUVs, passenger vans, limousines, stretch limousines, stretch SUVs, minibuses, or mini-coaches for larger groups. Some limousine companies also do bus transportation as well. In some cases really large weddings have called for full sized motorcoaches to transport 60 people at a time!
If you're going to be using multiple vehicles for a wedding, I would recommend that you stick to the same type of vehicle and the same color because it looks really good when you line up the vehicles for a long procession.
In the event that you were to use a mix of different vehicles, usually the bride and groom might get something distinctive, perhaps a Rolls Royce or a stretch limo while the guest transportation might be handled a different way, like a passenger van or a mini-bus.
Sedan service is probably the least expensive option when planning for wedding transportation but it is also the most limiting. Each sedan can only accommodate 3-4 guests each. For a slighter higher passenger count, you could opt for an SUV, which can handle up to six passengers. Your typical stretch limo, which fits more with the wedding style, can usually fit from 6-8 people. Super stretches can usually do 6-12 people. Passenger vans are also good people movers when the main goal is going from A to B, like the church to the reception hall. Their maximum is 14-15. Minibuses come in sizes like 21 passenger, 28 passenger and 36 passenger variations.
Wedding Limos that Charge by the Hour in LA
In addition to passenger count the main variable will be time. Limousine companies charge by the hour on a per vehicle basis, so the more hours you need, the greater the cost. For a wedding most limousine companies will charge you a three hour minimum. That is definitely a minimal wedding service; if you are doing an event wedding and plan on having an extensive receptions, you'll probably end up needing much more time.
At Brilliant Transportation, most of clients hire our luxury vans for a full day when doing a wedding, or 6 hours at a minimum. If you're using larger vehicles like a 28 or 36 passenger minibus, just be aware these larger buses usually come with longer minimum times. At Brilliant Transportation our minimum reservation for these larger types is 5 hours.
In addition, many of our clients often book multiday trips when it comes to weddings. This can be a real advantage for your large event to provide extra transportation for your out of town guests. For example, a wedding is never just a wedding. There are always rehearsal dinners, bachelor parties, receptions, day-after brunches and on the final day, hotel and airport transfers for the out of town guests. You are adding a lot of value and goodwill for your guests when you schedule that extra transportation.
Just keep in mind that the greater the commitment, in terms of larger vehicles, more time, a higher passenger count, a more exclusive class of vehicles; these items will cost you more in terms of price. But when you're planning a wedding, you know it's going to cost you a certain amount.
But for these very special and personal occasions, I would suggest that it is better to look at these expenditures as a matter of creating a wonderful family experience, with memories you will cherish for a lifetime, as opposed to just thinking about dollars and cents.
The Cost of Wedding Limousines in Los Angeles
Once you have a more detailed wedding plan in mind, you should contact a couple limousine companies to get a few quotes. Keep in mind that often not every company will have exactly the same kind of equipment.
In Los Angeles, most limousine service will start at around $70 per hour, and depending upon the type of vehicle and the company you're dealing with that price could up to several hundred per hour.
SUVs generally go for $80-100 per hour, same with passenger vans. For nice stretch limos, and the larger SUV stretch limos, that cost could be around $120-150 per hour. This is also true for the luxury van category.
For larger minibuses, the cost is likely to be anywhere in the $100-$200 range. Premium exotics, a like Rolls Royce (newer models) or Maybach could start in the $200 range.
So what might your actual event end up costing? To get a fairly accurate idea, you have to do a little math. Multiply the hourly rate of the vehicle you have selected times the number of hours times the number of vehicles to get your ballpark figure for limousine service for your wedding.
Brilliant's Wedding Transportation
Lastly, I will say that if you want to create a premium experience for the wedding party or your guests, you should also consider the luxury vans offer by Brilliant Transportation. Our van fleet is exclusively the Mercedes Benz Sprinter line and our luxury version are custom converted vans.
The inside of these vans are more like a private jet than the interior of any normal passenger van. Each passenger will have their own leather covered captains chair, adjustable seats with footrests, with a stowaway desk, electric outlets and a reading lamp. In addition the passengers can take advantage of 2 flat, large screen TVs, 158 channels of DirecTV, satellite radio and PlayStation, teleconferencing equipment and much more.
Using these luxury vehicle is a way of creating a unique and memorable experience at your next special event. We also carry larger, 28 & 36 passenger minibuses for larger groups, also with luxurious accommodation.
If you're interested in Brilliant providing your wedding transportation, you can get a quote from us, get a free wedding consultation, or you can call us directly at 1-800-543-1001.