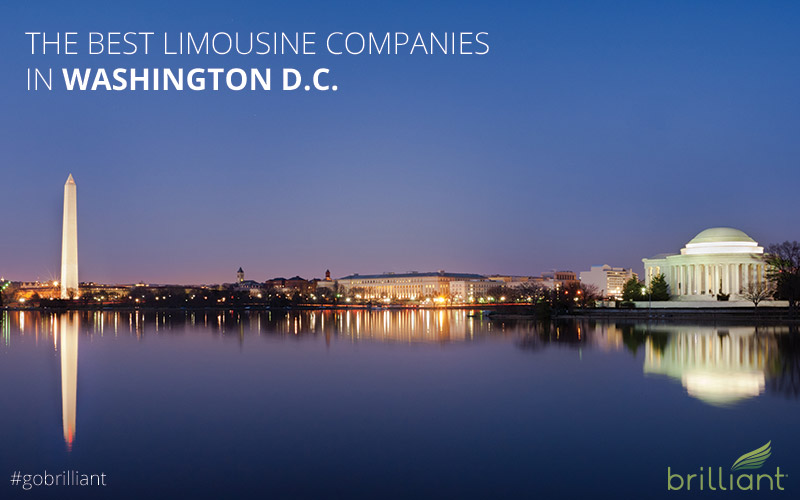 For some reason, many consumers wait for the last minute to order limousine service. This is not brilliant planning, especially if it is for a special event. Unlike taxi companies, limo services can cover a wide range of circumstances and vehicle types. When you need service in a hurry, it can be hard to figure out your options and you may end up having a horrible experience.
If you need executive transportation more than just once in a blue moon, it pays to learn about your local providers and what they have to offer.
Here at Brilliant, we offer outstanding customer service and incredible luxury in our fleet of custom converted luxury vans by Mercedes Benz. We often provide transfers for our clients from New York to Washington and vice versa.
However, being located in New York instead of the Washington metro area, we may not be the best fit for everyone who needs local transportation. With that in mind, we thought it might be helpful to provide some suggestions of local alternatives to our service in the DC area.
Finding A Great Limousine Company in Washington D.C.
It's worth looking into the topic of what makes a good limousine service? As I mentioned, this field can cover a wide range of services, so you may have to talk with several different companies before you find the one that works best for you.
For example, do you need to move a large group of people, or just a few individuals? What type of vehicle are you interested in? Is it a simple one-way transfer you're looking for, say to the airport or are you trying to plan a wedding? Obviously the solution to those two scenarios could be very different. All of these factor will impact your choice for executive transportation.
Because of all these variables, there isn't necessarily a one-size fits all limousine service. It depends on what you need and what your budget is. But in terms of finding someone good, there are a couple things that all good providers have in common.
The first common denominator is excellent customer service. Customer service is much more than just being polite and friendly. It is taking the customer's best interests and needs to heart and following through with that imperative.
More than that, truly excellent customer service is about anticipating needs before the client even has to ask. It is also about integrity and doing what you say you are going to do.
Lastly, good customer service is about being excellent at your job; not just the easy things but the hard things as well. For limousine companies, that means being on time, being accurate and efficient, and also being quick on your feet, quickly adjusting your plans to adapt to a changing environment or schedule.
Local Limo Companies in Washington D.C.
Here is a list of D.C. Limo providers who won't steer you wrong:
Reston Limousine
An excellent provider of quality transportation services, Reston is also the largest limousine company in D.C. with a fleet of 160 vehicles. They are also one of the top 20 largest shuttle fleet operators and a major provider of government transportation contract services. A family owned business since its start in 1990, you can count on Reston to take care of all of your ground transportation needs for your stay in D.C. In 2012, Limo Digest named them Best Large Operator of the Year. Another thing I like about them is that they have a whole Tours & Trips division which offers regular sightseeing tours of the capital city and its surrounding attractions.
Falcon Valet Chauffeured Services
Falcon is another good company to work with. They do plenty of corporate and government transfers but also are good for personal occasions and celebrations as well. They don't have any mini-buses for larger groups but can handle larger groups on request. They also have a nice assortment of Lincoln stretch limousines, (in both black and white), sedans, luxury sedans, and SUVs.
DC Limo and Car Service
DC Limo is a reliable partner for executive transportation. They emphasize great service and affordable prices. They do both corporate work and airport service as well as weddings and special events. They have full range of vehicles from luxury sedans, stretch limos, passenger vans and Sprinters, as well as limo-buses and full sized motorcoaches. If you're in a pinch, give them a call, their prices are quite reasonable!
So hopefully the above information will help you out if you need local chauffeured transportation in D.C.
Getting the Best Limo in D.C.
Brilliant Transportation can also provide you with limousine service in the D.C. area with our wonderful custom luxury Sprinter vans, but we would have to charge you for travel time from New York and back.
It's not an option for everybody, but our clients definitely love the service! If you happen to combine your itinerary in Washington with a trip up to New York City, then traveling with Brilliant Transportation can make perfect sense. To find out more about how we can help you, you can get a quote online or give us a call at 1-800-543-1001.